International Shipping is about to get featured on the big screen. Surprise, surprise, the story is one of piracy.
Universal Cargo Management has blogged before on modern piracy and pirates in today's international shipping seas. Modern piracy is a big topic and it was only a matter of time before Hollywood discovered the dramatic potential of today's pirates rather than the 18th century, swashbuckling, Disney pirates that have made Johnny Depp so much money.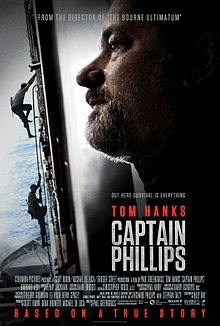 Don't worry, this blog won't contain spoilers about the new movie featuring international shipping and piracy, but the story is based on a true story that you could look into if you want to find out how it all pans out.
The movie is called Captain Phillips and stars Tom Hanks as an American shipping captain in a hostage situation when his ship gets boarded by Somali pirates.
Somalia has been the epicenter for pirate activity in recent years. Certainly Somalia is not the only place pirates come from nor are the waters around Somalia the only ones in which ships are at risk of being victimized by piracy; however, over 60% of the attacks during the first six months of 2011 were committed by Somali pirates, I wrote when I first blogged on the topic a couple years ago.
But thanks largely to increased security for ships through dangerous waters like the Gulf of Aden, reports the Economist, Somali piracy numbers are currently way down from where they were 2011:
Just 75 attacks took place in the Gulf of Aden and off the coast of Somalia in 2012, down from more than 200 in 2011. Currently, 71 sailors are being held hostage by pirates, according to the International Maritime Bureau, a body that monitors crime at sea; in early 2011, the figure was 758.
The real Captain Phillips was attacked and captured by pirates in 2009. You can expect the retelling of his story on film to contain political material about the situation in Somalia that has created the surge of piracy there as well as good old fashioned movie action.
Tom Hanks is sure to give a powerful performance in this Paul Greenwood directed movie. Already, the film is receiving strong reviews and is getting early Oscar buzz.
This is not the first time the director of Captain Phillips has tackled docudrama type films. Perhaps Paul Greenwood's handling of the story of the passengers who foiled one part of the 9/11 terrorist attacks in his film United 93 and his retelling of the 1972 Irish civil rights protest march that ended with a massacre by British troops in Bloody Sunday got him this Tom Hanks project.
Paul Greenwood's ability to handle action is also very clearly displayed as he was the director of two movies in the Bourne series. You should be able to expect a solid action/thriller from this film.
Of course, you can put aside Tom Hanks' ability to move an audience and Paul Greenwood's storytelling and action abilites. I know that you're all most excited that international shipping is the backdrop of this movie.
Judging by his film history, I'm pretty sure international shipping is also what attracted Tom Hanks to this project. This isn't the first time he's done a film featuring international shipping.
Tom Hanks played Chuck Noland, a man devoted to his international shipping work who ends up crashing on an uninhabited island when his cargo plane goes down in Cast Away. Then there was Polar Express. That one was about shipping through the arctic, right?
Perhaps we can call this the third movie in Tom Hanks' international shipping trilogy. Okay, perhaps all that is a stretch. But this film does bring attention to modern piracy that has cost the international shipping community billions of dollars, and worse, many their lives.
You can catch Captain Phillips in theatres October 11th, 2013.