Congestion & ILWU Action Hurting Shippers
UPDATE: Carriers are implementing Port Congestion Surcharges.
Retailers fear shelves being as empty during the Christmas and holiday season as the gates pictured right after International Longshore and Warehouse Union members walked off the job at the Port of Oakland on Wednesday, November 12th.
Oakland seemed to be the one port that had managed to avoid major disruptions by ILWU job action as the negotiations between the ILWU and Pacific Maritime Association (PMA) turned ugly.
That changed this last weekend as ILWU members walked off the job at the Port of Oakland for three consecutive shifts, reported the Journal of Commerce (JOC).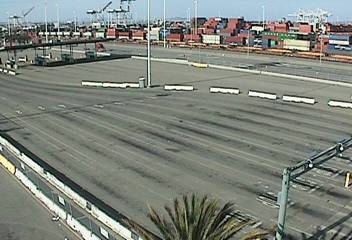 After another walk off on Wednesday, the OICT Terminal was announced to be closed due to labor issues.
Of course, the Port of Oakland is only the most recent to suffer from ILWU labor action.
The National Retail Federation (NRF) is calling for the president to step in with federal mediation to help bring resolution to the contract negotiations between the ILWU and PMA. Already bad port congestion is being made worse as the union stages slowdowns and walk offs that hurt shippers trying to import goods to stores for the holiday season.
"Retailers have done all they can to stock their shelves and build up inventories in case the worst should happen," Jonathan Gold, NRF vice president for supply chain and customs policy, said. "We believe it's time for President Obama to send in a federal mediator and do what it takes to reach an agreement that will work to the benefit of not just labor and management but all the businesses and consumers who depend on these ports."
With the congestion and further delays caused by labor action, cargo ships are unable to berth and get their cargo unloaded and loaded.
Shippers are finding themselves receiving notices from carriers like the following that CMA CGM sent on November 8th:
Dear Valued Customer,
Due to the continuous work slowdown affecting the port of Seattle, which prevented the CMA CGM Dalila Voyage USA91E from operating, we have had no choice but to depart the terminal with your container(s) remaining onboard.
We sincerely regret the inconvenience caused by this force majeure event, and unfortunately have no alternative but to reserve our rights to invoke clause 10 of our bill of lading.
We are currently working on contingency plans to deliver cargo as quickly as possible and will communicate it as soon as details are finalized.
Thank you for your understanding,
Such "inconveniences" for shippers means not only are they not receiving their cargo as scheduled, but also seeing extra fees on their shipments.
Obviously, the bad congestion problem being made worse by ILWU actions is not only a problem for importers, but exporters as well. Shippers fear, with good reason, that they'll be seeing even more cost increases to their shipments.
Back in June, we shared in a shipping news alert that carriers announced and filed Port Congestion Surcharges (PCS) contingent upon congestion by things like an ILWU strike or PMA lockout.
The PCS amounts that carriers filed and have ready to charge are or are in the ball park of $800; $1,000; and $1,125 per 20′, 40′, and HQ containers, respectively.
The decision to implement PCS that have been filed will be made individually from carrier to carrier. So far, these PCS have not been implemented. However, the anxiety level of shippers is up as the typical carrier announcement about PCS read like the following from Maersk:
"…in the event there is congestion, causing significant disruption to our normal operations, this surcharge will be applied to all shipments destined for or originating in the United States (including those shipments transiting through Canada or Mexico)."
With ships anchored and waiting to get serviced by the ports or departing from terminals like the CMA CGM Dalila Voyage USA91E, shippers' anxiety is very justified.
An important lobbyist in Washington for shipper groups such as the Agriculture Transportation Coalition and Coalition of New England Companies for Trade, Peter Friedmann, said, "I'm getting calls from shippers wondering if the carriers still have their tariff on file to impose these disruption penalties."
The simple answer to these shippers question is yes.
The situation could get even worse as Teamsters working with truckers are prepared to launch another truckers strike at the Ports of Los Angeles and Long Beach. There's nothing in place to keep the ILWU from refusing to cross such picket lines, should they appear, and causing shutdowns in United States' largest ports by volume.
That, however, is a story for another blog. We here at Universal Cargo Management are monitoring the situation at the ports and working hard to keep your imports and exports moving. Check back in at our blog for more updates. We post new blogs every Tuesday and Thursday.

Source: Export