Drones & Rockets to Mars: 3 Shipping Stories that Sound Sci-Fi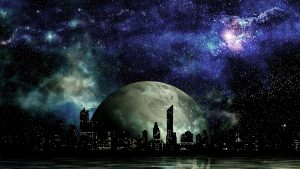 It doesn't take much perusing of international shipping news stories to see that the machines are rising. Robot ships, driverless trucks, delivery drones, and port automation interrupting dockworker negotiations have all headlined blog posts here within the last year or so.
You might not be hearing the name Cyberdine Systems—Alexa is too smart for that—but this is exactly what James Cameron and Arnold Schwarzenegger taught us to fear in the 80's and 90's.
Or maybe it's just exciting progress and innovation, right Alexa?
After all, it was rather disappointing when 2015, the year Marty McFly traveled to in Back to the Future II, came and went with no flying cars for us all to zoom around in.
Even if we're not quite rising off the ground in our cars yet, we're certainly seeing liftoff of the machines in international shipping. So without further adieu, here are three more stories making headlines in the international shipping industry right now that sound like science fiction from years past.
Port of Los Angeles or Spaceport of Los Angeles
Chris Dupin wrote an article in American Shipper about the Port of Los Angeles becoming a site for building spaceships to fly to Mars:
SpaceX plans to build the Big Falcon Rocket that it eventually wants to use to send spacecraft to Mars at a former shipyard in the Port of Los Angeles.

On Monday, Los Angeles Mayor Eric Garcetti said during his annual state of the city speech, "SpaceX will start production development of the Big Falcon Rocket in the Port of Los Angeles."
Spaceport of Los Angeles comes right from the title of Dupin's article. It's worth reading, even if it is more impactful for sending and leaving Matt Damon on another planet than it actually is for the business of importing and exporting goods.
The next stories are far more impactful for shippers.
Inventory Drones to Invade Warehouses
Another American Shipper article from Chris Dupin reports about drones that have been developed to handle inventory in warehouses. And these drones should be hitting warehouses this year:
The supply chain company Geodis and Delta Drone said their small drones will be operational in warehouses by the end of the year.

Geodis and Delta Drone have been working on the project to use drones to automate inventory tracking inside warehouses for several years.

As the drones move around the warehouse, they are accompanied by and tethered to a robot on the ground that provides them with power. The drones fly around warehouses at night or when workers are not present and read the bar codes on merchandise stored on shelves.

…

The companies say they have developed a "plug-and-play" solution that easily can be moved from one warehouse to another without requiring any prior changes be made to the warehouse and that is adaptable to all types of warehouse management systems.
This technological advancement could have a big impact on the supply chain. There might even be a chain reaction in how goods are labeled, organized, and more in the warehousing process.
Speaking of drones…
Amazon Patented Drones that Communicate with Humans
This may be the scariest, most Cyberdine-Systems-like technology making headlines at the moment.
The US Patent Office published a patent on March 20th (2018) that would raise the hair on the back of John Connor's neck. The Patent was filed by Amazon back on July 18th, 2016 for "Human interaction with unmanned aerial vehicles."
Here's a little description from the patent's abstract:
The unmanned aerial vehicle may include a propulsion device, a sensor device, and a management system. In some examples, the management system may be configured to receive human gestures via the sensor device and, in response, instruct the propulsion device to affect an adjustment to the behavior of the unmanned aerial vehicle. Human gestures may include visible gestures, audible gestures, and other gestures capable of recognition by the unmanned vehicle.
The patent is interesting to read (if you can get past the technical nature of a patent filing), allowing the mind to run wild with all the applications beyond delivering packages such drones could have.
But what is really striking is this image that is inside the filed patent: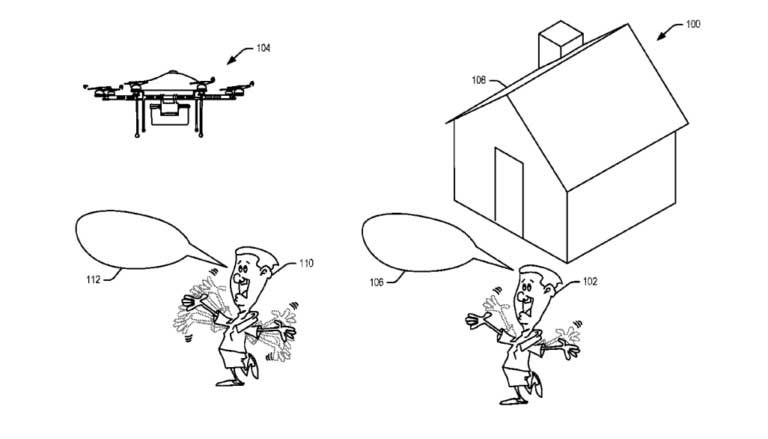 Look at that foolish human, waving his arms stupidly at the imposing drone. That seems exactly how the machines will see us expendable-if-not-compliant humans when the AI takes over and all the many necessary sensors for human gesture recognition on drones like these are complimented with assault weapons.
Until that happens though, these drones combined with the drones of the previous section could certainly speed up the goods fulfillment process in the supply chain.