Here We Go Again — FMC Approves 2M Vessel Sharing Agreement
Maersk and Mediterranean Shipping Co. (MSC) have received approval from the U.S. Federal Maritime Commission (FMC) for their 2M Vessel Sharing Agreement (VSA) and now await approval from China.
Déjà vu.
I feel like Bill Murray in Groundhog Day.
"Okay, campers, rise and shine, and don't forget your booties 'cause it's co-o-o-o-old out there today. The big question on everybody's lips… On their chapped lips… On their chapped lips, right: Will the world's largest shipping lines see a shadow cast on their U.S. approval by China? That's right, woodchuck-chuckers, it's…
CARRIER CRAZINESS BRACKET DAY!"
Okay, I might have messed up that quote a bit, but I don't miss a chance to drag my Carrier Craziness Bracket back out.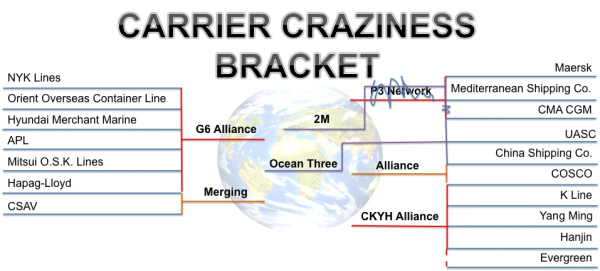 Maersk and MSC are certainly hoping not to find themselves with a Groundhog Day feeling. Back in March, their proposed alliance–the P3 Network–with the world's third largest shipping line, CMA CGM was approved by the FMC but then shutdown in June when China's Ministry of Commerce rejected the P3 Network, calling it anticompetitive.
You can't call that last sentence anticompetitive; it was long enough for any word to find a place in it. Phew!
In July, quite quickly after China's June rejection of the P3 Network, Maersk and MSC announced the 2M VSA.
It certainly appeared that the CMA CGM was on the outside looking in. But then about a month ago (September 8th, 2014) CMA CGM announced a VSA with China Shipping and United Arab Shipping Co. (UASC) called the Ocean Three (O3).
The O3 adds urgency to Maersk and MSC's work of getting 2M approved and not seeing a repeat of what happened to the P3 Network with China rejecting the VSA after the U.S. gives approval.
So far, the process is eerily familiar.
Journal of Commerce (JOC) Senior Editor Mark Szakonyi reported:
"The U.S. Federal Maritime Commission today voted 4-1 to allow the Maersk Line and Mediterranean Shipping Co.'s proposed vessel-sharing agreement, dubbed "2M," to go forward…
FMC Commissioner Richard Lidinsky was the lone dissenter — just like he was when the commission voted in March to allow the P3 Network…"
Perhaps Lidinsky has already been on the phone with his friends in China's Ministry of Commerce to make sure the 2M meets the same fate as the P3 Network met.
To avoid any possible defamation claim, I don't know of any connection between Richard Lidinsky and China's Ministry of Commerce nor do I think he had anything to do with China's decision to veto the P3 Network. Now that I've made sure there is nothing here to get sued for, I can move forward.
So what is Maersk and MSC doing to avoid waking up with a sickening Groundhog Day feeling of another rejected alliance?
Szakonyi's JOC article went on to say:
In an attempt to avoid the agency stopping its review of the 2M, Maersk and MSC executives met with [FMC Commissioner William] Doyle in September to answer his questions. Maersk Line CEO Soren Skou also met with China's Ministry of Commerce on Sept. 19 in an attempt to avoid a repeat of the P3 demise.
While 2M is in compliance with European law according to another Szakonyi JOC article, the European Shippers Council (ESC) does not seem any happier about the VSA than Lidinsky.
"The gathering of the two first ship operators will create a huge player that will be in a position to have such a power that they can distort the market for the purpose of price increase," Denis Choumert, Chairman of the ESC wrote in a letter opposing the 2M to the FMC.
Choumert's letter failed to persuade the FMC against the 2M so the ESC's last hope of the 2M being stopped now lies in the hands of China.
We'll see if Skou's meeting with China's Ministry of Commerce was enough to make the 2M VSA a reality and, more importantly, keep me from having to scribble up my beloved Carrier Craziness Bracket again.
"Don't draw Carrier Craziness Brackets angry, don't draw Carrier Craziness Brackets angry."
I'm pretty sure that was a direct Groundhog Day quote. Bill Murray loves Carrier Craziness Brackets. Okay, I'm not writing a defamation claim avoidance statement for that. How could he not love Carrier Craziness Brackets?

Source: Shipping