The fingerprint of Hurricane Sandy is still to be seen on the North East Coast. Storm damages and loss of life cast a shadow on the election day festivities as residents affected by Sandy made the extra efforts required to cast their ballots and play their part in selecting our nation's leader for the next four years. [1]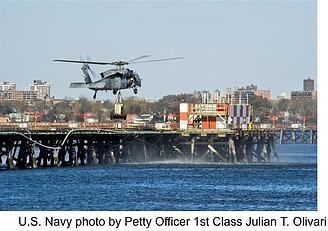 Further complicating matters is a second storm front poised to blast a northeast coast still reeling from Sandy. With New York and New Jersey having barely regained their balance from Sandy, a violent northeaster is bringing more rain, wind, and even snow, threatening to undo the initial progress made in relief efforts.[2]
Power outages are yet again threatening residents of New Jersey and Long Island, many of whom only just regained power a few days ago.
Traffic snarls and more storm-driven debris further complicated life for coastal residents. For many the psychological damage of Sandy is making it harder to weather this latest storm.[3]
While different boroughs of NY and NJ were recovering to varying degrees, several key New York and New Jersey commercial ports have been re-opened. Port Elizabeth Terminal was the first to resume operations on November 4th, followed by Port Newark Container Terminal and the Global Terminal in Jersey City early on November 5th at 7am. [4]
This commencement comes after NY and NJ area ports have been shut down for almost a week, since the afternoon of October 29th.  Most recently, the Port Authority of New York and New Jersey has announced that those ports are operating at "full speed".[5]
Longshoremen, strike still looming, were also putting in full shifts to help ameliorate the backlog of cargo accumulated during Hurricane Sandy's visit. This schedule was adopted despite November 6th, Election Day, traditionally being a holiday for dockworkers.[6]
The major hindrances to returning to business as usual were unreliable electricity and an acute shortage of fuel in the NY/NJ area. An article in the Huffington Post reported that "less than 40%"[7] of the gas stations in New York, Long Island, and New Jersey are operational as of November 2nd.
As a result, functioning gas stations were mobbed and tensions high as patrons formed long lines, attempting to fill up cars and trucks at the drastically reduced number of working stations. Police had to be on hand to handle unruly motorists attempting to 'cut' in line.[8]
Tankers carrying much-needed fuel were finally able to enter the New York Harbor on Thursday, Nov. 1st. One tanker carrying 2 million barrels of gasoline arrived at 2 am on the Nov. 1st but storm damage prevented the swift distribution of its cargo.
Various government agencies including the Coast Guard are working hard to get needed supplies to hard-hit areas. In order to do so, port authorities chose to "expedite vessel traffic into local terminals, especially tankers carrying gasoline".[9]
New York's governor Cuomo even "lifted tax and registration requirements" temporarily on tankers entering New York Harbor and the US Government suspended legislation known as the Jones Act which bans foreign vessels from moving fuel between US ports.[10]
All this has enabled key ports to resume operation, working hard to make–up for lost time Sandy inflicted upon them and get import and export cargo shipping efficiently on the east coast again.