We are just coming out of the peak season, as that traditionally starts late fall through early spring. Last year, most carriers in the westbound export market to Asia implemented numerous rate increases. However, none have been successful with rate hikes this year.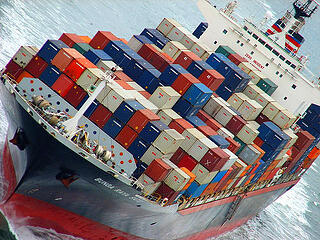 This is because of the large surplus of new vessels that have been brought in during the recent months, primarily for the east bound trade.
Usually, the eastbound market trails off this time a year, which it indeed is. So the timing of the projected 287 new vessels coming in this year is really hurting the market with the cargo demand way down when compared to this time of last year's levels on the Eastbound.
This time last year, there were about 600 vessels parked in Singapore coming back in the service. However, this year there are only about a 100 vessels left. Good thing import volumes still remained relatively strong throughout the winter months, which means the carriers kept all of their vessels in operation until now. This provided exporters with ample vessel capacity for their westbound cargo to Asia with Los Angeles having a surplus of both vessels and equipment. During this time last year, exporters were facing big problems getting space and equipment, especially in the Midwest.
Cargo such as grain, dry grain, which is a by-product of ethanol production used for animal feed, and DDG, which is a type of specialty grain, have been strong for exports from the Midwest this winter. It had previously been shipped primarily in containers due to the spike in bulk shipping costs in 2007-2008, but has drifted back to bulk as their prices have dropped dramatically. So carriers may start enticing back business very soon with lower container freight rates going westbound while they juggle much needed equipment back to China for eastbound cargo.

Key Takeaway- All in all, the westbound market remains strong with a lot of leverage for shippers to negotiate good freight rates going forward while the eastbound market is now as slow as it gets before the coming peak season giving much needed leverage to importers for this year's coming contract rate negotiations in May.