More Carrier Imposed Freight Rate Increases Could Be Good for Shippers?
Get prepared for more increases in ocean freight rates from Asia to the U.S.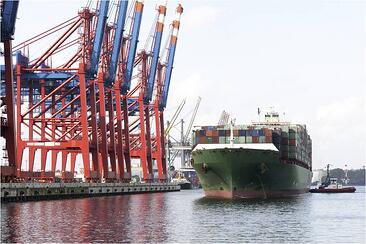 As an international shipper importing from places like China to the U.S., the last thing you want to see is a blog title like the recent Journal of Commerce article that reads, "Eastbound Trans-Pacific Carriers Seek $800 in Rate Increases".
Didn't we just see rate increases from carriers on the eastbound trans-Pacific trade routes as 2012 started? Yes (see UCM blog Carriers Impose Freight Rate Increases From China to United States). And carriers are looking to build on that ocean freight rate increasing momentum.
To quickly summarize the Journal of Commerce article, there are two proposed rate increases that carriers are looking to impose that would add $800 per FEU increase in eastbound trans-Pacific trade lanes.
The first would be a $300 rate increase effective March 15th. The second is a $500 per FEU increase to West Coast ports. Of course, it would be even more expensive for other parts of the U.S. The Journal of Commerce article reports that second proposed increase to be "$700 per FEU on intermodal services to interior destinations and on all-water services from Asia to the East Coast."
You can click here to read the Journal of Commerce article for more details. This blog is more concerned with the good that could come out of these freight rate increases.
Of course, as an international shipper, freight rate increases sound like nothing but bad news. Spending more to import increases costs and cuts into profit. How could that possibly good?
In 2011, we were spoiled by dramatic decreases in freight rates from Asia because of increased capacity from carriers. This made for a great year for freight forwarders like Universal Cargo Management and importers from Asia to the U.S., but carriers were seeing losses.
No business can last long selling under its costs; however with the capacity increases last year, carriers moved shipping containers at less than profitable rates, fiercely trying to compete for ocean freight business. Something would have to give.
Certainly this was not a good situation for carriers, but the really big carriers were able to let a smile creep on their faces. If things continued on with low freight rates causing carriers to lose money, bankruptcy would surely take out much of the competition.
Maersk even voiced that they were prepared to outlast the competition (See UCM blog Maersk to Outlast Competitors in Face of Lower Freight Rates).
As we look at this bigger picture, these new proposed freight rate increases have a benefit. International shipping must be profitable for carriers or, like in any industry, they'll go out of business. Imagine all but a couple of the biggest carriers being gone. Now imagine what would happen to freight rates then.
Considering the freight rate drops of 2011, freight rate increases in 2012 only brings the cost of shipping back to more "normal" levels. Of course, the costs of shipping containers over the ocean are always volatile. Ups and downs in freight rates are to be expected. Take advantage of freight rates when they're low, but know that increases are sometimes beneficial too.
While price is important, we all know that it is not the only factor to consider in business. Sometimes we pay more for reliability, speed, quality, and so on. In this case, we could pay more to avoid paying much more later.
So as we expect to see increases in ocean freight rates to continue in 2012, we know it isn't all bad news or the end of the world (unless all the Mayan calendar hype is true). Still, importing now to beat some of the increases is certainly not a bad idea.
For freight rate quotes, click here.

Source: Economy