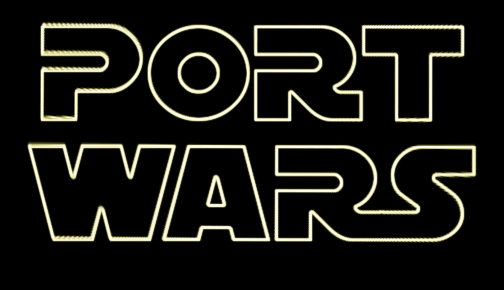 Long months ago, in a Federal Maritime Commission (FMC) office not so far, far away…
Carriers filed Port Congestion Surcharges to be implemented in the case labor unrest significantly increases port congestion.
It is a time of unrest for shippers. With the crucial holiday season arriving, record volumes of shipping containers are imported, only to be stuck at ports amongst terrible congestion. Chassis availability, huge container ships, carrier alliances, and trucker shortages are all contributing factors to the port congestion. But the issue that's been worrying shippers most has been the International Longshore and Warehouse Union (ILWU) and the Pacific Maritime Association (PMA) contentious contract negotiations.
Months after the ILWU contract expired, negotiations for a new contract turned ugly. The PMA began putting press releases out at the beginning of November that the ILWU is taking job action, purposely causing slowdowns at the already congested West Coast ports.
ILWU slowdowns and walk offs were exactly what the carriers needed to implement their dreaded Port Congestion Surcharges in amounts from $800 to $1,266 per container.
Carriers announced immediate implementation on containers they'd already received and some they'd even gotten to the congested West Coast ports.
Shippers fought back.
Shippers won their first battle against these large Port Congestion Surcharges, rightfully complaining it was unfair to be hit with such big fees on shipments carriers had already received and were already costing shippers plenty of money in delays, demurrage fees, and congestion fees from truckers.
The backlash from shippers got the attention of the FMC, who looked into the charges.
"The surcharges that carriers have announced do not apply, in our view, to cargo that's on the water already, much less cargo that's already in the ports," Cordero told JOC.com. "If the cargo is was already in transit, the surcharge would not be applicable."
The FMC's challenge of the carriers' Port Congestion Surcharges caused carriers to send out letters announcing suspension of the implementation of the surcharges. However, suspension meant postponement not cancellation of the Port Congestion Surcharges.
Despite shippers' new hope (yeah, one more not so subtle Star Wars reference) that the carriers' Port Congestion Fees would never come to fruition, now the surcharges strike back.
Carriers are sending out notices with new dates for the implementation of the Port Congestion Fees. Excerpted from one such letter from Hyundai Merchant Marine (HK) Ltd., below is what carriers are saying to shippers:
Dear Valuable Customers,
It is fully acknowledged that current ongoing unrest labor situation on the US West Coast is having serious negative impact on our vessel and terminal operations that includes cumulative vessel delays, operational difficulties at ports and intermodal moves, and as a result of such crippled situation, the operational cost is significantly increasing with additional expenses as we carry out the daily book of business in Trans Pacific trade for our valued customers.
Consequently, as per the terms of our tariff rule number 2-73 filed in HDMU-040 tariff, we have to announce that CGS (US Ports Congestion Surcharge) will be applied to cargo received on or after November 26 with the following quantum. This charge will be applicable to all cargo to be discharged at U.S. West Coast Ports.
We appreciate for your understanding and cooperation as well. It is hoped that the situation will be returned to normal and we promise that we will do our utmost to carry your cargo as early as possible to where it need to be to satisfy your expectation.
These Port Congestion Surcharge announcements let shippers know carriers are implementing the fees before the extra charged shipments are received.
All carriers, except for a very few, have sent out similar Port Congestion Surcharge notices announcing new implementation dates.
Here's a Port Congestion Surcharge summary with dollar amounts and dates announced by carriers: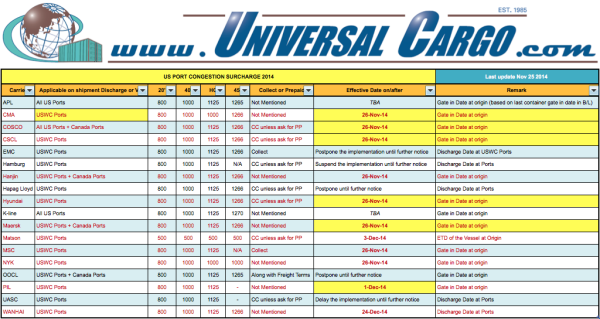 Whenever possible and for as long as possible, Universal Cargo Management will help shippers avoid these large Port Congestion Surcharges by importing through the last few carriers, like K-Line, that have not yet implemented Port Congestion Surcharges.
TL:DR
For an up to date list of carrier announcments please download below: