For those of you who excitedly began singing "Smoke Two Joints" by Sublime at the title of this blog, what you're about to read is not about those kinds of reefers.
In the world of international shipping, refrigerated shipping containers are referred to as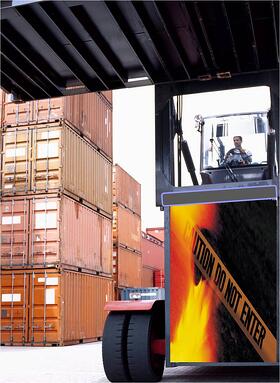 "reefers". That world has been shocked by a recent series of reefer explosions, killing dockworkers in Brazil and Vietnam.
You read that correctly. Incidents of refrigerated containers exploding or catching fire have left two in Vietnam and one in Brazil dead.
According to the Huffington Post, there could be as many as 8,000 shipping containers in danger of exploding. It is believed the source of the problem is bad coolant put in reefer units that underwent repair and maintenance in Vietnam, specifically having been processed through Kat Lai.
All three incidents of exploding reefers were shipping containers being used by Maersk line. According to an article by IFW, "Maersk has removed all its 844 reefer containers that have been repaired in Vietnam."
These incidents had all carriers, not just Maersk, scrambling to inspect their shipping containers and go through their paperwork to ensure their reefers are safe for the importing and exporting of goods that need to be kept at controlled temperatures.
West coast ports have undergone serious interruptions in operations and have even had days of closing terminals while adding safety procedures to avoid anymore possible incidents of injury or death.
Avalon Risk Mangement, a company that provides marine insurance, reported in a special edtion of their newsletter, The Quest that new safety procedures of U.S. west coast ports include "any refrigerated container transported through or originating in any Vietnamese port will be identified upon arrival in the United States. Any container from Kat Lai will be isolated for special handling."
With a shortage of reefer containers already present in the international shipping business, this will not make it any easier for those who need to ship in refrigerated units.
However, before we worry how all this will affect the supply and demand of shipping containers, we should let these tragedies remind us how blessed we are to be able to safely go home to our families after a day's work, especially with Thanksgiving coming up.