In the spirit of Devin's Sevens, today's blog features the top ten resources Universal Cargo Management offers to help you with your international shipping.
This is by no means a complete list of the services or resources that UCM offers, but this list shows off some of our most popular, and certainly very useful, resources and services to help you have smooth importing and exporting experiences.
7 – FAQ Page
Have questions about international shipping? You're not alone.
Universal Cargo Management wants to answer your questions. There are a number of questions that we get over and over again. For these, we created a frequently asked questions (FAQ) page.
Some questions are those asked by people new to international shipping while some come from businesspeople and shippers who have experience importing and exporting.
Questions include basic things like "What is a freight forwarder?" and "Any advice for a first time shipper?" to "Can I get payment terms?" and "Can I get cargo released without presentation of the OB/L?"
6 – Logistics Glossary
Every industry has its own lingo and terminology, but sometimes it seems like the international shipping industry has more than most.
We'll make sure your imports and exports ship as smoothly as possible whether or not you know the terms of the industry, but this resource will make it so you won't get lost when people start talking about FEUs and reconsignment and dunnage and so on.
So here's a little glossary container a lot of common terms of the international shipping industry.
5 – Incoterms Reference Guide
Incoterms are another set of terms the international shipping industry has that have been standardized across the board.
We have a handy reference chart for incoterms that shows who is responsible for cargo and when.
Without a basic understanding of incoterms and how they work, this chart can be a little confusing.
UCM also did a blog series on incoterms.
The first blog is What's the Deal with Incoterms?
Then we did 3 blogs defining each of the incoterms.
The first blog defined incoterms EXW, FCA, FAS, and FOB.
Part 2 defined incoterms CFR, CIF, CPT, and CIP.
Part 3 gave the definitions of incoterms DAT, DAP, and DDP.
That segues us nicely to the next resource.
4 – UCM's International Shipping Blog
You already know we have a blog because you're reading it right now.
But, perhaps you didn't know that we post international shipping related blogs twice a week, usually on Tuesday and Thursday.
We'll keep you up to date with international shipping news as well as issues, events, and developments that affect importing and exporting. Sometimes, our blog is even good for a laugh.
3 – iView Web Desktop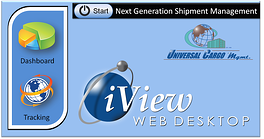 Our customizable iView Web Desktop makes it easy for customers to track their imports and exports.
Logging onto iView Web Desktop you can use the features to know what's going on with your shipments, keep it all organized, and communicate that information clearly easily.
Here's a blog showing the features the iView Web Desk and how it can help you with your international shipping.
2 – Supply Chain Value Added Services (VAS)
UCM teamed up with TOLL to bring you this new Value Added Services (VAS) which offers complete overseas warehousing and distribution.
VAS can totally re-engineer and revolutionize your supply chain by doing things like combining supplies from multiple countries and distributing them in US locations.
We can customize your VAS to include as many or as few services as your business needs.
Click here for more on our Value Added Services and to see how it could help take your business to a whole 'nother level.
1 – Friendly Freight Rate Pricing
Of course, the number one thing to help you with your international shipping is friendly freight rate pricing for your imports and exports from and to just about any location on the globe.
We handle air cargo, ocean freight, and even have Express4Air to handle smaller packages than 100kg.
We're always here, ready to quote you on your international shipping.