3 Things You Can Do About GSP Expiring, Costing U.S. Economy and Jobs
IMPORTANT ISSUE: The U.S. Generalized System of Preferences (GSP) program has expired as of 7/31/13.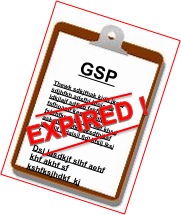 U.S. importers who have benefitted from this program, paying zero duty on imports from the selected countries of the program, now have to pay full duty on all items they import.
Don't leave this blog with that being the only information you take away. This has a serious economic impact on the U.S. and there is something you can do about GSP program expiring.
The Office of the United States Trade Representative sums up the program as follows:
The U.S. Generalized System of Preferences (GSP) is a program designed to promote economic growth in the developing world by providing preferential duty-free entry for up to 5,000 products when imported from one of 127 designated beneficiary countries and territories. The GSP program also supports U.S. jobs. U.S. businesses imported $19.9 billion worth of products under the GSP program in 2012, including many inputs used in U.S. manufacturing. According to a 2005 U.S. Chamber of Commerce study, over 80,000 American jobs are associated with moving GSP imports from the docks to farmers, manufacturers, and retail shelves. GSP was instituted on January 1, 1976, by the Trade Act of 1974.
Products that are eligible for duty-free treatment under GSP include: most manufactured items; many types of chemicals, minerals and building stone; jewelry; many types of carpets; and certain agricultural and fishery products. Among the products that are not eligible for GSP duty-free treatment are: most textiles and apparel; watches; and most footwear, handbags, and luggage products.
Many members of Congress have voiced support for the GSP program, but it is unknown if or when Congress will extend it.
This is not the first time GSP has expired. GSP has expired several times, including in 2011. When Congress extended the program in the past, duty-free treatment of GSP-eligible products was applied retroactively.
Even though importers were refunded for the money they paid in duties on products they imported, the GSP expiring still hurt and endangered many U.S. businesses and is so doing again.
Kellee Mallord, a regional specialist for Universal Cargo Management, shared a story of the kind of impact the GSP expiring can have on U.S. importers, even when extended with benefits applied retroactively: "I have one customer in Louisiana that nearly went out of business last time this happened. He had to pay out between $18K-$25 per container just for duty. It took over a year before he got it back."
If you import under GSP, as some of Universal Cargo Management's clients do, you know that the expiration of the GSP is a huge deal. You know its expiration costs U.S. businesses, U.S. jobs, and the U.S. economy. Maybe what you didn't know is there are three things you can do about it.
1. Join the Supporter List to Renew the GSP Today
This is fast and easy.
Click this link to go to the Renew GSP Today website and fill out the quick online form.
It won't cost you anything but a moment of your time to join the list of people and company's supporting the renewal of the GSP.
2. Write Your Senator and/or Representative
This one takes a little more work, but still is not that difficult.
A short letter to your Senator or Representative, urging them to take action about renewing the GSP, might seem old fashioned but is still an effective way to get the attention of the members of government who are elected by and represent you.
You can find your Representative here and find your Senator here.
3. Share This Information
This could be the easiest, but most important thing you can do.
Don't just keep this important information to yourself. This is a serious issue, even if you don't import under the GSP. So let your friends and colleagues know about it.
An easy way is sharing this blog on Twitter, Facebook, Linkedin, etc.
Don't let U.S. companies, jobs, and the economy suffer in silence. The more people who know about this, the better chance a swift renewal will take place.
—
Sources:
http://www.ustr.gov/trade-topics/trade-development/preference-programs/generalized-system-preference-gsp
http://www.ustr.gov/sites/default/files/FAQs%20on%20GSP%20Expiration073113.pdf

Source: Economy