7 Things Every Shipper Should Know About Peak Season Shipping
You may have noticed a little trend lately in our blogs.
Two weeks ago, we blogged 7 tips to beat cargo theft from identity theft. Last week, we blogged about a heist of a shipping container containing $10 million in silver bars. What are these leading to?
Peak season for cargo theft! Yes, you read that right.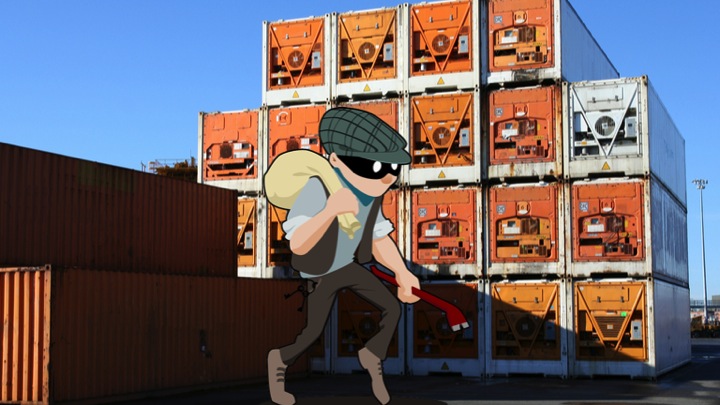 Usually when we talk about "peak season" in the international shipping industry, we're talking about the months leading up to the holiday season. August and September are big, big months for U.S. ports as shippers are importing goods for the holidays. Shipping numbers tend to remain strong right up through the holidays.
This is international shipping's peak season. We're in it right now. It is not all celebration, however. We are also now in the peak season for cargo theft.
A recent FleetOwner article, heavily citing information and data from FreightWatch International, highlights how September through December is not just peak season for cargo shipping but also peak season for cargo theft.
Below are some 6 key points from FleetOwner's article and a bonus point, which all add up to 7 things all shippers should know about peak season shipping.
#1: Cargo is at Higher Risk During Holidays
We don't want to ruin your holidays by quoting the following from the FleetOwner article, but shippers need to be aware that special care should be taken of their goods during holidays. Since the opposite often happens, shippers have their holidays too often ruined by theft.
"Holiday weekends are notorious for presenting increased cargo theft risks for transportation companies, shippers, and manufacturers," [FreightWatch International] noted in a recent update. "Organized theft rings are always active and recognize holiday weekends can cause shipments to be unattended for prolonged periods of time."
#2: Cargo Theft Peak Season Surges in October
It's not just the Halloween decorations everywhere that makes October scary; this is cargo theft's peak season's peak!
FreightWatch pointed out that in 2014, the "concentration" of cargo theft activity between September and December totaled 245 incidents, with the greatest number – almost one third of the period's total – occurring in October as a "surge" of goods flooded the supply chain ahead of "Black Friday," the day after Thanksgiving retail shopping extravaganza.
#3: Electronics, Clothing, & Apparel Especially Targeted
Electronics and clothing and apparel are very popular types of goods for international shipping. These items are strong performers when it comes to the market and among the best items for shippers to make money importing. Given that these items perform strongly for shippers, it should not be a surprise that they are strongly targeted by thieves.
Here's what the FleetOwner article says:
The firm noted that two "coveted commodities" are targeted every year during the pre-Thanksgiving shipment run-up: electronics plus clothing and apparel, comprising 23% of the reported thefts yielding average losses $1.37 million and $328,051, respectively.
#4: Fictitious Pickups Are a Growing Threat
This should already be sinking in for shippers who read our above mentioned blogs on cargo theft through identity theft and the cargo container of silver heist. Both include fictitious pickups.
It's amazing how often thieves are stealing shippers' goods right out from under their noses. Don't feel too bad, shippers; they're doing it to ports too.
Another growing threat: fictitious pickups. They've increased sharply from 2011 to 2012 and have remained on a relatively constant increase ever since, FreightWatch stressed.
"During the 2014 pre-holiday peak, 13 cases of fictitious pickups were reported in the U.S. totaling over $2.2 million in lost cargo," the company said. "Electronics plus clothing and shoes were targeted in 38% of those crimes."
#5: Full Truck Load Thefts Most Common
Obviously, when fictitious pickups are happening, full truck loads are getting stolen.
And that's how cargo theft happens. It is not usually one or two items stolen like with shoplifting. Full truck loads or container loads get taken like the whole Maersk shipping container from the Port of Montreal in the silver bars heist.
If you get hit by cargo theft, expect to lose an entire truck or container load. That's how close to 90% of cargo theft works according to the FleetOwner article. But what is really surprising is how often actual truck drivers (this is different from fictitious pickups) are involved in the thefts.
FreightWatch added that full TL thefts constitute 89% of cargo theft in the U.S. now, with a majority of reported cases occurring at unsecured parking areas, with many of them driver theft incidents involving either direct theft by the driver, the driver's voluntary collusion or complicity in the crime, or a deceptive criminal posing as a legitimate carrier resource.
"This 'modus operandi' has evolved to often include drivers orchestrating mechanical failures, documentation of repair services, and the subsequent use of a viable alibi upon the arrival of law enforcement," the firm noted. "This growing trend – surreptitious driver – warrants acute awareness as the shipping industry enters its peak season."
#6: Peak Shipping Season Creates Opportunity for Theft
Why is there a peak season for cargo theft? Well, it largely exists because there is a peak season for international shipping. It creates opportunity.
When shipping volumes increase dramatically as they do during peak season, everyone in the supply chain, from shippers to freight forwarders to trucking companies, has to be careful of whom they are working with and hiring.
Check out what FleetOwner says here:
Another reason why cargo theft activity spikes during the "peak season" is due to the supply and demand constraints that occur when freight volumes increase.
"Limitations on available carriers often necessitate more brokering, as well as re-brokering to the second, third and sometimes fourth-order carriers," FreightWatch said. "Awareness of the threat is integral. Exercising proper due diligence when sourcing carriers is essential. In addition, ensuring that all participants in the supply chain comply with industry best practices is paramount."
#7: All Shippers Need Cargo Insurance
There's nothing about cargo insurance in the FleetOwner article, but the article certainly inspires this section.
With all the cargo theft happening, and the increased threat during the peak season, it has never been more important to make sure you get cargo insurance when importing and exporting goods.
We did a blog a number of years back giving 5 reasons shippers should get cargo insurance, and we'll probably do an updated version soon, but you could consider the above sections as 6 reasons to get cargo insurance. 

Unfortunately, cargo theft, damage, and loss could happen to any shipper at any time. Gambling on it not happening to you is a risk no shipper should take.
Click Here for Free Freight Rate Pricing

Source: Shipping