Changes We Can Expect in the Supply Chain in Q3 and Q4
This is a guest post by Jake Rheude.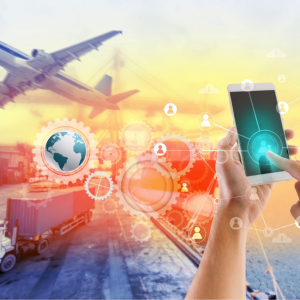 It may feel like time is meaningless and we've lived through 329 Mondays in a row at this point, but for supply chains, this time is more crucial than ever. Every day we learn more about how the supply chain is affected by COVID-19, be it increased demand, decreased hours at ports, warehouses shutting down, or altering their shifts to support social distancing of their employees.
To put it in perspective, these changes have all happened just within the last few months.
So while it might seem light-years away, Q3 and Q4 are rapidly approaching, and with them will come continued changes to the supply chain. So what can we expect?
Bigger Surges Than Ever
You may have noticed that many companies have experienced growth during this time (*cough* Amazon *cough*). Despite the uncertainty and chaos, there has actually been quite an increase in ecommerce business, and it's a boon for those that can keep up.
Q3 and Q4 just so happen to hold the biggest surge dates that exist all year in a normal year: Black Friday and Cyber Monday. Any other year, you'd be gearing up to face the huge increase in demand that weekend, and this year will only be different in that the online surges will likely be bigger than ever.
Current predictions are showing that while COVID may ease up in the summer, there is a good chance we'll be hit again in the fall and winter, meaning that we may not have seen the end of quarantining and social distancing, which again means more demands placed on the ecommerce industry. Add in Black Friday and Cyber Monday, and we've got ourselves a potential tidal wave of orders.
Labor Shortages
This one may surprise you at first — with increased demand from customers and increased unemployment rates, you'd think the last thing you would need to worry about would be staffing. Think again.
An increase in demand doesn't mean that the supply can keep up, and ports, warehouses, and factories are feeling the squeeze already. Supplies are unattainable, unreliable, and too slow; warehouses are cutting hours and not getting shipments; ports are seeing fewer deliveries than ever from international partners and cutting receiving hours to match. All of this has a huge effect on your labor, which will be harder to find and retain.
In addition to that, just because unemployment rates are up doesn't mean that those people have the work experience you need, or that they will be applying to work at your business, port, or warehouse — a warehouse or port job is a skilled job just like any other.
Reliance on Technology
To be fair, the supply chain is not technology-resistant. Many shipping and fulfillment companies are at the forefront of automation and software investments. However, moving forward, we're likely to see an even heavier reliance on technology, and for it to be applied more creatively to meet new challenges.
Investment in automation and software that can help with pick and pack efficiency at warehouses can help keep the staff lean and social distancing enforced. Inventory management software can be adapted to track shortages, delays, and missed deliveries (worst case scenario, of course). Even technology like augmented reality can help customers in the ordering process and decrease returns.
Did you know Universal Cargo can help you with your warehousing and domestic shipping needs?
Diversification and Integration
Two trends are likely to emerge in the next few quarters: diversification of suppliers and vertical integration of the supply chain. While these may seem like opposing ideas at first, they share the same goal: mitigating risk. While simplifying your supply chain to have as few suppliers as possible can be more efficient and save you money on shipping costs, it means that if that supplier goes down, your whole business can go with it.
Instead, we'll see a diversification of the supply chain, reliance on multiple suppliers so that if a shipment is delayed, there are others that can fill in, and the hit to the supply chain isn't as dramatic. We may even see some over-ordering to compensate for future shocks, instead of other leaner ordering strategies like just-in-time (JIT).
We'll also likely see an investment in local suppliers — the shorter the supply chain, the less susceptible it is to international shocks. Even if local suppliers are more expensive, they're also more reliable, and the materials don't have to be processed at an international port or get through customs.
At the same time, another great way to mitigate risk is to take on more of the supply chain yourself. We're likely to see investment in vertical integration and experimentation with absorbing some of the steps in the supply chain. By cutting out as many steps as possible, you mitigate the inherent risk in trusting other suppliers to come through. For example, businesses may look at sourcing their own materials or bringing their fulfillment in-house.
The Final Word: Risk
Risk is on everyone's mind these days, and the supply chain is going to show the effects. While lean operations and cost-cutting are typically top-of-mind, spending a little more to weather the bad times will make more sense in the coming months (and maybe years). People want to feel safe, and business owners are no different.
This was a guest post by Jake Rheude.
Jake Rheude is the Director of Marketing for Red Stag Fulfillment, an ecommerce fulfillment warehouse that was born out of ecommerce. He has years of experience in ecommerce and business development. In his free time, Jake enjoys reading about business and sharing his own experience with others.