ILWU & PMA Urged to Begin Contract Negotiations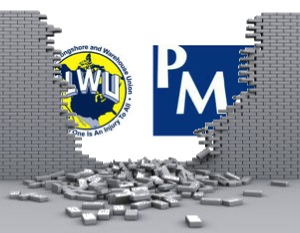 Yes, it's already time to start talking about West Coast ports' labor contract negotiations again.
The import and export disruption and port congestion from the contentious 2014/2015 contract negotiations between the International Longshore & Warehouse Union (ILWU) and the Pacific Maritime Association (PMA) is still fresh on shippers' minds.
That's because shippers are still paying for it.
Agricultural exporters can't shake images of their produce rotting on the docks instead of getting shipped to their partners overseas (many of which are ex-partners as a result).
Retailers have trouble getting over the money they lost by not having their imports arrive to stock shelves for the lucrative Christmas and holiday season.
Those are just two of the more glaring examples of the negative effects caused by the ILWU slowdowns and retaliatory mini-lockouts by the PMA that cost the U.S. economy billions of dollars.
That's why manufacturers, farmers and agribusinesses, wholesalers, retailers, importers, exporters, distributors, transportation and logistics providers, and other supply chain stakeholders–Everyone! Can we just say everyone?–are urging the ILWU and PMA to begin contract negotiations early for when the current contract expires in 2019.
Does it seem too early to be talking about the next round of ILWU/PMA contract negotiations?
The answer is, and I don't use this phrase lightly, HELL NO!
It took over a year for the PMA and ILWU to negotiate and ratify this latest contract, with negotiations beginning May 12th, 2014 and ratification of the new contract happening May 22nd, 2015. Things seemed to be going fairly smoothly with the contract negotiations until the ILWU began organized slowdowns in October of 2014.
It is standard practice for the union to refuse to extend a previous contract until a new one is negotiated or complete negotiations before the previous one ends. This way, the union has their most powerful weapons, work slowdowns and strikes, to gain leverage in negotiations.
Standard practice has to change.
It seems that every time a dockworkers contract expires, shippers suffer.  But not just shippers. Do I need to type that list again? Everyone suffers!
Did I mention this process costs the U.S. economy billions of dollars every time contract negotiations roll around? In fact, estimates put those costs at $2 billion a day when the ports get shut down! But the negative effects continue on for shippers, past the shutdowns and slowdowns.
That's why a coalition representing 113 local, state and federal trade associations of beneficial cargo owners wrote a letter to the PMA and ILWU urging them to begin 2019 contract negotiations long before 2019 rolls around.
Certainly, the PMA would be interested in doing so as these contentious negotiations that keep happening have caused West Coast ports to lose customers to Canadian ports, East Coast ports, and Gulf ports. Many of those customers are lost for good.
But getting the ILWU to change is another matter. But surely, they must eventually see the current way of doing business is endangering the jobs and livelihoods of union members.
Here's the contents of the letter to the PMA and ILWU posted by the National Retail Federation:
Dear Mr. McEllrath and Mr. McKenna:
The undersigned organizations representing manufacturers, farmers and agribusinesses, wholesalers, retailers, importers, exporters, distributors, transportation and logistics providers, and other supply chain stakeholders urge the ILWU and PMA to begin early discussions on either a contract extension or a new contract with the goal to conclude negotiations before the current contract expires on June 30, 2019. We also encourage you to avoid a repeat of the disruptions and slowdowns that occurred during the 2014 contract negotiations.
While we are encouraged by your remarks at the recent Journal of Commerce Transpacific Maritime (TPM) conference, and are pleased that you recognize the negative economic impact of disruptions and slowdowns, we also know there will be important and difficult issues for both of you to resolve during the next set of negotiations. All the more reason, we believe, for those talks to begin as early as possible in order to lay the groundwork for a new contract, or contract extension, without major disruption.
We believe a new model for future negotiations needs to be developed, one which stresses early and continuous dialogue. In addition, we would like to see both of you pledge to avoid actions that would slow, stop, or disrupt cargo movement during negotiations. At a minimum, we urge you to maintain the arbitration mechanisms in the existing contract for the duration of the negotiations, even if the contract expires before a final agreement is reached.
The impact of cargo disruptions during the 2014 negotiations was widespread and affected many stakeholders at the ports and throughout the United States. The costs were enormously high for many economic sectors. We cannot afford a repeat in 2019.
Our organizations and the members we represent believe that both parties can reach an agreement to ensure the continued success and competitiveness of West Coast ports for the foreseeable future. Agreeing early to a long-term contract will provide the stability and predictability our collective members need, while protecting against any self-inflicted harm to the broader U.S. economy. Maintaining arbitration procedures during negotiations will also give a measure of certainty to the cargo interests who are ultimately the ports' customers.
Thank you for your consideration of our request.

Source: UC Blog