Key Opportunities and Risks in Expanding a Business Globally
This is a guest post by Alanna Melton.
Expanding globally is a dream that many entrepreneurs hope to see come true. Thankfully, technology and increased connectedness have made it easy to take businesses across borders. However, before you jump into foreign territories, keep in mind that expanding globally comes with both opportunities and risks. Understanding what to expect early on can help you weigh your options and make informed decisions. Let's look at different potential opportunities and risks that expanding globally exposes to your business.
International shipping
Exporting goods internationally can be a great way to expand your business and break into new markets. It opens up the potential for reaching a much larger customer base than you would otherwise have access to. International shipping allows businesses to tap into new potential customers, helping them gain an edge over the competition by expanding their reach outside of local borders. With increased visibility, businesses can achieve higher levels of success in previously unexplored regions and grow their customer base on a global scale.
Understanding the Challenges of Going Global
Exporting goods internationally can be a tricky business, especially when it comes to navigating different countries' customs regulations. Companies must take into account items like taxes, duties, and other fees associated with international shipping that can add to the cost of the goods being shipped. Understanding national laws and regulations is key to successful international shipping operations so that goods arrive at their destination on time and without hassle.
Exporting goods internationally has many complexities and it's important to stay informed about international trade agreements and tariffs that may affect your shipments. Being aware of these laws can help you to avoid any issues that may arise when shipping your goods overseas, allowing for smooth transitions and successful orders.
Identifying Strategies for Successful Global Expansion
Exporting goods requires an efficient, cost-effective international shipping process. Companies need to think about the package size and weight, the mode of transportation (air or sea), the duration of shipment, paperwork handling, customs compliance, and tariff regulations. All these factors will ultimately impact the cost involved in shipping goods internationally. To ensure their international shipping processes are successful, companies must plan out all necessary steps and have an experienced team ready to handle them.
How to Choose the Best Logistical Solutions for Your Business
When it comes to international shipping, it's important to understand the different services available and which ones will best meet your needs. There are many options including air freight, surface freight, courier services and letter-post services. Depending on the size and urgency of the shipment you require, each of these services can be tailored to suit your needs. For example, if you require express delivery a courier service may be most suitable while more cost effective solutions such as surface mail may be best suited for larger items. However, if you're setting up operations in another country, exporting container loads of goods is likely needed and most cost-efficient. Ultimately understanding the advantages and disadvantages of each service is key when selecting an international shipping option that meets your requirements.
International shipping can be an involved and complex process, so it's important to do your research beforehand. Before you choose an international shipping provider, you should make sure that the company is aware of all relevant regulations, taxes, and fees associated with the shipment. Not being compliant could cause countless headaches further down the line and potentially cost you time and money. Be sure to ask questions and make sure you have a full understanding of what you are getting into before beginning any international shipping project.
Next, you should consider partnering with an experienced and reliable international shipping provider. This can help ensure that all of your international shipments are completed quickly and cost-effectively. With the right logistics partner, you can make sure that all documentation is correctly completed for each shipment and be confident that your goods will reach their intended destinations in a timely manner. Finding a quality international shipping partner can be key to success when engaging in any type of global distribution.
Key opportunities
When expanding globally, your hope is to grow your business to new levels. If you have a solid global expansion strategy, you position your business to benefit from several opportunities. These include:
1. Potential to increase revenue and profits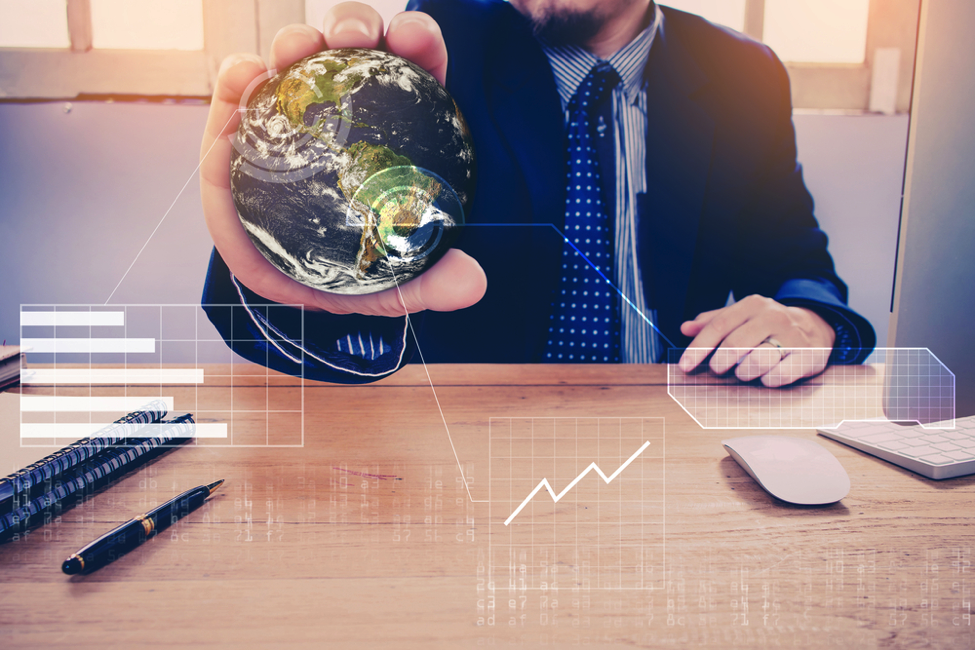 Expanding to other markets allows you access to a larger audience. This gives you an opportunity to grow your customer base exponentially. If your products are well received in the new markets, it only translates to increased revenue and profits. However, you have a task to do thorough market research to determine how to align your product with the market needs in the target countries.
2. New investment opportunities
Exploring new markets can expose you to investment opportunities that you could otherwise have not identified if you continued operating locally. For instance, market research in new markets can reveal gaps in the markets that you can jump in and fill before everyone else.
3. Larger talent pool
Taking your business global opens up a larger talent pool that you can leverage for business growth. You have the opportunity to attract and hire individuals with diverse skills and knowledge that can benefit your organization. For instance, your chances of finding hard-to-fill skills to fill the skill gaps in your organizations are heightened with exposure to a wider talent pool. And, this gives you a leg up ahead of your competition in your domestic market.
4. Increased brand recognition
International presence comes with international brand recognition. If your strategy is executed successfully, this can mean an improved brand reputation across the globe. This makes it easier to attract high caliber or potential investors, business partners, and employees.
5. Market diversification
Market dynamics are always shifting rapidly both positively and negatively. Imagine what would happen if your domestic market experienced an economic downtime due to unforeseen circumstances. You will be at an advantage if you have operations in other markets across the world. And, it will be easier to weather the storm and continue growing.
Key risks
Expanding globally can be exciting, but also poses new risks. It is important to identify these risks and understand their probability of occurring and the potential impact. This way, you can create mitigation strategies to ensure that you expand successfully. Here are key risks to keep in mind.
1. Compliance risk
Each jurisdiction has its own law regarding business operation, incorporating companies, employees, taxation, and more. Expanding globally exposes you to foreign laws and risk of falling into legal battles. It is important to work with local experts to help you navigate the legal landscapes in different countries. For instance, company registration in Singapore is so easy with an expert who can ensure a smooth process and compliance.
2. Internal readiness
Expanding internationally brings in unique challenges such as new cultures, different time zones, language barriers, and distance. You may be doing so well domestically, but if you are not prepared in these areas, there is a risk of failure. Focusing on these areas could expose scalability weaknesses that need addressing before moving on.
3. Local competition
When moving to new markets, expect to find customers who trust local brands that are already established in the market. In addition, expect to compete with local businesses with a greater understanding of the market. These two would make it daunting to gain traction in the market. Before taking a step, it is important to determine if your product has a chance in the target markets.
4. Geopolitical and macroeconomic risk
While global expansion offers an opportunity for market diversification, it also exposes you to market downsides, sometimes without warning. Running an international business exposes you to risks such as war, political instability, extreme weather, trade disputes, and extreme currency shifts among others.
Conclusion
There are several opportunities that come with expanding globally such as increased revenue, new investment opportunities, a larger talent pool, and more. Expanding your business globally provides access to new markets, new insights, and the opportunity to grow and expand in ways that wouldn't be possible otherwise. With careful planning and due diligence, businesses of all sizes can take advantage of global expansion opportunities to reach new heights. However, risks such as compliance, existing competition, internal readiness, and geopolitical risks also exist. The secret is to create a surefire expansion strategy that can ensure that you take advantage of the opportunities and keep risks at an acceptable minimum.
This was a guest post by Alanna Melton.
Author Bio
Alanna Melton has been a business consultant for over 5 five years now. She is dedicated to her job and she likes helping businesses overcome their problems. In spare time she likes to write content, and being creative in what she writes. She also loves spending time with her family and reading books.