Making Overseas Sending Simpler
Guest Post by Dakota Murphey
NOTE FROM THE EDITOR: While Universal Cargo's blog usually focuses on international shipping for businesses or news in the international shipping industry, we thought our readers and site visitors may find a blog on shipping individual packages abroad useful. This well-written guest post by Dakota Murphey focuses on individuals in the EU shipping internationally, but there is information (though not all) that would be relevant for individuals sending packages across borders or overseas from the U.S. as well.
Sending packages abroad can seem like such a headache. There's complicated customs forms, vague delivery dates (that are weeks in the future), and always a sneaking suspicion that your parcel could disappear into thin air at any moment.
Except, it's not really like that anymore. You only need a form if you're posting beyond the EU (and even then, it's quite straightforward), and low-cost courier services can provide fast and reliable delivery times all over the world. Still not sure? Here's a quick guide about how to make international postage stress-free, regardless of whether your loved ones are living in Neustadt or New Delhi.
What customs form do I need?
If your parcel is staying in the EU then good news – you won't need a form at all.
Parcels travelling outside of the EU that are worth less than £270 will need a completed CN22 form.
To post anything outside of the EU valued over £270, you will need a CN23.
How fast can my parcel get there?
Most couriers have a range of service levels that offer different parcel delivery times. Standard delivery within the EU is usually 3 to 5 working days, and outside of the EU is typically 5 to 7 working days. Express services can guarantee that your parcel arrives at European addresses on the next working day, and worldwide locations within 1-3 days.
Will bulkier items take longer to arrive?
Heavier or larger items can be delivered just as quickly, but they will cost more to ship. If timing isn't a priority then you can find "economy" or "low-priority" mailing options that will be cheaper but take much longer (around 28 days).
How can I make sure my parcel arrives quickly?
Most of the common reasons for delayed or missing parcels can be prevented by the sender. Here are five of the most important things to check that will help your parcel arrive safely and quickly:
Accurate Address
Incomplete or confusing addresses are the second biggest cause for delayed parcels (after adverse weather). For a smooth delivery, double-check exactly where your parcel needs to go and make sure that it's formatted correctly. The most important bit is usually the post code, so make this as clear as possible on your parcel.
Clear Labelling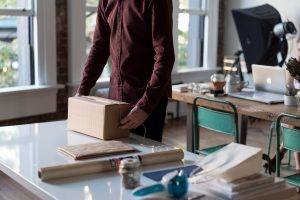 An accurate address is no good if it's unreadable! Write in large, block letters using a pen that won't smudge easily (covering it with clear tape can help). If you're worried about your handwriting then printing the address onto a label is a good idea. Don't forget to include a return address, so the parcel can be safely sent back in a worst-case scenario.
Secure Packaging
Reinforced envelopes and corrugated cardboard will protect your goods, as will internal padding (like bubble wrap, packing popcorn or polystyrene blocks). Secure openings and loose edges with strong tape, and your parcel should arrive intact.
Detailed Customs Description
Vague customs forms will force officials to investigate your package's contents, delaying its delivery. For example, rather than writing "gift basket", include individual items such as "photographs", "fridge magnet", and "sweets". This includes properly valuing the contents of your parcel, as taxes or duties must be paid for certain items (which will be charged to your addressee if you avoid them).
Avoid Banned Items
Check the official customs website for your parcel's destination country AND the guidelines provided by your courier. It can be surprising what items are prohibited or restricted – like nail varnish, perfume, jewellery and Christmas crackers – and including these in your care package could result in it being delayed or destroyed.
Finally, remember to keep any postage receipts and tracking references. This will make it easier to follow the delivery process, and find the parcel in the event of any delays. Following these steps will take the stress out of sending gifts around the world, so you can always let your loved ones know you're thinking of them!
This article was written by Dakota Murphey.
If you would like to write a guest post or share an infographic or video that relates to international shipping, please contact us!