North Korean Shipping Companies Hit With Sanctions for Arms Shipment
Some things you just don't ship, shippers.
At the top of the list of things not to ship are arms and related material. No, not body parts, people; we're talking about weapons. Though, shipping body parts isn't a good move either.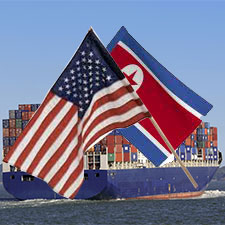 Two shipping companies of the Democratic People's Republic of Korea (DPRK), which is better known to most of us here in the U.S. as North Korea, just got hit with sanctions from the U.S. for their attempt to import arms from Cuba last year.
Again, the companies were not trying to import arms and legs into North Korea, but according to an EIN News article "the shipment included various components of surface-to-air missile systems and launchers, MiG-21 jet fighters parts and engines, shell casings, rocket propelled projectiles and other ammunition."
And they would have gotten away with it, too, if it weren't for you meddling kids!
Why the Scooby-Doo reference? I guess the way Chongchongang Shipping Company and Ocean Maritime Management Company, the two shipping companies the U.S. just sanctioned, tried to disguise the arms and related material reminds me of how each villain in a Scooby-Doo episode disguised him or herself as something he or she was not before getting unmasked at the end of the episode.
Of course, Chongchongang Shipping Company and Ocean Maritime Management Company didn't try to make the cargo ship carrying the shipment seem haunted to keep people from checking its cargo. The shipping companies disguised the weapons and related material as sugar.
"The cargo was falsely declared to be sugar and spare plastic sacks and was camouflaged and hidden under 200,000 bags of sugar when the vessel entered the Panama Canal in July last year," the EIN article says.
Okay, I guess that's more of something you'd see in an action movie, but come on, give me my one Scooby-Doo reference.
The Treasury Department said in their press release yesterday (Wednesday, July 30th), "Chongchongang Shipping Company and Ocean Maritime Management Company used deliberate and evasive methods to conceal the illicit cargo of arms and related materiel aboard the Chong Chon Gang [a DPRK flagged cargo ship]."
The Treasury Department press release described the way the North Korea owned shipping company and the North Korean based shipping company worked together to ship the illegal cargo as follows:
Chongchongang Shipping Company, which is owned by the government of the DPRK, is the owner/operator of the vessel Chong Chon Gang. Ocean Maritime Management Company played a key role in managing the Chong Chon Gang by providing its captain and crew with instructions to conceal the weapons and provide false documentation to the Panamanian authorities…. The crew was given contingency instructions to prepare a false declaration for entering the Panama Canal. This activity points to a clear and conscious attempt to circumvent U.S. and UN sanctions.

"North Korea uses companies like Chongchongang Shipping and Ocean Maritime Management to engage in arms trading in violation of U.S and international sanctions," Under Secretary for Terrorism and Financial Intelligence David S. Cohen was quoted as saying in the Treasury Department press release. "The Chong Chon Gang episode, in which the DPRK tried to hide an arms shipment under tons of sugar, is a perfect example of North Korea's deceptive activity, and precisely the sort of conduct that we are committed to disrupting."
As a result of these U.S. sanctions, a freeze is put on any property or interests in property of the Chongchongang Shipping Company and Ocean Maritime Management Company that are within U.S. jurisdiction. On top of that, transactions are prohibited by U.S. persons or businesses within the United States involving the Chongchongang Shipping Company, Ocean Maritime Management Company, the Chong Chon Gang cargo ship, or the 17 other cargo ships in which these companies have an interest.
As always, here at Universal Cargo Management, we're keeping an eye on the world of international shipping. A friend to your business, UCM is always ready to help you with your shipping as long as your not trying to break sanctions or embargoe or ship something like weapons or body parts.

Source: Shipping