Record Low Freight Rates for Shippers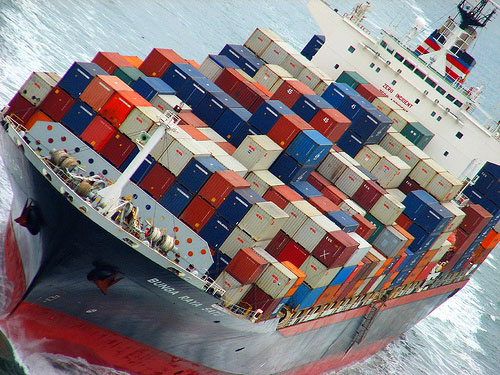 Things have seemed a little "doom and gloom" lately with blogs about a decade-long recession for the international shipping industry, China shipbuilding struggles, and even an aground megaship and an ILA strike at the Ports of New York and New Jersey.
But things are actually pretty good for shippers right now.
The international shipping industry is facing major challenges with overcapacity. Shipping demand is not strong enough offset the increasing capacity that comes with larger and larger ships. This is putting downward pressure on freight rate prices.
For carriers, this is bad news. However, for shippers, this is great news!
To go with overcapacity is the oil glut. For A.P. Moller-Maersk, the world's largest shipping company by capacity, this is more bad news because the oil side of its business is taking a major hit. But again, this reduces international shipping costs for shippers.
On top of reducing shipping costs, lower oil prices usually means more sales for shippers, as consumers have more money in their pockets because they are spending less at the gas pumps.
Greg Knowler writes in a recent Journal of Commerce (JOC) article:
Maersk Group's 2015 profit tumbled 82 percent to $925 million as record low freight rates and a write down in the value of its oil assets savaged the Danish shipping giant's annual earnings.
We covered Maersk's woes in a blog last week, so what I'm focused on in the above quote is the "record low freight rates" mentioned.
During the last couple years, megaships arriving at ports and chassis shortages (not to mention labor strife) helped create congestion that has been costly for shippers. As ports are adjusting to the changes in the international shipping industry, shippers are finally starting to spend less on their international shipping.
Low freight rates right now might push some shipping lines out of the market, shrink competition, and cause higher freight rates in the future. But for now, it's the shipper's market.
Carpe diem, shippers!
It turns out that while some shippers are seizing the moment, shippers as a whole are not taking advantage of this window of lower freight rates.
Spending by U.S. shippers fell to a two-year low in January, reflecting plunging fuel costs and a sluggish freight market, according to a survey by Cass Information Systems Inc.
Cass' monthly freight index report showed shipping expenditures falling to 1.4% from a year earlier, while volume in the same period was down 0.2%, extending declines to a fourth month.
The freight market is typically slower in January. But the numbers illustrate how shippers continue to hold back on spending because of elevated inventory levels, even as lower fuel prices make it cheaper to move goods.
Shippers holding back spending only serves to increase the overcapacity problem carriers are facing and extends the time shippers have to take advantage of lower freight rates.
Carriers try to battle the downward pressure on freight rates with General Rate Increases (GRIs), but there is only so much they can do. With demand lower than supply, such GRIs are difficult to maintain.
The amount of cargo shippers ship is expected to increase in the upcoming months.
Here's some outlook from the above quoted Wall Street Journal article:
Freight demand isn't "robust right now, but certainly it's not nearly as dismal as some of the commentary," [Derek Leathers, president and chief operating officer of Werner Enterprises Inc.] said.
…
"We feel good about some of those things that are affecting the consumers," [Richard Stocking, president and chief operating officer of Swift Transportation Co.] said. "That's solid job growth, the slight wage improvement, as well as a drop in gasoline prices all helped the consumer." Swift's retail-industry customers, he said, "are all pretty bullish about what's going on."
…
The January Cass report said there are other signs that freight levels will rebound, including a slight improvement in U.S. manufacturing production in January, "a sign that manufacturing may be reawakening."
Although factory employment has been hit hard by weak exports, job hires were up 29,000 in January," the report said. "If manufacturing continues to grow—and it should—freight levels will return."
If freight levels do rebound in the upcoming months, that will help carriers raise freight rates to more profitable levels for them, and of course, less profitable levels for shippers.
One thing that is always stable in the international shipping industry is that freight rates are volatile. When shippers see moments of lower costs for their international shipping, it's a good idea to take advantage before that changes.

Source: UC Blog