Shipping Companies Stop Going to Iran as U.S. Increases Sanctions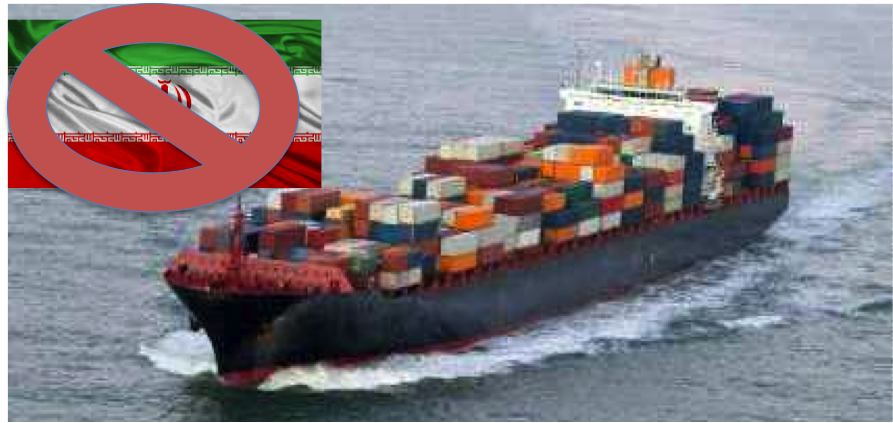 U.S. sanctions on Iran are about to get tougher than they already are making international shipping even harder for the country.
On July 1st, new U.S. sanctions on Iran will be implemented that are causing international shipping companies who do have Iranian import and export options to halt their Iranian voyage routes.
The Wall Street Journal reports:
Calls to Iranian ports by shipping operators have gradually declined over the past year, with major container lines such as AP Møller-Maersk A/S MAERSK-B.KO +1.55% of Denmark, Geneva-based Mediterranean Shipping Company SA and CMA CGM SA of France all announcing they would no longer visit the country.
The trend has picked up in recent weeks, with Kuwait-based United Arab Shipping Co. and Dubai-based Simatech Shipping LLC becoming the latest names to say they would stop accepting cargo to and from Iran.
Sanctions already exist that prohibit most international shipping between the U.S. and Iran. The new sanctions that are about to hit will blacklist non-U.S. entities that engage in certain importing and exporting activities with Iran.
The Wall Street Journal sums up the new sanctions well:
The sanctions that take effect in July under the U.S. National Defense Authorization Act, or NDAA, escalate existing U.S. sanctions applicable to entirely non-U.S. dealings by non-U.S. companies with Iran by exposing them to a blacklisting if they provide significant goods or services to Iran's shipping or shipbuilding sectors, including the National Iranian Tanker Company, the Islamic Republic of Iran Shipping Lines or any other designated Iranian entity.
Blacklisting is not a new strategy for hurting Iran's international trade by the U.S.
In 2011, the U.S. blacklisted Tidewater, the terminal operator of Banbar Abbas—Iran's largest container port. That stopped international shipping companies from importing and exporting to the country through that port.
Blacklisting the Iranian banking system has made "trade increasingly complex and expensive for the country" while "sanctions have also contributed to an 80% fall in the value of Iran's currency, the rial, against the dollar in the past two years, and by consequence fueled rampant inflation," reports the Wall Street Journal.
Al Arabiya reports the following on the success U.S. sanctions on Iran have had and what the new ones will do:
There were 20 countries importing oil from Iran, "today there are only six," he [U.S. Under Secretary for Terrorism and Financial Intelligence David Cohen] said.
Since the sanctions, Iran's GDP has declined by 5-8 percent for the first time in 20 years and its currency fell by 30-50 percent, Cohen said, adding that new sanctions are set to be imposed on Iran in July, Cohen said.
…. Cohen said the new sanctions will intensify pressure on Iran's energy sector as well as its shipping sector
U.S. sanctions on Iran go back to the Reagan administration.
"As a result of Iran's support for international terrorism and its aggressive actions against non-belligerent shipping in the Persian Gulf, President Reagan, on October 29, 1987, issued Executive Order 12613 imposing a new import embargo on Iranian-origin goods and services," reads an overview and factsheet from the U.S. Treasury about sanctions on Iran.
More executive orders came from President Clinton in the 90's that increased the sanctions on Iran.
Both 2008 and 2010 saw tightening of the sanctions on Iran. Now, in 2013, the screw is being turned even tighter.
Here at Universal Cargo Management, we handle international shipping all around the world; however, we also always follow U.S. laws and regulations. So, if you're looking to export or import to or from Iran, you'll have to go elsewhere.
If you're looking to ship elsewhere, we're the freight forwarder to help you out.
—
Sources:
Wall Street Journal – http://online.wsj.com/article/SB10001424127887324659404578503331540834110.html
Al Arabiya – http://english.alarabiya.net/en/News/middle-east/2013/05/19/Cohen.html
U.S. Treasury – http://www.treasury.gov/resource-center/sanctions/Programs/Documents/iran.pdf

Source: Export