Shipping News Alert: Fire at the Port of Los Angeles!
UPDATE: 9/23 @ 9:45 am PST – Most of Los Angeles Terminals are closed today due to the heavy smog from Pasha Facility Fire last night at APL Terminal.
Port of Los Angeles
West Basin: Close today
TraPac: Close today
Port of Los Angeles Container terminal: TBA
Yusen Terminal: Close
Evergreen Terminal: Close today
APL Terminal: Close today
APM Terminal (Maersk Terminal): Close for 1st shift
California United Terminal: Close today
Port of Long Beach
Total Terminal (Hanjin Terminal): Close for 1st shift
International Transportation Service (ITS) Open
Long Beach Container Terminal (LBCT) Open
Pacific Container Terminal (PCT) Open
Pier A Open
Pier C Open
A major fire broke out at the Port of Los Angeles Monday, September 22nd, putting terminal employees, ships, warehouses, and, of course, import and export cargo at risk.
Pictures and updates hit Twitter, unfolding the story.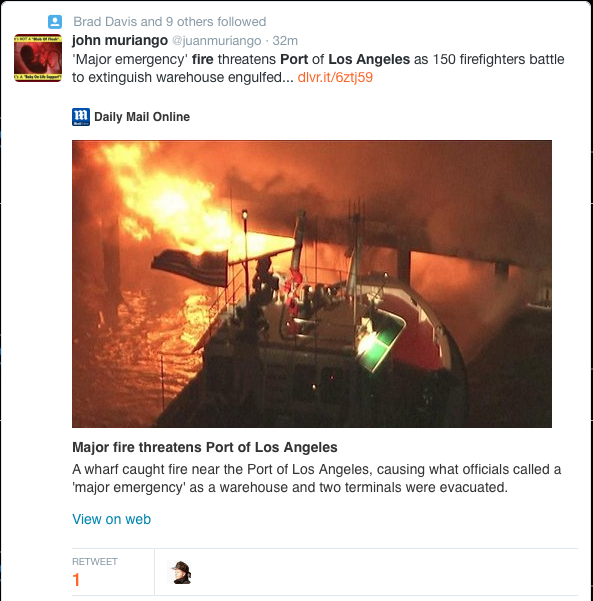 @LAFD tweets updates from the Los Angeles Fire Department. Their tweets provide an overall timeline of the blaze and the efforts to contain it.
At 6:41, a fire had broken out that seriously threatened the largest port in the U.S. in terms of volume shipped.
The fire quickly grew to the status of a major emergency fire that firefighters assaulted from all possible directions–land, air, and sea. Katherine Main, sited as the source of information in the following @LAFD tweet is LAFD Spokesperson.
About 150 Los Angeles Fire Fighters fought the blazes at the port of Los Angeles, getting help from Long Beach.

Billowing smoke presented additional dangers causing both APL and NYK terminals to be evacuated.
By 8:30 pm, within 2 hours of beginning the battle against the blaze, firefighters had most of the fire contained.
Amazingly, 850 workers at the Port of Los Angeles were evacuated and no one was injured during the fire.

Los Angeles Mayor Eric Garcetti tweeted congratulations to the fire department for their work at the Port of Los Angeles, saying operations at the port won't be interrupted.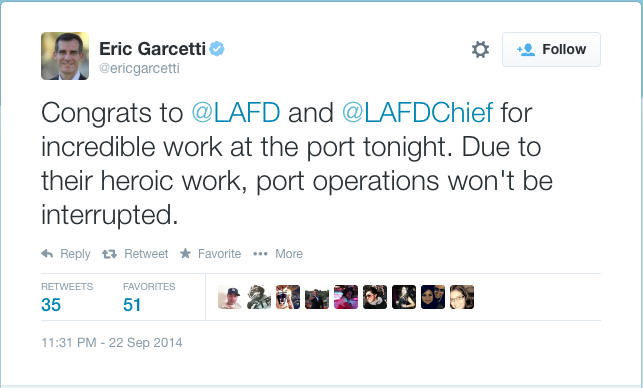 With the Port of Los Angeles already suffering long delays, it is hard to imagine this fire won't exacerbate the problem. Still, the Los Angeles Fire Department did incredible work and should be thanked for their efforts.
A story like this generates many pictures and twitter was hit with them nearly as fast as the LAFD's response and updates. If pictures are worth a thousand words, here are three thousand more words from Twitter:
In case the earlier statement that the LAFD should be thanked for their incredible efforts against the fire was not frank enough:
Thank you, Los Angeles Fire Department. Not only did you save lives, but you saved the national and local economies billions of dollars.

Source: Shipping