Tony Munoz Thinks Obama is Short Sighted on Short Sea Shipping
by Jared Vineyard
He's ba-aaaack.
Back in November of 2011, I posted a blog on Tony Munoz, editor-in-chief of The Maritime Executive Magazine and MarEx e-Newsletter, calling President Obama out on his maritime policy.
Scratch that.
Munoz called Obama out on his lack of maritime policy. There is no Obamaritime.
Nailed it!
Okay, I didn't nail it. Obamaritime wasn't that clever when I first wrote in 2011 either.
What had Munoz riled up back then was the lack of a short sea shipping network in the US and Obama's 447 billion dollar infrastructure plan. The plan put billions of dollars toward getting surface transportation projects off the ground, focusing on highways, rail, and air while ignoring maritime. Dwarfing the $50 billion budget the US normally spent on all forms of transportation, the plan was to put over $70 billion toward highways, over $22 billion toward transit, close to $19 billion toward aviation, over $8 billion toward railroad, and only $357.8 million toward maritime to assist the military.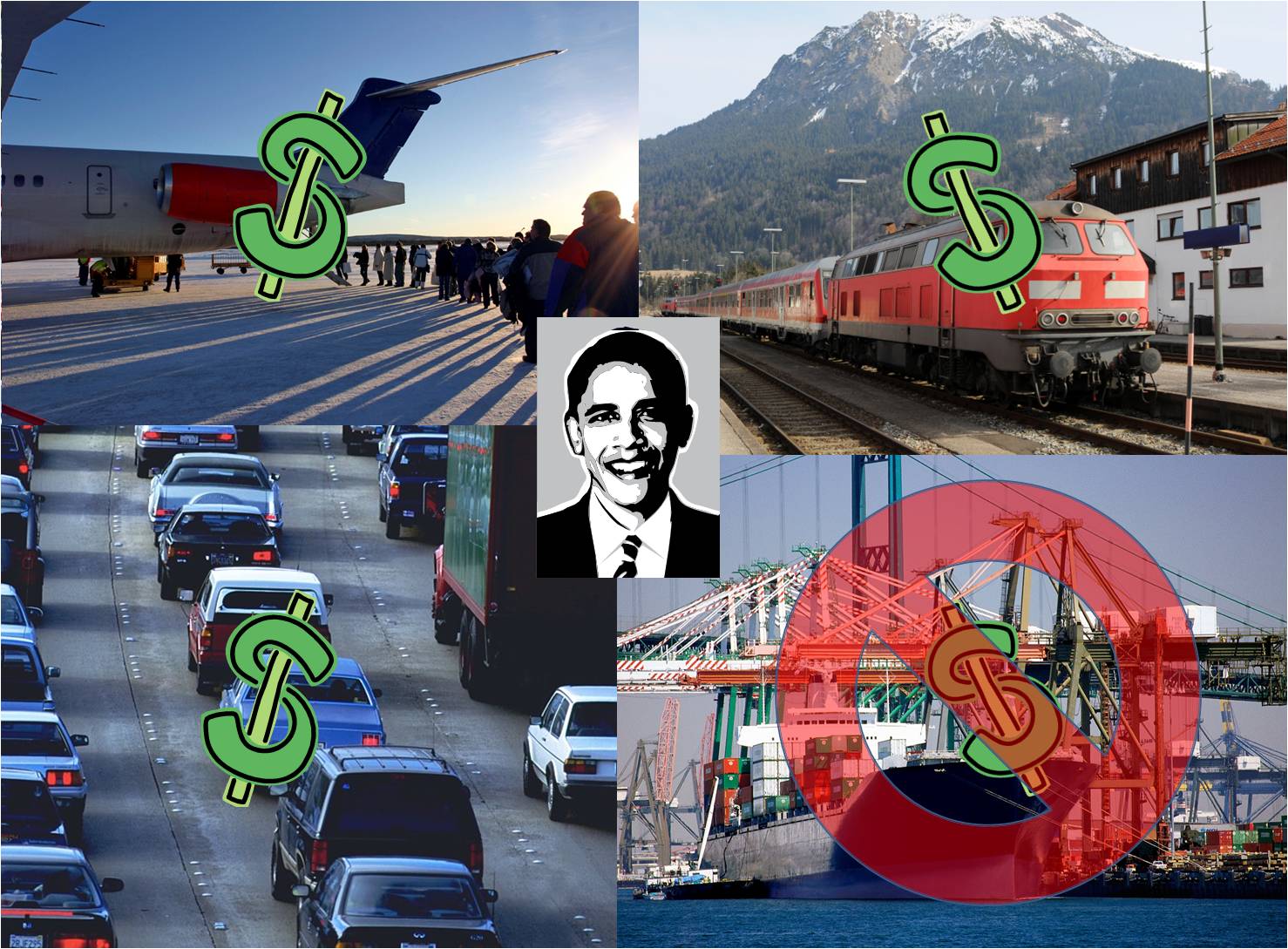 If I remember correctly, republicans were successful in blocking that particular plan of Obama's.  So things worked out as Munoz hoped, right?
Wrong.
In a recent article, Munoz points out:
Unfortunately, the U.S. does not have an effective maritime policy beyond general rulemaking for its EEZ [exclusive economic zone]. Recently, the Department of Transportation was awarded an additional $1.4 billion to its $98.5 billion budget for 2013. The Obama Administration provided an additional $492 billion over five years (2014-2018) for planes, trucks and rail. Unfortunately, when it came to shipping, the Administration gave the Maritime Administration (MARAD) a paltry $433 million for its 2013 budget.
That's right, Munoz is back to calling out Obama's administration, and the U.S. government in general, on its lack of funding for maritime. In particular, he wants to see funding for a short sea shipping system, creating a marine highway with America's 96,000 miles of coastline and 22,000 miles of inland waterways.
These are tough times for the government's budget; why should they give more money to maritime?
Munoz argues:
…there are more than 15.5 million trucks on the nation's highways that log more than 450 billion miles a year. Gridlock annually costs the U.S. economy about $80 billion, and Americans spend 4.5 billion hours stuck in traffic each year. Most urban areas have failing grades for smog, and another 60,000 people will die this year due to illnesses brought on by pollution.… One small freighter or barge can displace hundreds of trucks and the attendant pollution and congestion.
Munoz also points out that the money is there for the big project of developing a short sea shipping program/marine highway in the US. His article laments Capitol Hill being gridlocked with policies on spending to develop maritime infrastructure on hold:
Today, the Inland Waterways Trust Fund – funded by a user tax on fuel oil – has about $100 million sitting idle because Congress will not release it to rehabilitate the 191 locks and 238 lock chambers that support about 11,000 miles of inland waterways. Furthermore, there is over $7 billion sitting in the Harbor Maintenance Tax Fund, paid for by a user fee on the value of a ship's cargo and intended for dredging and maintaining the 360 commercial ports in the U.S.
Munoz says that the US can't wait on taking action in this area, but "the [Obama] Administration has tabled discussions about maritime initiatives until 2017, which essentially means maritime policies will wait until the next administration takes office."
Pointing to the EU, Munoz says there's an example of what the US should be doing when it comes to maritime:
The European short sea shipping network has been an enormous catalyst in building the world's most efficient and environmentally friendly transportation infrastructure over the last two decades. The vision and foresight – not to mention the political will it took to move the project forward – was unprecedented, and the commitment of stakeholders from across the EU countries will provide benefits for generations to come.
Today, the Motorways of the Sea, as it is known in the EU-27, is a major component of the transportation infrastructure supporting a huge and diverse economy, second only to the U.S. The unified effort of eliminating borders, dealing with regional congestion and environmental issues, and integrating the various economies and cultures of the EU serves as a powerful example of what can be done through co-ordinated and centralized government policy to strengthen long-term prosperity.
Thinking about all the jobs that would be created by developing a short sea shipping network in the US and imagining less congestion from import and export cargo being moved along such a maritime system, I tend to think Munoz might be right.
Maybe living with the daily traffic congestion of Los Angeles makes me eager to jump on board with any idea that says it could reduce that congestion.
But billions upon billions of dollars are pumped into the US economy through import and export of ocean freight cargo. Doesn't maritime seem like a strategically sound place to invest?
What do you think? Do you think Munoz is right that the government has been short sighted when it comes to short sea shipping in the US? Let us know in the comments section below.
—
Main Sources:
http://www.maritime-executive.com/article/The-US-Could-Learn-from-the-EUs-Short-Sea-Policies-2013-04-24/
https://www.universalcargo.com/blog/bid/78268/Tony-Munoz-Calls-President-Obama-Out-on-Zero-Bucks-for-Maritime

Source: Economy