UCM's Top 5 Most Popular International Shipping Blogs
This blog is a blog to highlight the blogs on the UCM Blog Page which are our top blogs in terms of popular blog reading. Too many blogs in that sentence? I can never tell.
To narrow out blogs on topics specific to current events that are no longer current, this list is based on blog views over the last year.
No need to keep you waiting, here's the countdown of Universal Cargo Management's top 5 most popular blogs:

This is a pretty new post, but became popular fast. At the beginning of this month, China had tax policy changes that affect shippers. Specifially, they issued a Value Added Tax to replace certain Business Tax in certain industries throughout the country. If you import goods from China, this blog covers how China's new Value Added Tax will affect you.
Speaking of importing goods from China, this popular blog features a top 10 list of the most imported products from China. It's great for the person looking to get into importing from China or who is just curious about the top items that are imported there. Of course, it is a good idea when choosing a product you're going to import to make it one you're passionate about so you can sell it and be successful with it.
When it comes to international shipping, there are two main choices: shipping by air or shipping by sea. Air cargo and ocean freight both have advantages, but which one is right for you? This blog looks at 4 factors you should look at to help you make the best choice. This has been a very popular blog since it was first posted two years ago.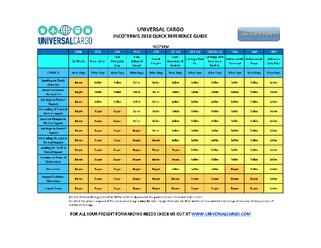 As a friend to your business, Universal Cargo Management provides many resources to help you succeed using international shipping for international business. This popular blog post features five easily accessible resources UCM has on our site. It includes a Ports App for your iPhone, a Logistics Glossary, Incoterms Chart, a Conversion Calculator, and a Cargo Insurance Guide.
Incoterms is a popular subject. Our number one most successful blog is What's the Deal With Incoterms?! While that blog is our most popular, I'm cheating here a little bit by including the whole series of blogs that define the different incoterms individually with it. Each of these blogs could have made this list individually; but, to keep this list from becoming a list of incoterm blogs, I've bundled these together.
If you want to know the definition of a particular incoterm, you can find it in the title list of the incoterms definitions blogs below.
Incoterms Definitions Part 1: EXW, FCA, FAS, FOB
Incoterms Definitions Part 2: CFR, CIF, CPT, CIP
Incoterms Definitions Part 3: DAT, DAP, DDP
Of course, as a freight forwarder, we're not here merely to write blogs related to international shipping; we're here to handle your international shipping so you can focus on the part of your business you love.
We're always prepared to give you great, free freight rate pricing quotes for your imports and exports.

Source: China