3 Strategic Tips for Keeping Ahead of the Competition
This is a Guest Post from Wendy Manning.
Editor's Note: While this is not a blog specifically about international shipping, we thought it would still provide value to our core readership of shippers because international shippers also tend to be business owners.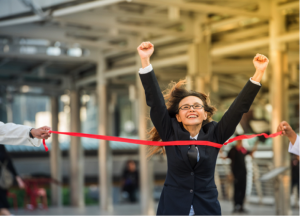 As the economy continues to recover from the Great Recession, startup activity is picking back up, according to the latest Kauffman Index data. But even with this growth, the new startup rate fell short of the 558,000 startups of 2006 prior to the Recession. Competition from big companies is creating a challenge for smaller businesses, Roosevelt Institute economist Marshall Steinbaum and other experts say.
In this highly-competitive market, it's essential to do everything you can to gain an advantage in order for your business to survive. Here are three steps you can take to keep ahead of your competition.
Use BI for Data-driven Insights to Make Smart Business Decisions
One of the most powerful ways to stay ahead of the competition is using business intelligence (BI) analytics tools to analyze big data relevant to your market and your company. Using BI enables you to base your business decisions on hard data instead of guesswork, giving you an advantage over competitors who are relying on intuition and wishful thinking.
You can use BI tools to analyze data about your customers, market, and competition, enabling you to identify hot marketing and sales trends. You can also use BI to do financial planning or to streamline your operational efficiency. Today's best business intelligence tools for small businesses include Zoho Reports, IBM Watson Analytics, and Microsoft Power BI.
Use Technology to Innovate
Innovation and marketing are the two key drivers of business profits, according to legendary management consultant Peter Drucker. Innovation allows you to exploit opportunities your competitors are missing by creating new products and services, finding new applications of existing products and services or reaching new markets. You can also use innovative methods to cut your costs by improving your operational efficiency.
One key to innovation is keeping up with the latest technology. For instance, cutting-edge mobile devices such as the Samsung Galaxy Note8 support on-device artificial intelligence, which allows mobile users to use AI-dependent applications such as immersive virtual reality and augmented reality. This means that companies incorporating VR and AR into their products and marketing are in a position to get ahead of the competition in capturing the important emerging VR/AR market niche. Other emerging technologies that open up opportunities for innovation include AI, edge computing, and conversational platforms. Paying attention to these types of technology trends can help you seize emerging opportunities.
Develop a Strong USP to Attract Your Best Buyers
To challenge your competitors' marketing efforts, one of the most strategic moves you can make is develop a strong unique selling proposition (USP), says marketing guru Jay Abraham. A USP is a succinct statement that offers your target market something desirable that is different than the competition is selling. For example, when FedEx was the premier courier offering overnight delivery, its USP was, "When it absolutely, positively has to be there overnight." A good USP makes your product or service stand out from your competition in the eyes of your target audience.
To develop a USP, there are several strategies you can use. One is to focus on delivering greater value than your competition, such as emphasizing some benefit that your competitors aren't highlighting. Another is to offer better service than your competition. A third strategy is to focus on a target market that your competition is overlooking. Incorporating a strong USP into your marketing and sales campaigns can give you a distinct edge on your competitors.
Relying on BI for data-driven insights, using technology to innovate, and developing a strong USP are three strategies you can use to outflank your competitors. Implementing these strategies can enable you to spot opportunities your competitors aren't seeing, offer products and services they're not offering, and reach customers they're not reaching, putting you in a position to pull ahead in your market.
This was a guest post from Wendy Manning.