"Export Growth to Slow in 2012" are the words that stand out in a recent Journal of Commerce article title. Perhaps that makes you slump a bit as an exporter; however, this year could be the biggest export year you've had yet.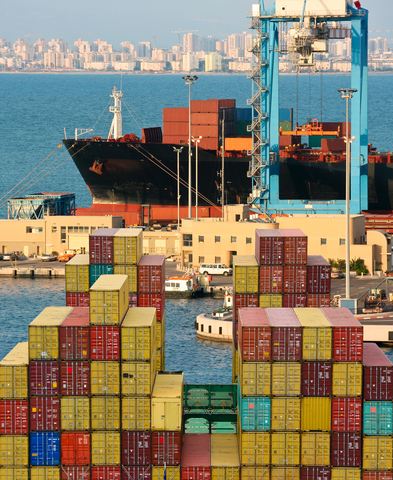 I'm a glass half full kind of guy. When I read that JOC Economist Mario O. Moreno predicted 2012 would only see a 3.8% increase in containerized exports verses the 5.8% increase containerized exports saw in 2011, my first thought was to Price is Right him. "I'll say 3.81% growth in 2012, Bob." In a year we'll see who's closest without going over.
Seriously, while Moreno's newest prediction is not nearly as good as the 5.7% 2012 containerized export increase he predicted before, it is still growth. There's no reason your export business couldn't grow during this time.
As a friend to your business, Universal Cargo Management wants to help you succeed in your business practices of exporting around the world. On behalf of Universal Cargo Management, I present to you 3 tips for growing your export business.
Picture © Roza | Dreamstime.com
TIP #1: Relationships, Relationships, Relationships
Yes, I start with the obvious. We all know that business is built on relationships, but somehow it tends to get overlooked. You have to form relationships with people in the countries you wish to export to.
If you have none, it's time to seek them out. Start with who you know that does business in China or other countries you'd like to do business in. They could be an excellent resource for making acquaintances in other countries and growing your export business.
Many are finding success with social media sites liked Linkedin for building relationships in other countries. But social media sites like Linkedin and Facebook tend to be blocked in China and some other countries. It's much better to personally meet with potential distributors or clients to whom you want to export.
The U.S. Commercial Service (USCS) is another possible resource for finding such business connections around the world to help you grow your export business.
Don't forget, it's not only those you are exporting to that you should be building relationships with. It's important to build strong relationships with your suppliers, your own employees, and those helping you with the logistics of your exporting business. That's right, I'm talking about your freight forwarder. If you don't have a freight forwarder you trust, Universal Cargo Management is ready to be a friend to your business and use our 25+ years of experience in importing and exporting to help you.
TIP #2: Consider the Culture
Learn as much as you can about the culture of the place you export to. A little knowledge can go a long way in building strong business relationships. Likewise, ignorance can hinder your export business growth while causing embarrassing situations and costing business relationships.
I remember a scene from an old episode of "Quantum Leap"–What, you think Scott Bakula has nothing to do with importing an exporting?–where a jealous and prejudice character convinces a Japanese girl that in the U.S. it is a great compliment to call people fat. You can imagine the picnic scene that followed. People get offended, the Japanese girl gets mortified, and it's all because of a lack of good information (plus some deviance).
Find out what you can from others who know the cultures where you want to do business, people from those cultures, who successfully do business where you want to grow your export business, etc.
For example, Universal Cargo Management's own CEO Devin Burke has done a great deal of business in China over the years. In the spirit of making UCM a friend to your business, he has provided content on this site specifically for doing business in China. That includes:
Doing Business in China White Paper
TIP #3: Consider Focusing Instead of Expanding
This is a tough one. It goes against the instincts of many business people. Expand, expand, expand! That's how to grow a business. Sometimes, businesses expand right out of business. If you export to China, there's nothing wrong with wanting to export to Australia, Korea, and Germany too. But as you spread your operations to those other countries, you may find it harder to provide the same great service you were giving your business partners in China.
Focusing in on how you can take care of your current customers better and how you can be more effective in a region to which you already export could be much more profitable than exporting to a new region.
Cut some of the extra things you do and focus on what you do best. You don't need to add every product and service you can think of, just continue to pursue being the best at providing your customers with what you do. This focusing could result in expanding your client base in a particular region and make it much easier for you to export to other regions as well.