The Port of Los Angeles, along with its sister port of Long Beach, is congested. Badly congested. No Vicks or Sudafed is going to take care of it. Frustrations over the congestion are running high for carriers and shippers alike.
However, the situation is especially frustrating for shippers who are experiencing delays and increased costs in receiving their imports.
Approximately 40% of U.S. imports arrive through the Ports of Los Angeles and Long Beach. While congestion is common to ports around the world right now, the high volume of cargo that arrives through the Ports of Los Angeles and Long Beach exacerbates the congestion problem there while adding weight to it for the U.S. economy.
Trucking cargo out of the Ports of Los Angeles and Long Beach is increasingly challenging.
Universal Cargo Management Managing Director Kamy Eliassi described the situation as follows:
As we had discussed about Trucking issues that are more relevant in the US now, we are now experiencing the issue at its highest in Los Angeles/Long Beach ports.
Terminals are fully congested with bigger vessels and vessel backlogs and the process of grounding and putting containers on Chassis is taking very long. Truckers in LA are all behind as every delay has a domino effect on all their schedules.
There are a number of factors working together to create or exacerbate the congestion problems at the Ports of Los Angeles and Long Beach as well as other ports around the world. Here are 5 factors contributing to the congestion:
1 – Bigger Ships & Alliances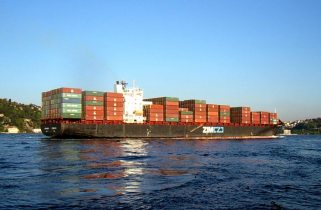 As the international shipping industry has trended toward bigger and bigger ships–yes, you can say it, megaships–carrier alliances have formed to fill those ships.
Because of alliances loading bigger ships with larger and larger quantities of cargo, unloading cargo ships quickly and efficiently has become more of a challenge for the longshoremen working on the docks.
A Peter T. Leach written Journal of Commerce (JOC) article puts it nicely:
As carriers deploy ever-larger ships, the sheer volume of containers aboard those vessels is starting to overwhelm major gateway ports, challenging their ability to unload import containers on a timely basis. The delays are exacerbated by the alliances carriers are joining to operate and fill the mega-ships. Although this has resulted in fewer ship calls at major ports, the calls by alliance mega-ships are absorbing more port capacity to handle those calls and taking more time to load and unload.
2 – Lack of Chassis
Carriers used to provide chassis for their container shipments in the U.S. However, as part of the process of recovering from losses in the billions during the Great Recession, carriers phased out that part of their service and sold off their chassis.
The result has been what was dubbed as the chassis crisis.
A lack of chassis has seriously hindered the movement of cargo containers at the Ports of Los Angeles and Long Beach.
Hapag-Lloyd, part of the G6 carrier alliance, wrote out a lengthy explanation of the congestion and delays at the Ports of Los Angeles and Long Beach. Chassis, or a lack there of, were brought up nine times in Hapag-Lloyd's descriptions of the situations at the various port terminals.
YTI is well operated but cannot cope with increased volume and lack of chassis through-out LGB/LAX area….
CUT is less congested, but is severely impacted by lack of chassis, which leads to 8-14 day delay for on-dock rail program…. They need GACP chassis to perform the cross-terminal shuttle for the rail operation. With none chassis, the rail program seizes up [sic].
LBCT (OOCL's terminal) is certainly affected by lack of chassis and lack of truck power, but they are far and away the least congested. They get one ship a week and work it well. Any delays you see are the result of lines not being able to pick cargo up due [to] lack of chassis and truck.
APMT is not a G6 terminal, but we have services there. They have by far the largest throughput in both harbors combined, but they are fluid and uncongested. We are experiencing delays there, but it is solely because we don't have chassis or truckers to pick cargo up.
Pier A has been used as a relief valve… Terminal is well run and fluid, but they use BN as on-dock rail provider and we use UP…so, everything for HL is a truck move, and back to the same problem of no trucks and no chassis.
If you read more than the bolded words above, beyond chassis you'd see the word "truck" show up over and over again. That brings us to the next factor in all this congestion.
You can read more about international shipping's chassis issues here.
3 – Trucker Shortage Problem
A major problem facing the international shipping industry, especially right here in the U.S. is a trucker shortage problem.
Truck drivers are the basic unit of transportation capacity and the glue that holds supply chains together. No container or straight truck or trailer moves without, at some point, a truck driver. Even so, trucking companies, especially truckload carriers, often have great difficulty finding, hiring and keeping drivers….
—JOC Driver Shortage coverage page
There simply are not enough truckers to handle all the transporting of cargo that needs to take place.
A lack in truckers to transport cargo translates into delays and increased costs to shippers.
4 – Strong Peak Season Shipping
Just last week I wrote a blog about how cargo volume numbers rose in August.
The blog was really optimistic, focusing on the positives of cargo growth and right from the title begged the question, "Is International Shipping Returning to Pre-Recession Levels?"
With all the positives that an increase in shipments means at the Port of Los Angeles, there is also the negative of more cargo and more shipping containers just adds to the congestion problem.
5 – Fire at the Port of Los Angeles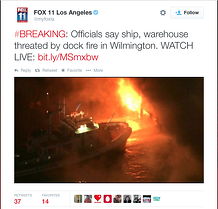 On top of all the congestion that was already happening at the Ports of Los Angeles and Long Beach, a welding accident caused a fire at the Port of Los Angeles.
Thankfully, the LAPD contained and put out the fire quickly; however, that does not mean the fire did not add to the congestion problems at the port.
The smoke caused evacuations at terminals around the twin ports and then closures at many terminals.
Closed terminals got back up and running quickly, but anyone who doesn't think this fire added to the backlogs at the ports is fooling him or herself.