7 Tips to Avoid International Shipping Scams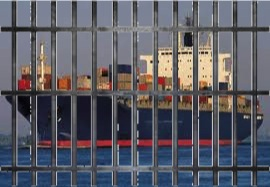 International shipping is a complicated business. That's why freight forwarders exist; they help shippers with all the international shipping details so shippers can focus on the details of their businesses.
Unfortunately, there are times shippers rush into a transaction with a shipping company and get scammed.
News & Record on Greensboro.com published a story yesterday (Monday, October 26th) about a scamming international shipping company getting banned from North Carolina. Here are the highlights:
A Wake County Superior Court judge ordered Monday that an international shipping company refund its consumers and banned it from operating in North Carolina.
…
The lawsuit was filed after 118 consumers complained that Medrano Express never delivered packages, provided false shipping date estimates and failed to return undelivered packages or provided false refunds, the news release stated.
The attorney general's office also said the defendants can't collect payments from North Carolina consumers for packages or shipping and can't take advance payments for any type of business in the state.
The judgement states that the company must also payback $135,443 in consumer refunds and pay $660,000 in civil penalties.
A lot of people were scammed by Medrano Express. Who knows if any of those people will actually see a dime of the money they lost refunded as Medrano Express filed for bankruptcy according to the News & Record article.
Of course, better than getting refunded after being scammed is not getting scammed in the first place.
So how can shippers avoid being scammed when hiring a freight forwarder or shipping company to handle their imports and exports?
Here are 7 tips to avoid international shipping scams:
1. Google the Company
Let's start with the most obvious. A quick Google search (okay, Bing, Yahoo!, or some other such search engine would work too) can reveal a great deal about a company.
I did a quick Google search on Medrano Express and it revealed one negative thing after another. Perhaps the most damning thing that popped up on the search was a consumer alert from the Federal Maritime Commission (FMC) revoking the shipping company's License of Transporte back in 2013. At that point, Medrano Express was no longer even authorized for ocean shipping and consumers and businesses were urged not to tender cargo to the company.
Of course, how often are you going to see something that blatant, telling shippers a freight forwarder or shipping company is a scam? Even if that wasn't there, I would know from the Google search not to use this company.
Just scrolling through the things that popped up online about the company, there was one negative thing after another. Even a Youtube video commercial for the company had comment after comment, dating back seven years, about how terrible the company is and what a scam it is.
If a quick Google search reveals a bunch of negative things about a company, it's probably best to go with another company.
2. Pay Attention to the Comments & Reviews
Those video comments mentioned above lead right into this tip. Check out what people are saying about the freight forwarder or shipping company in reviews.
Often, people don't write reviews when a company does an adequate or great job, but when a company is bad, people often write reviews to warn others.
Freight forwarders and shipping companies are not as likely to have a bunch of Yelp reviews, but if you scroll through comments sections on social media sites, articles, and listings of the company and see a trend of negative comments, that's a red flag. Avoid that company.
3. Check the BBB Rating of the Shipping Company
The Better Business Bureau (BBB) rates businesses from A+ to F, and is a good place to look when you're checking out a business.
Whether or not a business is BBB accredited is not important, as most businesses do not go through that process and it does not affect the rating of a business. I wouldn't put all my trust in the BBB rating of a business, but it does give a general idea of whether a business can be trusted or not.
For example, Medrano Express has a rating of F and an alert listed for the business, while Universal Cargo has a rating of A+.
4. Don't Make Freight Rates Top Deciding Factor
The first three tips could have been for any business, but here we get to something more specific for freight forwarders and shipping companies.
Many shippers get into trouble because they choose their freight forwarder or shipping company completely based on freight rate pricing.
While freight rates are important when importing and exporting goods, they should not be your number one determining factor when choosing a freight forwarder or shipping company. Customer service and experience, as examples, are both more important.
Often times, if that low freight rate that you were quoted seems too good to be true, it's because it is too good to be true. Shippers who jump on board with whatever freight forwarder or shipping company that offers the lowest rate often find themselves getting scammed or having to pay a lot of hidden or unexpected fees.
5. Check How Long a Freight Forwarder Has Been in Business
It is not actually that difficult to become a freight forwarder. I once heard it said that anyone with a phone and internet connection can be a freight forwarder. A couple years back, we released a blog titled "Can Anyone Be a Freight Forwarder?" addressing the issue.
While it is not necessarily hard to become a freight forwarder, being a good freight forwarder takes experience and a strong network of international shipping industry connections.
I mentioned at the beginning of this blog that international shipping is a complicated business. You need to work with a freight forwarder or shipping company that has the experience to handle whatever situations may arise.
A shipping company that has been in business a long time has seen labor strikes, congestion, incremental weather, customs requirement changes, trucker shortages, and much, much more. A freight forwarder knows what needs to happen for your shipments to ship as smoothly as possible and what to do when the "unexpected" happens.
If you go with a freight forwarder or shipping company that has just popped up, you may find yourself facing unnecessary cargo delays, unexpected fees, or worse, the company may collect money from you for shipping your cargo, insuring your cargo, and even getting your cargo released from customs when, like Medrano Express, they're not even shipping your cargo at all.
Experience is key in choosing a company to handle your international shipping.
6. Check a Shipping Company's References
Don't just take a freight forwarder or shipping company's word that they are good. Check their references.
First off, can the shipping company or freight forwarder provide references? If they can't, that says a lot about the company.
You want to work with a shipping company or freight forwarder that has a track record of excellent customer service, integrity, professionalism, and success when it comes to importing and exporting cargo.
7. Make Sure Agent is Actually Employed By Company
Here's a scam that many have fallen victim to. A shipper sets up a cargo shipment with a legitimate, trusted freight forwarder or shipping company, only to have their money and goods stolen because the sales agent they were working with didn't actually work for the company.
Shippers who fall victim to this scam are never really working with the company the think they're working with.
When setting up an import or export transaction, make sure you really are working with the company you think you're working with. Contact the freight forwarder or shipping company, but not through the number(s) or website given to you by the sales agent, and verify through HR that the person you are working with actually works for the company.
It's possible that the name of an actual employee is being used by an identity thief trying to scam you. Make sure the contact information you have for the person matches up with their information from the company.
Related Reading

Source: UC Blog