South China Sea Tensions Worry Shippers
What's going on between Vietnam, the Philippines, and China? Are my imports from this region in danger? Shippers are asking these kinds of questions, and with good reason.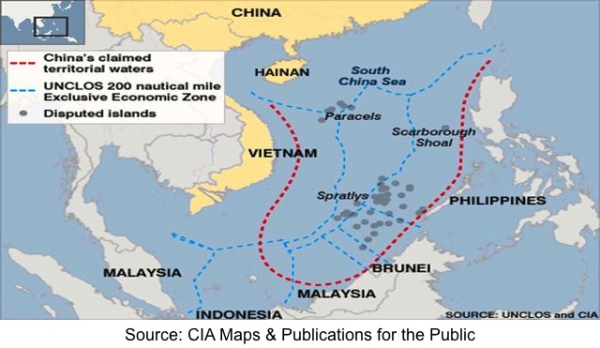 It's all centered on the South China Sea.
China has a claim on almost all of the South China Sea. Many major shipping lanes go through this sea. In fact, about $5 trillion of cargo is shipped through these waters a year.[1]
The problem is China is not the only country with claims to the waters of the South China Sea.
The clashing over claims in the South China Sea that is all over international news lately focuses on Vietnam's and the Philippines' claims to parts of the waters. But Brunei, Malaysia, and Taiwan also have claims over part of the sea.
Lately, China has been assertive, many even call it aggressive, in their claim of the South China Sea.
Not only are the waters of the South China Sea important for international shipping, but they are also believed to be energy-rich with oil and gas deposits.
China's deployment of an oil rig in waters claimed by Vietnam really put things over the top.
Vietnam vessels trying to stop the oil rig from being placed there in the South China Sea were rammed and fired upon with water cannons by Chinese ships. Boats were damaged, people on the Vietnamese boats were injured, and video footage captured the ramming and water cannon firing.[2]
"This extremely dangerous action has been and is directly threatening peace, stability and maritime security and safety," Vietnam Prime Minister Nguyen Tan Dung said.[3]
The dispute over the oil rig triggered dangerous, even deadly, anti-China riots. In Vietnam last week, "Anti-China mobs torched up to 15 foreign-owned factories and trashed many more in southern Vietnam…"[4]
Anti-China protests were already happening in Vietnam and the Phillipines before riots in Vietnam broke out which resulted in deaths (I've read different numbers in different places, but up to 21 deaths is the largest number I've seen). Chinese ships are and have been evacuating thousands of Chinese nationals from Vietnam since the incident.[5]
The deployment of the oil rig and defending it is not the only action by China that has been increasing tensions with its neighbors.
It seems that China is building an airstrip in Johnson South Reef in the South China Sea's disputed Spratly Islands.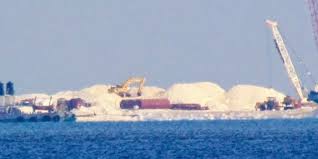 The Philippine foreign ministry released surveillance photos of China doing reclamation work in Johnson South Reef giving evidence to Philippine President Benigno Aquino's accusation that China is violating a 12-year-old agreement signed by China and the 10-member Association of South East Asian Nations "to refrain from occupying uninhabited reefs and shoals in the sea, and from building new structures that would complicate disputes."[6]
Reuters shared President Aquino's words:
"In our view, what they are doing there now is in violation of what we had agreed in the Declaration of Conduct of Parties in the South China Sea," Aquino told reporters.
"The problem is this code is not binding, not enforceable, so we need to come up with a formal code of conduct to resolve the dispute and prevent any potential conflict."
Tensions between China and the Philippines escalated earlier this month when eleven Chinese fishermen were arrested by the Philippine National Police-Maritime Group for poaching turtles at the Half Moon Shoal (which is near Spratly Islands).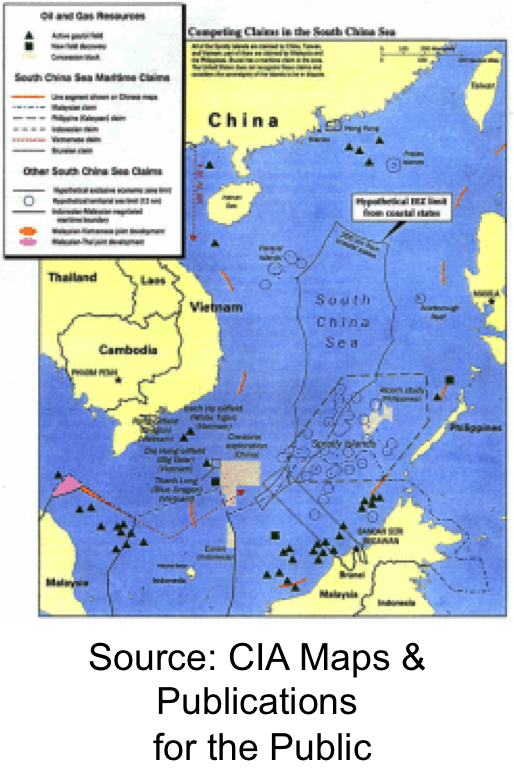 The fishermen insist the Philippine authorities had no right to arrest them because they were in Chinese territorial waters. The Philippine government claims the waters, calling Half Moon Shoal Hasa-Hasa Shoal. They would say Hasa-Hasa Shoal is in the West Philippine Sea, 50 miles from Western Palawan, and part of the Philippines' exclusive economic zone.[7]
China, on the other hand, calls the spot where the fishermen were arrested Ban Yue Reef and claims, as the fishermen insist, that it belongs to China.
China's Ministry of Foreign Affairs called for the Philippines to release the fishermen, telling the Philippines to refrain from taking "provocative" actions. The Philippines say the arrests are not aimed at China.[8]
Last week the 24th Association of Southeast Asian Nations Summit met in Myanmar and "Vietnam sounded the alarm on China's aggressive actions in disputed waters."
The World Economic Forum East Asia will be held starting tomorrow, May 21st through the 23rd in Manila. President Benigno Aquino is expected to discuss tensions in the South China Sea. [9]
Shippers should be interested in what he has to say and how it will be received. No one wants to see tensions continue to rise into a major conflict between countries.
Perhaps shippers with high investments on cargo imported and exported through the waters can rest easier knowing that tensions in the South China Sea are not new and interruptions to shipping lanes in the region are to no one's advantage.
SOURCES:


Source: China