Air Cargo Market Overview
This is a Guest Post by Rupanjan Guha.
The global air cargo industry has changed considerably over the past few decades. With increasing globalization, global manufacturing sectors have expanded or relocated to different regions owing to availability of cheap labor and other benefits. Further, innovative logistics and supply chain concepts, established on low-fuel costs as well as labor costs, emerged together with trends in just-in-time production and end-point manufacturing assembly destination. Moreover, a surge in demand for prompt shipping and control as well as transparency has been noticed with the decreasing new product shelf-life in high-growth sectors such as consumer electronics.
The success of any air freighter depends on significant factors such as efficient transportation capability, reliability, and accuracy. Managing inventories and achieving customer need also plays a critical role in any air cargo shipper's business. In order to meet the rising demand for air cargo, numerous airlines are pressuring the aircraft manufacturers to deliver an increased number of newly manufactured freighters as well as convert passenger aircraft to cargo aircraft.
The air cargo industry plays a vital role in the overall freight transport, and the same accounted for 35% share in terms of revenue of the entire cargo industry in FY 2018, according to the International Air Transport Association (IATA). The commercial airlines transported approximately 53.9 million metric tons of freight in FY 2017 and more than 52 million metric tons in FY 2018, which showcases the growing demand for air cargo.
Boeing is one of the aircraft manufacturing giants constantly keeping track of the latest trends and has been successful in meeting the demands from its customers. According to the company, the air cargo business is expected to double over the next decade, and the fleet of air freighters will grow over 70% during the same time frame. Airbus, the French aircraft manufacturing giant, also observed significant demand from its customers to deliver freighters in large numbers. The figure below depicts the growth of freighters over the next two decades:
GROWTH OF FREIGHTERS, BY AIRCRAFT TYPES (UNITS), 2017 TO 2037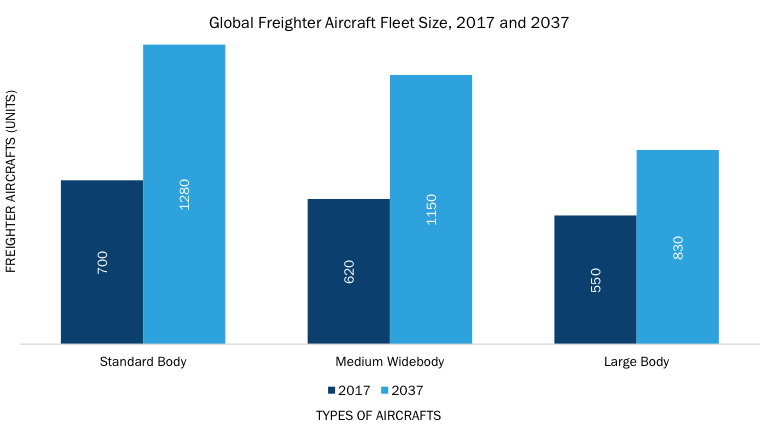 At global scenario, the air cargo industry is experiencing significant expansion in the current years, and in FY 2017, the sector witnessed the most robust demand since FY 2010. This majorly attributes to the soaring demand for transportation of engineering and manufacturing equipment, consumer electronics, pharmaceuticals and healthcare products, and retail products. Nearly 90% of products falling under these categories are shipped by air across the globe.
AIR CARGO INDUSTRY ROAD MAP, 2017 TO 2037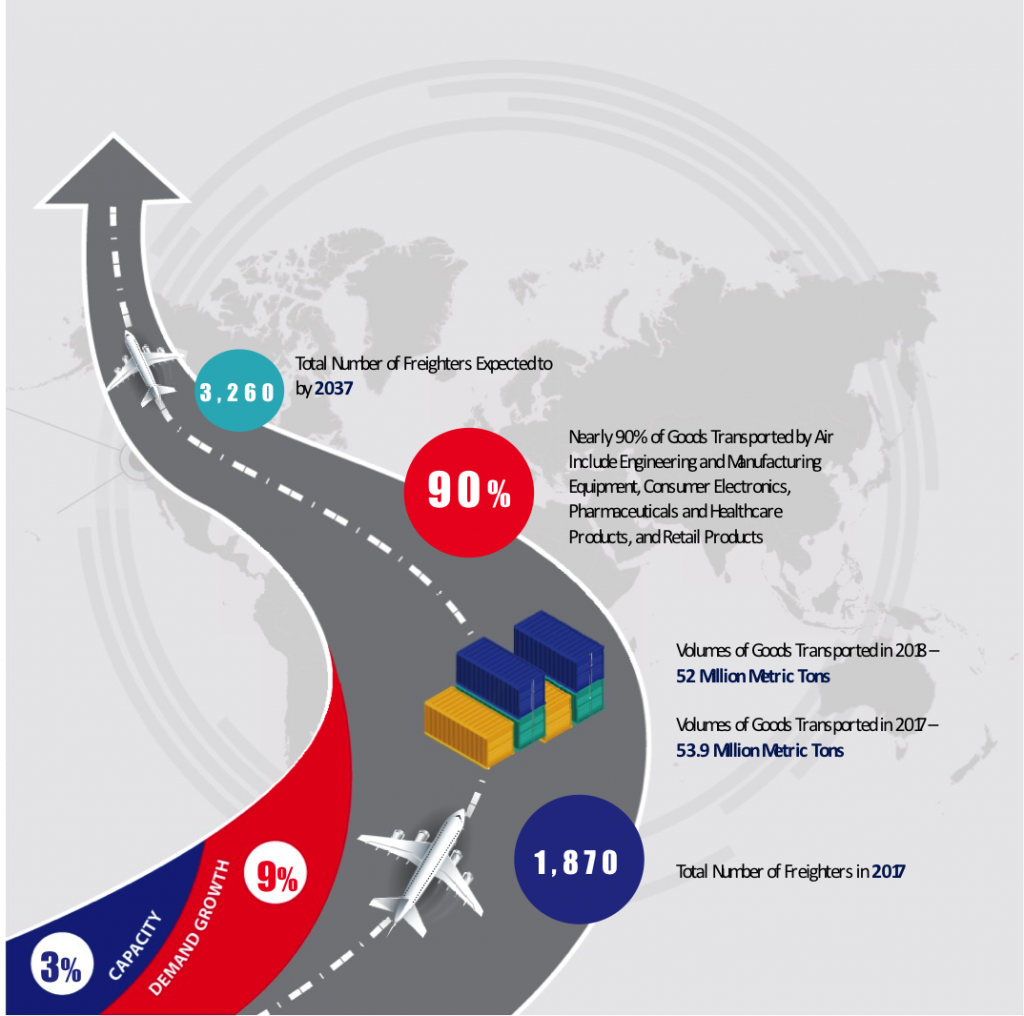 Air Cargo Demand by Region:
The Asia Pacific is the most dominant region in the industry: China being the largest freight carrying country followed by South East Asian countries. The Asia Pacific airlines experienced shipment capacity growth by 1.3% in FY 2017, which facilitated the region to attain a 37% share of global air cargo transport.
Africa based airlines witnessed volumetric demand growth of 24.8% in FY 2017 while the capacity growth stood by 9.9% in the year, marking the region as the fastest growing region worldwide. Similarly, Middle Eastern carriers also gained their momentum in delivering shipments. The annual demand for air shipment in Middle Eastern countries rose to 8.1% in FY 2017, while the capacity grew 2.6%.
European air cargo carriers benefitted largely in FY 2017, due to significant demand from European manufacturers' domestic as well as international trade orders. Owing to the increase in trade, airlines across Europe experienced remarkable growth in terms of cargo volumes as well as capacity.
Americas, on the other hand, observed decent growth in FY 2017, with cargo volume reaching 13.6% and capacity growth of 4.7%. The rise in the US GDP and valuation of the US dollar have impacted positively on the air cargo market in the North America region. Similarly, rebound and expansion of the Brazilian economy helped South American air cargo business to witness profit.
Conclusion:
The demand for air cargo is foreseen to soar over the next decade, attributing to the increasing strength of international transportation of temperature controlled goods and rise in cross border e-commerce trade.
Constant focus on on-time delivery of product across the globe is continuously driving the cargo carriers in procurement of an increased number of aircraft, which is further expected to boost the growth of the air cargo industry globally. Volumetric growth from emerging economies is anticipated to be flamboyant in the coming years, while developed countries will witness a slow growth rate.
An increasing number of airports worldwide would enable the global air cargo industry to witness growth in cargo volumes in the years to come, which would further benefit the market players to grow in terms of freights carried as well as revenue.
This was a guest post by Rupanjan Guha.
Author Bio
Rupanjan is an Aerospace & Defense Market Research Analyst at The Insight Partners, a leading business intelligence and consulting company. He is an Aeronautical engineer with sound knowledge of the aviation and defense industries. He is proficient in business consulting, research report writing, & market forecasting, sales support, competitive analysis, and Go-to-Market Strategy.