When we asked last week what you--shippers, our blog readers, our social media followers, or general internet perusers--would like to read about in Universal Cargo Management's international shipping blog, Matthew Matuse answered our question with a very interesting question of his own.
"Is it still possible for people to travel as passengers on cargo ships?" Mr. Matuse replied.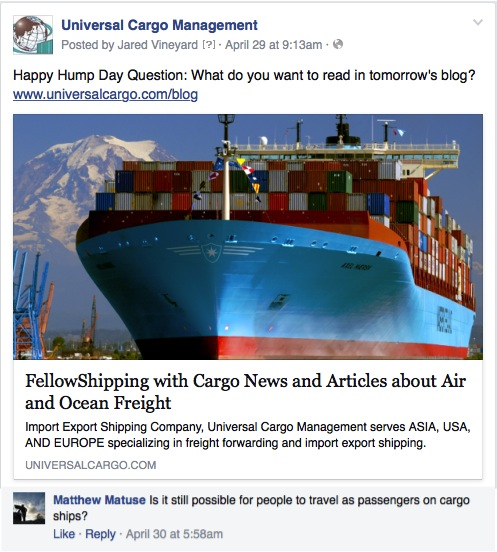 This question is not asked of us frequently enough to land a spot in our FAQ section, but it is a relevant enough question to international shipping to be worthy of a blog.
Plus, we take your blog suggestions very seriously. That's why we ask what you want to read about in our international shipping blog each week, after all.
The simple answer to the question is yes.
In fact, here's a Youtube video from MrMF22 chronicling his trip across the ocean as a passenger on a cargo container ship.
Here's an excellent video about international shipping from the TED Talks series. Rose George, the speaker, took passage on the Maersk Kendal to learn about ocean freight shipping on a container ship.
Rose George: Inside the secret shipping industry
Both of these videos feature a person who was a passenger on a container ship several years ago now. And Mr. Matuse knew people used to be able to take passage on cargo ships; his question was is it
still
possible for people to travel as passengers on cargo ships.
Being a passenger on a cargo ship is not the most commonly done thing; however, that does not mean it is not still done.
Perhaps it makes shippers nervous to know that passengers may be on a ship that is importing or exporting their goods. Don't worry, it is extremely unlikely that such a passenger would be able to manage tampering with any of the shipping containers onboard.
Of course, for peace of mind about your shipping containers of goods, you should always invest in cargo insurance to protect yourself from theft, damage, or any other unexpected event in the course of importing or exporting goods.
Back to being a passenger on a cargo ship. Why would people do it?
Why Travel By Cargo Ship?
There are a number of reasons I've seen for people to travel by cargo ship.
Education
Unique Experience
Quiet
Low Carbon Travel
Like Rose George in the video above, some people travel by cargo ship to learn more about the crucial industry that delivers 90% of the products you see at stores.
As mentioned before, not many people go out and travel by container ship, so doing so will give you a unique experience that you can tell friends and people you meet about. Some of us could really use interesting conversation topics for parties.
Travelling by cargo ship gives a passenger plenty of time to be on their own. If you don't like crowds when travelling, this mode of transportation could be perfect for you. There aren't tons of other passengers around to bother you. Read, relax, contemplate life… You're free to do this all without interruption on a container ship.
While ocean carriers are getting better and better at reducing carbon emissions in cargo shipping, what really makes being a passenger on a container ship a low carbon way to travel is that these ships are going whether there are any passengers or not. So your addition to carbon emissions is zero in this mode of travel.
UCM Does Not Book Cargo Ship Passengers
It is important to note that we do not arrange passengers to travel on container ships here at Universal Cargo Management. We arrange for your cargo to be shipped internationally. People are not cargo.
In fact, we're so dedicated to that last statement that we actively support organizations like CAST, ZOE Children's Homes, and International Justice Mission, which fight human trafficking. You can find out more about these organizations and others we support on our Mission Statement & Charitable Giving page.
While our business is shipping goods, there are companies whose business is booking passengers on cargo ships.
5 Cargo Ship Passage Companies
We've saved you the trouble of a Google search by listing five companies with their websites that specialize in booking passengers on cargo ships.
It should be noted that while we are listing these companies here, Universal Cargo Management does not actually endorse any of these companies. We have no knowledge of how good these companies are as our business is international shipping.
Maris Freighter Cruise and Travel Club
https://www.freightercruises.com/
Flightless Travel .Com
www.flightlesstravel.com/plan/cargo-ships/
Maritime Cruises
http://www.maritime-cruises.com/
Freighter Voyages
http://www.cargoshipvoyages.com/
A la Carte Freighter Travel
http://www.freighter-travel.com
Get Blogs On Your Topics
If you have a question or international shipping blog topic, please share it with us. We love posting blogs that you want to read. You can suggest topics in the comments section below or by hitting us up on our social media pages.