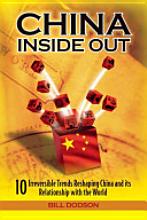 This book deals with 10 trends shaping China and how it effects all of us. The Author, Bill Dodson, makes a very good case to back up his statement that these trends are irreversible, which is a pretty bold statement.
Some of the trends discussed in this very current book (copyright '11) cover the rise of the new generation W (for web) where he provides startling stats such as a projected half a billion internet users in China this year. That's almost double the population of America! Other stats include:  600,000 middle class in China right now, 70% of China's drinking water is undrinkable, and, within the whole country, the agricultural land that is still unpolluted is only about the size of Texas and shrinking.
If you are anything of a Globally conscious person, or your business is in some way affected by China, you must read this book. It will not only be an eye opener to someone who currently does business in China, but will also provide valuable insight on how to forecast what to expect in the coming decade for your business. Even if your current business is not yet connected to this growing Global superpower, it will be.
Bill Dodson comes across as someone who has spent ample time doing business in China, studying the culture first hand, with obviously a keen eye on the fast ever changing society of capitalistic communists that are changing the way the world does business.
I personally believe China is the key to where the world is headed economically. I travel there at least once a year in my business, and sometimes even more. I have been going to Asia about every year since '87. I have read numerous books on the culture of China and I have been studying Mandarin. However, I would rank this book among the top in real practical information that is helping me to better understand this culture in ways that I have never before been able to do firsthand. Ofcourse, when you travel to China on business you are focused on your task and trying to maximize your time management.  Going from airport to taxi, taxi to hotel, hotel to meetings, meetings to eating, eating to…..GOLF? Massages? Who has time to learn about the culture and study trends?
With that said, I do know one thing, I have learned so much from this book that I will no doubt be educating my good PENGYOU's (friends) in China on my next visit.
My rating with 7 stars being best, I give this 5 ½ stars.