Cable Seals to Ensure Security for Goods in Transit
Guest Post by William Mckeen.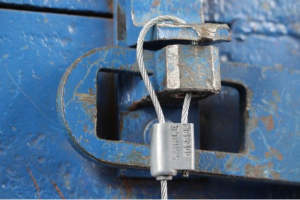 When moving goods, one of the greatest challenges is providing security to those shipments and being able to both notice and deter tampering or theft. This can be done by sealing shipments with security seals. Security seals provide barriers against as well as evidence of intrusion.
Security seals come in a number of different forms from security tapes and labels to plastic, bolt, or cable seals. These seals are applied to doors, hatches, valves, and openings to prevent them being opened without shippers or receivers noticing the tampering.
Tapes and labels will be placed along seams and break when they are moved from their original position. Plastic Security seals are used to secure moving parts together and can be used on doors or valves. Bolt seals are used to seal doors or hatches and once applied require bolt cutters or specialty removal tools to take them off. Cable seals can be any length and as such may be used to secure a number of points, providing a barrier to entry as well as evidence of intrusion if they are cut.  
When shipping, cable seals help provide a middle ground between plastic indicative seals, which are easily broken, and bolt seals that don't offer adjustable lengths. Cable seals offer variable lengths, locking mechanisms, and marking options that can be customized to meet almost any application. Commonly, the seals are laser marked with sequential numbers, barcoding, and company/manufacturer names. Seals typically employ non-preformed steel cable to prevent cutting and reapplication. The cable frays when cut and will not feed through the seal body afterwards.
The use of cable seals in the logistics industry is varied as to application, size, and marking because often security requirements are dictated by customer needs. Across the industry, there is a desire to move things quickly and with as few errors as possible; to that end, over-molded and barcoded cable seals are growing in popularity.
Over-molded cable seals are your standard metal seals with a plastic casing to improve marking and readability by various barcode scanners. This type of seal is resistant to rust and less likely to have the marking tampered with than traditional painted or printed seals. In the logistics industry, cable security seals are most often applied to rail cars, shipping containers, and truck doors.
Among the most common application for large diameter cable seals is the in-transit security of high value or cross-border shipments across industries. Cable seals over 1/8th of an inch or 5mm are the minimum standard accepted for use by members of the Customs-Trade Partnership Against Terrorism (C-TPAT), a public-private partnership between Customs and Border Patrol and companies that have an interest in cross-border shipments. The seals can use a number of different metals for their bodies but the most common are zinc and aluminum with an attached steel cable.
Cable seals are most often the best security seal and tamper-evidence solution for shipments made by cargo ship. These long-tail extended supply chains that use ocean-going vessels for transport have unique challenges that are critical to the integrity of those shipments. Among those are using non-corrosive materials along with redundant custodial systems, both of which are critical to the reliability and safety of your ocean-going cargo and goods as they travel across the harshest environments in the world.
In these instances, sealing both doors with a large diameter 4-6 foot long seal is often the best option. This protects against tampering from either side of the container and is a cost effective way of securing high value shipments.
When it comes to cargo transported via rail or railcar, distinctive challenges must be considered. Cars held in rail yards for inspection or transfer travel through rural or desolate regions, variable climates, and long periods of unreliable physical security. All of these are very real threats to goods transported on railroads. In this scenario, cable seals are resistant to the jostling of transit along with the environmental challenges of being exposed to the elements. Also when cut, cables are less likely to puncture tires than bolts, which can present this challenge on intermodal shipments.
In conclusion, shipping goods is a challenging and diverse exercise and requires security measures that can meet those needs. Cable seals are a highly customizable option for shippers to consider when securing their cargo. These seals can be as varied and unique as every shipment and customer. Whether you're shiping grain via railcar, electronics on cargo ships, or other valuables in intermodal containers there is a cable seal to meet your needs.
This was a guest blog post by William Mckeen.
About the Author:
William Mckeen is an experienced communications professional with a demonstrated history of working in the political, logistics, and supply chain industries. 
Link: https://tydenbrooks.com