China About to Have Beef with U.S. Exports, & That's a Good Thing!
Hanjin Assets, Maersk, Carrier Collapse, China's U.S. Export Ban - Universal Shipping News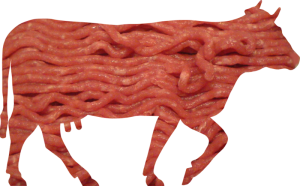 With all the bad news for international shipping that came with the collapse of Hanjin Shipping, how about a little good news for the industry?
U.S. agricultural exports look to get a huge bump next year as China is planning to lift the ban on U.S. beef.
China has banned beef from the U.S. ever since 2003, when "mad cow" infected beef was shipped from Washington state. You could say that China has had a beef with U.S. beef for the last 13 years. But you probably wouldn't because you're not that corny.
Bovine spongiform encephalopathy--the technical term for mad cow disease--being found in U.S. cow actually shut down many export markets for U.S. beef. But the Chinese market is a huge one. The impact of China importing U.S. beef again cannot be overstated.
An article from the Loadstar about China conditionally lifting the ban on U.S. beef enumerates the market, its recent growth, and its expected growth:
According to a report from Rabobank International, China's beef imports surged 51% in the first seven months of this year, and one projection envisages a 24% increase in beef and veal imports this year to reach 825,000 tonnes – twice the level recorded in 2013.

The growing appetite and purchasing power of its middle class has catapulted China into the second spot in the global beef-buying hierarchy….

In a statement on agriculture export growth, the US Department of Agriculture (USDA) predicted China would reclaim the top spot in US agriculture exports in 2017, surpassing shipments to Canada.

This is due to the convergence of rising meat exports to emerging markets and a bumper crop of wheat, soybeans and certain other types of produce. USDA projections see agriculture exports growing by $6bn more than previously expected to $133bn next year 2017. The US's agricultural trade surplus is expected to rise to $19.5bn, up 40% from the $13.9bn surplus expected this year.

…

US beef exports are expected to reach $5.3 billion in 2017.
Agriculture is one of the few areas where the U.S. exports more than it imports. What? Selling more than spending? In a culture of credit cards and a backdrop of a federal government debt approaching $20 trillion, the U.S. trade deficit was $40.73 billion in August (according to American Shipper). It's good to see an area in trade where there is a growing surplus.
Of course, China lifting the ban on U.S. beef is a huge factor in why that surplus is expected to grow from nearly $14 billion this year to nearly $20 billion next year.
However, there are a lot of complications involved in removing a ban on a food product exported from one country to another. Will U.S. beef be cleared for export to China soon enough for these lofty predictions to come true?
According to an article from Capital Press, "U.S. beef access to China could come quickly":
"There's not a set timeline … but when you look at how quickly China has worked with countries like Canada and Brazil to restore that access once they lifted their ban, I think this could be a matter of months," said Kent Baucus, NCBA director of international trade.
It is probably a good time for U.S. agricultural exporters to look into deals with Chinese importers interested in beef. The demand is strong, and the upcoming year should provide high profit opportunities for U.S. beef suppliers.
On the actual exporting side, air freight is undoubtedly the best way to go with beef, but there may be situations where reefer containers on ships would work too.