Could "Robot Ships" Be the Face of the Future for the Shipping Industry?
This is a guest post by Cory Levins.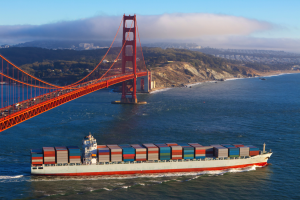 Progress happens at an astounding pace. The world we inhabit today is very far away from the world of yesteryear. The past couple of decades have seen technological advancements, such as personal computers and smartphones, that have become part of our daily lives today.
It was the advent of machines which first led us to the industrial revolution. Now we have the robotic revolution — something which is set to change the landscape of the modern world.
The startling progression of robotic technologies will play a key role in the future of warfare, medicine, and economics. Robotics will impact many different industries throughout the world, including the maritime industry. Robots already regularly play essential roles, both at sea and on shore, in efficiently moving cargo.
With the rise of digital intelligence and global connectivity, autonomous and remote-controlled ships (piloted by people on shore) are the latest in maritime advancements. Incredible developments in telecommunications, computing, and electronic sensors have researchers—all over the world—working toward turning science fiction into reality.
Robot Ship Inspectors
One of the more onerous and time-consuming tasks associated with keeping large cargo ships in top shape is the need to conduct regular inspections for corrosion or other general wear and tear. It's essential that shipping lines remain in compliance with safety standards.
Currently, surveyors must risk their safety to inspect every inch of the vessel. Ship inspection robots would improve the accuracy and quality of these inspections, saving time and money for ship owners and reducing the hazard risks for traditional surveyors.
Alstom Inspection Robotics and a student team from Zurich have developed SIR—a cost-effective, lightweight Ship Inspecting Robot. It's a prototype designed specifically to conduct visual inspections of the difficult to reach parts of enormous cargo vessels and ballast tanks. The overlapping wheelbase and four magnetic wheels allow SIR to negotiate I-beams and other tricky obstacles usually found within ship ballast. Four infrared sensors detect obstacles and edges, with the robot controlled via a wireless transmitter and live video feed.
Many others are investing time and money in the multitude of possibilities open to the maritime community. INCASS (Inspection Capabilities for Enhanced Ship Safety) and MINOAS (Marine Inspection Robotic Assistant System) are EU-funded projects aimed at improving the process of inspection of marine vessels using new robotics systems. ROBOSHIP is an initiative from SmartBot, which involves the development of a unique and intelligent multi-sensor system for inspecting and maintaining water ballast tanks.
Fire Fighter Robots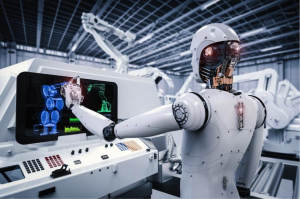 The Naval Research Laboratory and a collection of U.S. universities developed a Shipboard Autonomous Fire Fighting Robot (SAFFiR). It's a humanoid-type autonomous robot, able to detect and suppress shipboard fires. While not yet ready to replace firefighters, it's a significant help to those people who traditionally deal with on-board fires.
In the eventuality of a fire on a ship, robots are tasked to pick up and transport fire hoses, turn valves, and pour water. The robot can withstand heat up to 932 degrees Fahrenheit and has a vision-guided system to search out survivors. The robots can respond to gestures and commands. UV and IR cameras enable them to see through thickening smoke to detect the exact source of excessive heat.
Fitted with multi-modal sensors which provide advanced navigation for overcoming obstacles is helpful in keeping the system upright, despite the pitch and swell of a rolling sea. Tests by the Navy show that industries other than defense, such as offshore platforms and commercial vessels, can use SAFFiR.
Hull Cleaning Robots
Bio-fouling refers to the build-up of organisms – like plants, algae, or barnacles – present on a ship's hull. The drag compensation reduces ship speed by up to 10%, resulting in the seagoing vessel using about 40% more fuel. With increasing concern around environmental issues, green shipping technologies that improve fuel efficiency and reduce carbon-dioxide emissions are in demand. Typically, ship owners apply toxic coatings to prevent bio-fouling. However, they pose a severe threat to marine life. Hull cleaning robots can play a pivotal role.
Funded by U.S. Navy Office of Naval Research, SeaRobotics has developed a unique and innovative robot dubbed HullBUG (Hull Bio-inspired Underwater Grooming). The HullBUG is an exciting advancement which allows for autonomous ship hull inspection and cleaning. It crawls along the hull surface, performing light grooming duties. A fluorometer enables the robot to determine where there may be fouling films, and the robot uses rotary brushes or jets to scrub away the offending marine material.
The developers of the technology have estimated if the industry were to implement these robots on a broad scale, the economic and environmental benefits would be astronomical. Even a 5% improvement in fuel efficiency would translate to a phenomenal saving of over $15 billion annually for the industry worldwide. Additionally, it would reduce greenhouse emissions from the fleet by a whopping one billion tons.
Robotic Vessels
Rolls-Royce has recently unveiled designs for unmanned, remote-controlled cargo ships. Although skeptics doubt their ideas are destined to become a reality, the manufacturer believes that modern technology will see the creation of their first remote vessel within a decade. There's a new research project named MUNIN (Maritime Unmanned Navigation through Intelligence Networks), aimed at developing and testing the concept of the autonomous ship.
The world's largest mining company, BHP Billiton Ltd., is interested in the application of large, automated cargo ships. They'd be useful for carrying everything from iron ore to coal, and their interest is indicative of the strategic shift felt throughout the entire industry. A move to crewless ships opens the possibility for considerable savings in the long run.
"Safe and efficient autonomous vessels carrying BHP cargo, powered by BHP gas, is our vision for the future of dry bulk shipping," was posted on their website recently. The company is one of the world's biggest dry bulk charterers and is actively seeking partners to work with them to create significant changes in the sector.
The U.S. Navy already has a USV (Unmanned Surface Vehicle) which uses acoustic and magnetic technologies for sweeping across the ocean floor to find mines. The technology is known as UISS (Unmanned Influence Sweep System) and is of great benefit when utilized in the fight against maritime piracy.
If all goes according to plan, 2025 will see Japan's shipbuilders and maritime shippers launch autonomous, remote-controlled vessels across the Pacific Ocean. The country's largest container line has a distinctive vision and is rigorous in its pursuit of fully autonomous technology—technology which may very well prove to bring significant improvement and possible disruption to the global shipping industry.
Japan's government is providing funding for research into data transmission from ship to shore. They are setting the standards for automated shipping, with the goal being 250 domestically built ships which will incorporate the latest in cutting-edge technology, and they propose to have these available by 2025.
Global Shipping
The (IMO) International Maritime Organization (the UN agency in London which oversees global shipping) is considering regulations around the autonomous surface ships. Its safety committee recently announced on its website it is reviewing proposals for studies on the "safe, secure and environmentally sound operation" of autonomous vessels.
With autonomous ships now a reality, this will change the way companies design and operate transport systems. Many companies have begun investing heavily in vessel safety operation, logistics, and energy-saving processes. Research and development of methods, materials, and processes which will cut costs and boost safety are a primary concern for all. Developing a working vessel which operates without people will inevitably help reduce human errors which, unfortunately, are responsible for the majority of most marine casualties.
These proposed automated ships will inevitably be computer controlled. Backed by an extensive array of sensors—including cameras, radar, microphones, sonar, infrared systems, lidar, and, of course, GPS. The real problems will arise when trying to accurately figure out how to determine the necessary bandwidth these new vessels will operate on and how successful operation of real-time trials will be.
Utilization of robots in the maritime industry will undoubtedly prove to be a positive benefit and have broad-reaching ramifications for all those whose livelihoods depend on ocean-going voyages. Although the robots can be helpful in many crucial ways, there is no way for them to replace the skills, experience, and wealth of knowledge that traditional salty seafarers bring to the industry. As with anything, a healthy balance of the two is necessary to create and maintain genuine, sustainable benefits.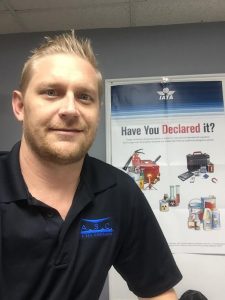 This was a guest post by Cory Levins.
Author Bio
Cory Levins serves as the Director of Business Development for Air Sea Containers. Cory oversees the development and implementation of ASC's internal and external marketing program, driving revenue and profits from the Miami FL headquarters