ConRo Ship Catches Fire & Sinks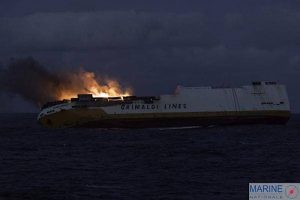 On Sunday, a ConRo ship caught fire, and it is now sunk.
[A ConRo ship is a combination container and RORO ship. RORO stands for roll-on/roll-off because such ships are designed to transport wheeled vehicles that are literally rolled on and off the vessels.]
Jon Shumake reports in American Shipper:
The fire-stricken Italian-flagged ConRo vessel Grande America sank Tuesday afternoon about 180 nautical miles off the French coasts, according to the French Atlantic Maritime Prefecture, after a fire broke out Sunday night that caused all 27 people on board to abandon ship in the Bay of Biscay.

…

The Grande America, owned and operated by the Italian Grimaldi Group, was en route from Hamburg in Germany to Casablanca in Morocco when the fire started in a container loaded on the weather deck before spreading to other nearby containers.
No One Was Killed
Thankfully, despite the loss of the Grande America, no lives were lost. The American Shipper article continues:
The Grimaldi Group said Monday in a press release the ship's master decided shortly after 2 a.m. Monday to abandon ship with all on board — 26 crew members and one passenger — aboard a single lifeboat. They were safely evacuated onto the Royal Navy frigate HMS Argyll after the lifeboat sustained damage on the heavy seas and was unable to make headway.
Still, having their ship go up in flames followed by their lifeboat (that was made up of fiberglass board marine) getting damaged in heavy seas sounds like a scary experience for the crew and passenger of the Grande America.
Oil Slick
There is another scary side to this story. That's the environmental impact side.
A BBC News article reports that France is bracing for oil spill damage from the event:
French authorities are bracing for a huge oil slick to hit the country's coastline after an Italian ship capsized near La Rochelle on Tuesday.

…

… 2,200 tonnes of fuel has reportedly spilled into the ocean.

A slick 10km (6 miles) long and 1km wide is expected to reach Brittany, northwest France, by 17 March.

Four ships have been sent to limit the spill, and preparations are under way for a clean-up operation on land.
There was more on the Grande America than oil that is an environmental concern.
Containers of Hazardous Materials
The BBC News article also reports:
Grimaldi Lines, which operates the ship, said in a statement that 365 containers had been onboard, 45 of which contained "hazardous materials".

Among them were 10 tonnes of hydrochloric acid and 70 tonnes of sulphuric acid, according to Vice Adm Jean-Louis Lozier, head of the regional maritime authority.
Hazardous materials on the Grande America are a concern not only for contaminating the water but also for contaminating the atmosphere with what burned and turned into air pollution.
In the past, hazardous materials on ships have caused or made fires worse on container ships. The cause of the fire on the Grande America is still under investigation. I've read conflicting theories in articles of whether the fire started in the RORO vehicles and spread to the containers or if it started in the containers themselves.
Therefore, it remains unclear if hazardous materials played a role in starting the fire.
Importance of Cargo Insurance
Shippers' need to protect themselves with cargo insurance from loss and damage of goods during international shipping is magnified by one of the many concerning details about this story.
That detail? Events like this ConRo ship's fire are common.
At the end of the American Shipper article, Shumake writes:
The fire on the now-sunken ship was the third serious containership fire in 2019. In January, fires broke out on both the 7,150-TEU Yantian Express and the 9,200-TEU APL Vancouver.
This is the third serious containership fire in 2019? We haven't even gotten through three months in 2019 yet!
And fire isn't even the only danger container ships, along with all their cargo, face. There are storms, collisions, running aground…
Through the years, we've posted many, many blogs on stories of containerships, along with their cargo, getting damaged or lost. And we don't post a blog about every ship that has something like this happen to it.
I did a quick search through Universal Cargo's blog and found one such story after another. Here's just a handful of them (in no particular order):
These things happen way too often for anyone to risk shipping without insurance.