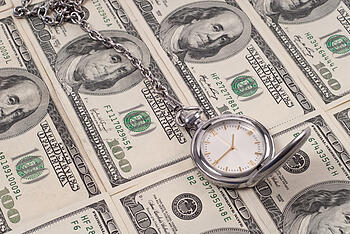 Shippers are tired of paying the price for port congestion, and rightly so.
Demurrage, detention, and per diem fees have unfairly been charged to shippers on top of the lost money and overseas partnerships importers and exporters have suffered due to the ports being unable to move shippers' imports and exports.
Now the Federal Maritime Commission (FMC) is being asked to do something about these unfair charges.
If you follow Universal Cargo Management's blog, you've seen post and article after post and article about port congestion.
Port congestion was already a problem before slowdowns happened last year on the West Coast due to contract negotiations between the International Longshore & Warehouse Union (ILWU) and the Pacific Maritime Association. Of course, the congestion was made so much worse during the contentious negotiations that products didn't make it to store shelves for the holidays and U.S. agricultural products rotted on the docks instead of being exported.
These things alone cost shippers plenty of money, but to add insult to injury (or better yet, injury to injury), demurrage, detention, and per diem fees were charged to shippers as well.
Was the congestion the fault of shippers? No! Yet shippers were forced to pay through the nose. And shippers say they've had enough.
If shippers have shipping containers on the docks that are stuck in congestion, it is not their fault the shipping containers cannot be removed. And it certainly is not for a lack of trying. Shippers need that freight to get to its final destination!
Such unfair charges hit others in the supply chain, too. Freight forwarders, truckers, and trucking companies have been hit with these devastating double whammies along with importing and exporting manufacturers, distributors, and retailers.
The Los Angeles Customs Brokers and Freight Forwarders Association (LACBFFA), along with 94 other organizations sent a letter to the FMC calling for the federal agency to put an end to these unfair charges and "to ensure that a common carrier or terminal operator provides just and reasonable regulations and practices relating to receiving, handling, storing or delivering property."
Their legal ground requesting action from the FMC seems solid as well.
Fortunately, the LACBFFA forwarded a copy of the letter to its members, which means that we here at Universal Cargo Management are able to share it with you, our shipping blog readers.
Here is a copy of the full letter to the FMC, including the list of the 95 organizations it is from:
June 10, 2015The Honorable Mario Cordero
Chairman
Federal Maritime Commission
800 North Capitol Street, N.W
Washington, D.C. 20573

Dear Chairman Cordero:

We are following up on our letter of April 27 regarding the FMC's report on Rules, Rates, and Practices Relating to Detention, Demurrage, and Free Time for Containerized Imports and Exports Moving Through Selected United States Ports. Our organizations represent importers, exporters, manufacturers, retailers, distributors, wholesalers, farmers, truckers and other supply chain stakeholders. We again commend the Commission for releasing the report, which highlights the significant concerns of shippers, receivers, ocean freight forwarders and motor carriers who were assessed demurrage or detention charges during periods of peak congestion at our nation's ports, even though they were not responsible for the delays that triggered the assessment of the charges. We believe it is now time for the Commission to take action to address the issues detailed in your report.

We strongly believe that the Commission has full authority under the Shipping Act of 1984 (46 U.S.C. § 41102(c)) to ensure that a common carrier or terminal operator provides just and reasonable regulations and practices relating to receiving, handling, storing or delivering property. We believe this section of the governing statute applies to the rules for application of detention and demurrage fees that are published in carrier and terminal tariffs or schedules and to the practices followed by such parties in assessing these charges. In particular, we believe these penalty payments should be prohibited when factors beyond the control of the shipper, receiver or motor carrier make it impossible for them to return chassis or empty containers, or pick up or drop off loaded containers within free time limits.

We are calling upon the Federal Maritime Commission (FMC) to take action on this issue of unfair and unwarranted demurrage, detention, and per diem charges paid by beneficial cargo owners (BCOs) and their motor carriers when circumstances prevent timely pickup and drop off of containers and related equipment. We believe the Commission can and should pro-actively ensure on a going-forward basis that carrier and terminal rules and practices for assessing demurrage/detention against a shipper, receiver or drayman are reasonable, and it should prevent the assessment of such charges when there is port congestion or other events that cause delays that are beyond the control of the shipper, receiver or motor carrier.

We stand ready to work with the Commission to provide additional ideas and advice on this critical issue. Thank you for your consideration.

Sincerely,

Agricultural Retailers Association
Agriculture Transportation Coalition
Almond Hullers & Processors Association
Airforwarders Association
American Apparel & Footwear Association (AAFA)
American Association of Exporters and Importers
American Chemistry Council
American Cotton Shippers Association
American Forest and Paper Association
American Frozen Food Institute
American Import Shippers Association
American Potato Trade Alliance
American Pyrotechnics Association
American Soybean Association
Association of Food Industries
Auto Care Association
California Farm Bureau Federation
California Fresh Fruit Association
California League of Food Processors
California Trucking Associations
California Retailers Association
CAWA – Representing the Automotive Parts Industry
Cookware Manufacturers Association
Columbia River Customs Brokers and Forwarders Association
Customs Brokers and Forwarders Assoc. of Northern California
Customs Brokers and International Freight Forwarders of Washington State
Fashion Accessories Shippers Association (FASA)
Footwear Distributors & Retailers of America (FDRA)
Forest Resources Association
Furniture Shippers Association
Gemini Shippers Association
Global Automakers
Global Cold Chain Alliance
Grocery Manufacturers Association
Green Coffee Association
Halloween Industry Association (HIA)
Harbor Trucking Association
Institute of Scrap Recycling Industries, Inc.
Intermodal Motor Carriers Conference
International Association of Refrigerated Warehouses
International Fragrance Association, North America
International Refrigerated Transportation Association
International Wood Products Association
Juvenile Product Manufacturers Association
Los Angeles Customs Brokers and Freight Forwarders Association
Meat Importers Council of America
Midwest Food Processors Association
Midwest Shippers Association
Motor & Equipment Manufacturers Association
Motorcycle Industry Council
National Alfalfa & Forage Alliance
National Association of Chemical Distributors
National Association of Egg Farmers
National Association of Manufacturers
National Chicken Council
National Cotton Council
National Council of Farmer Cooperatives
National Customs Brokers and Forwarders Association of America
National Fisheries Institute
National Oilseed Processors Association (NOPA)
National Onion Association
National Pork Producers Council
National Retail Federation
National Strategic Shippers Association (NASSTRAC)
New Jersey Motor Truck Association
North American Export Grain Association
North American Meat Institute
North American Shippers Association, Inc.
North American Home Furnishings Association
Northwest Food Processors Association
Pacific Coast Council of Customs Brokers and Freight Forwarders
Pacific Northwest Vegetable Association
PPAI – Promotional Products Association International
Retail Industry Leaders Association
San Diego Customs Brokers and Forwarders Association
Specialized Carriers & Rigging Association
The Hardwood Federation
The National Industrial Transportation League
The Waterfront Coalition
Toy Industry Association
Transportation Intermediaries Association
Travel Goods Association (TGA)
U.S. Apple Association
U.S. Fashion Industry Association
U.S. Hide, Skin and Leather Association
United Fresh Produce Association
US Dry Bean Council
USA Dry Pea & Lentil Council
Washington Farm Bureau
Washington Retail Association
Washington State Hay Growers Association
Washington State Potato Commission
Washington Trucking Associations
Western Growers Association
World Trade Center – Kentucky
CC: Commissioner Rebecca F. Dye
Commissioner Richard A. Lidinsky, Jr.
Commissioner Michael A. Khouri
Commissioner William P. Doyle