Piracy is a major international shipping problem. Asylum seekers may be adding to the dangers for cargo ship crews that are helping shippers import and export goods.
Read Universal Cargo blog on modern piracy.
A recent article from Defence Professionals reports on how ship-owners must shoulder enormous costs for ship security. The article included the International Maritime Bureau's finding that by the end of July this year, there had been 189 pirate attacks and 20 of them ended up with the attacked ship being seized.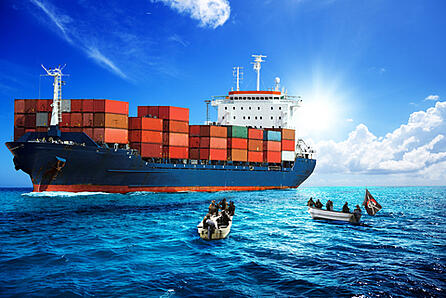 Protecting themselves from such attacks is extremely costly for carriers. Changing routes is one measure. Another is adding security measures for shipping cargo through dangerous waters.
Waters around the Gulf of Aden off the Somalian coast are the most dangerous for cargo ships and their crews when it comes to pirates. When successful in capturing a ship, pirates will often hold the crew for ransom and, of course, steal cargo to profit from the import/export goods that were on board.
According to the Defence Professionals article, German containership operator Hamburg Süd spends 100,000 EUR on organisational and technical security for every round trip that goes through the waters off the Somali coast.
In the international shipping industry where carriers are struggling to make a profit, and suffering major losses, dangerous waters from piracy are extremely difficult to endure.
Now it seems asylum seekers traveling through Asia and then by boat for Australia could be adding to the dangers for cargo ships and their crews.
The Associated Press reported a group of asylum seekers intimidated a carrier ship into changing its course and delivering them to Australia. No doubt this was a costly diversion; but surely, an awful experience for the captain and his crew as well.
The Parsifal, shipping cars to Singapore, responded to an alert put out from Australian authorities about a distress call that was put out from a boat of close to 70 men who were trying to get to Christmas Island, seeking asylum.
The Parsifal responded to the situation as it was obligated to do by maritime law, but the men they rescued were not satisfied to go to Singapore where the Parsifal was headed. What happened hasn't been made exactly clear, but the captain was concerned enough for the safety of his crew to change course and head for Australia's Christmas Island.
Intimidating the car carrier into changing course could easily be construed as an act of piracy and some are arguing that the asylum seekers be charged with piracy over it.
The issue becomes whether it is dangerous for cargo ships to pick up asylum seekers who are distressed at sea. Maritime law requires ships to do so, but could it become a major safety risk in making carriers more vulnerable to piracy?
On the other hand, it's inhumane to leave people struggling in the sea to fend for themselves and possibly drown. One of the men on the boat of asylum seekers in this story from the Associated Press drown before the rescue was made by the Parsifal.
Adding to the issue is the recent controversial legislation passed in Australia. The new legislation allows asylum seekers who arrive by boat to be shipped offshore for processing. No time limits or guarantees were put into place to protect asylum seekers from being detained offshore for years or even a lifetime.
According to a Daily News article, this year has seen an influx of asylum seekers boating to Australia from Afghanistan, Sri Lanka, Iran, and Iraq coming in through Asia. It's a dangerous journey that has cost hundreds of people their lives over the last decade.
With the new legislation, desperate people could be looking for new destinations via the sea. This could increase the places at sea seeing desperate travelers. Cargo ships picking up people in desperate situations, could lead to dangerous situations but are legally and perhaps morally obligated to do so.
The issue becomes complicated quickly. What are your thoughts?