Hanjin Containers Hog Chassis & Create Congestion @ LA & LB Ports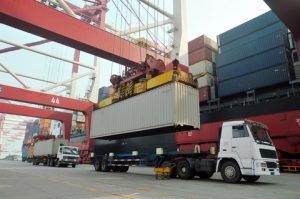 A lack of chassis during peak season is causing congestion issues at the Ports of Los Angeles and Long Beach. Sound familiar?
Two years ago, the Southern Californian ports were suffering from congestion that no antihistamine could relieve. Among the chief causes of the congestion was a lack of chassis to move shipping containers. Things would go from bad to horrific when labor strife added to the problem during the contentious contract negotiations between the Pacific Maritime Association (PMA) and the International Longshore & Warehouse Union (ILWU).
While things have been nowhere as bad as the chassis crisis shortly after the carriers sold off their chassis and stopped providing them for U.S. shippers, chassis are still an issue at the port.
The Ports of Los Angeles and Long Beach have done a few things to improve the chassis situation and relieve congestion, including making a deal with DCLI, Flexi-Van Leasing Inc., and TRAC Intermodal, which combined their chassis to form the "gray chassis fleet" or "pool of pools."
However, Hanjin's collapse is illuminating just how fragile the chassis situation is while spotlighting criticism of the pool of pools.
Reuter's pointed out a big new trailer shortage was looming in an article within a couple weeks of Hanjin's collapse:
The world's seventh-largest container carrier has more than 500,000 containers, and many already are clogging up ports and truck yards, tying up trailers that cannot be used to handle other cargo. That is beginning to worry freight handlers at U.S. West Coast ports and is the first sign of knock-on effects from the failure of Hanjin.
While Hanjin's bankruptcy is affecting chassis numbers all over the U.S., and international shipping in general everywhere, a new article from American Shipper points out how the Hanjin chassis situation is especially "critical" at the Ports of Los Angeles and Long Beach:
"The chassis situation is still what I would call critical," said Weston LaBar, executive director of the Harbor Trucking Association, which represents drayage companies in Southern California.

He estimates at least 10,000 chassis out of a little more than 100,000 chassis in the region cannot be used because they have Hanjin containers sitting on them.

"Other ports are talking about hundreds, here it is thousands," he noted.
Frustration over the situation has made complaints against the pool of pools louder. There have been rumblings about old chassis needing to be replaced or repaired with more speed to keep enough in circulation at the Southern Californian ports, and now that Hanjin's collapse has taken so many out of circulation it is a major problem.
The following excerpt from the American Shipper article details how the Hanjin collapse is exacerbating a chassis issue that already exists with the pool of pools:
Even prior to the Hanjin bankruptcy, he said truckers were concerned that there were already a large number of chassis in need of repair. He estimated that between Hanjin's problems and "out of order" chassis, 18 to 25 percent of chassis in the region might be unavailable.

"We've been pretty disappointed with the allotment of chassis in the pool of pools," he said. "Because repairs were not being made at the pace that they should, we were concerned there were not going to be enough chassis for companies to continue to do operations as they should."

Noel Hacegaba, managing director and chief commercial officer at the Port of Long Beach, said his port as well as the Port of Los Angeles are attacking the chassis shortage in two ways: first by encouraging the largest source of chassis in the region – the so-called "pool of pools" created by the leasing companies DCLI, Flexi-Van and TRAC Intermodal – to repair containers at a faster clip, and secondly by trying to find locations where containers owned and leased by Hanjin can be stored.

The pool of pools has about 74,000 chassis, and 700 returned to service in just the past week. The percentage of "bad order" chassis has fallen to 7.6 percent from 9 percent in the past two weeks, and Hacegaba said leasing companies are continuing efforts to speed repairs.
That leaves the Ports of Los Angeles and Long Beach scrambling to solve this congestion-creating problem quickly. So far, the solutions posed don't work for all the parties involved. As Hanjin's receivership lingers on, this situation looks to only get worse.
We'll be keeping an eye on the congestion at the Ports of Los Angeles and Long Beach as we know shippers are concerned with peak season shipping so important to holiday sales.