Yes, approval from competition authorities will be necessary, but Hapag-Lloyd and CSAV have signed a binding agreement that merges Compañía Sud Americana de Vapores' cargo container shipping business in its entirety with Hapag-Lloyd.
Hapag-Lloyd will now be the 4th largest international shipping carrier in the world.
More importantly, it makes Universal Cargo's Carrier Craziness Bracket correct.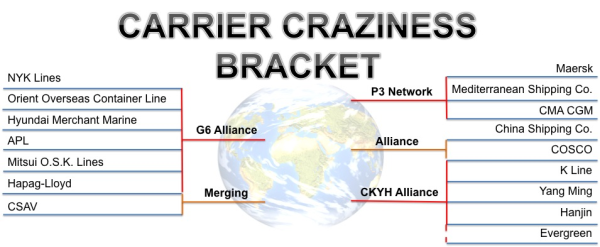 Okay, maybe that's not more important.
Last time we blogged about this merger the two shipping companies had only signed a Memorandum of Understanding. It was nothing binding, but enough to let the world know they were serious about merging.
Hapag-Lloyd and CSAV's intentions to merge are now much more than intentions.
The merger was signed yesterday. Here's an excerpt from the press release on Hapag-Lloyd's website:
"I am delighted that we have succeeded in concluding this partnership through which our two companies are playing an active part in consolidating the liner shipping industry. This day is an important milestone in the history of Hapag-Lloyd," said Michael Behrendt, Chairman of the Executive Board of Hapag-Lloyd, upon signing the agreement. "The transaction increases the value of the Company and therefore also the value of our shareholders' shares."
"By joining forces, we are creating a stronger, larger and more global company with significant economies of scale and a considerably improved competitive position," said Oscar Hasbún, CEO of CSAV. The combination of CSAV's container shipping business with Hapag-Lloyd will result in annual synergies of at least USD 300 million. Service networks and fleets of both companies complement one another ideally. "The combination with CSAV, Latin America's leading container shipping line, considerably strengthens Hapag-Lloyd in this growth market and adds a strong position in the North-South traffic to the company's global network and to its established strength in East-West traffics", said Oscar Hasbún.
The article there also shared details of the post merger size of Hapag-Lloyd. They will have "200 vessels with total transport capacity of around one million TEU, an annual transport volume of 7.5 million TEU and a combined turnover of 9 billion Euro."
CSAV will become a core shareholder of Hapag-Lloyd, holding a 30% share of the post merger shipping company and then will increase to 34%.
To the right is a picture of Michael Behrendt, Chairman of the Executive Board of Hapag-Lloyd and Oscar Hasbún, CEO of CSAV after the merger signing that Hapag-Lloyd posted.
The article on Hapag-Lloyd's site says "the relevant corporate bodies of both companies have already approved the merger" but dissidence from more than 5% of CSAV's minority stockholders could stand in the way of the merger. Such dissidence doesn't seem likely.
What do you think?
Are you in favor of the Hapag-Lloyd, CSAV merger? Let us know in the comments section below.
As always, Universal Cargo Management will continue to keep you updated on what's happening in the world of international shipping. We're also ready to help take care of the import or export of your cargo.