Hong Kong Dockworkers Strike!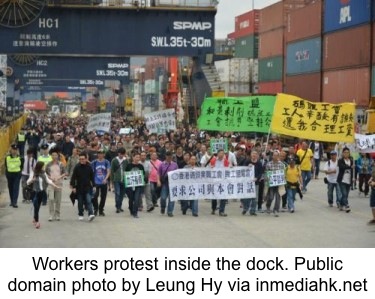 It's the rainy season in Honk Kong, but that's not stopping dockworkers and crane operators from camping out in the cold. They're striking at the Kwai Tsing Container Terminal in the Port of Honk Kong.
The Journal of Commerce reports,"large volumes of container traffic are being diverted away from the world's third-busiest container port as ships face delays of up to 60 hours for unloading."[1]
Just when you thought we were done talking about strikes at ports with the ILA contract negotiations on the East and Gulf Coast ports of the U.S. reaching resolution, here we go in Hong Kong.
Tents are sitting on wooden pallets as dockworkers and crane operators demand better working conditions and nearly a 20% pay increase.
This Hong Kong strike that began on March 30th is approaching the two-week mark and so far, no negotiations are in sight.
Hongkong International Terminals (HIT) has said that this strike is costing them $644,000 a day. Still, they do not negotiate with the striking workers because they are hired by subcontractors and are not directly employed by the port operator. Because of this, HIT says it cannot negotiate with the striking workers.[2]
According to the labor unions, HIT directly employed over a thousand workers until it outsourced through subcontractors to save money in the late 1990's.
Certainly, the impact of this strike is much larger than just costing HIT hundreds of thousands of dollars a day. The Hong Kong government, seeing the high stakes and the public concern over the situation, said in a statement, "the Labour Department continued to actively assist all parties concerned to agree on the conciliation meeting arrangements with a view to enabling direct dialogue to resolve the issue."[3]
Despite the tense of that sentence, I think the Honk Kong government is saying they are continuing to work toward getting all parties to a negotiating table and resolving the issue.
Huge public support is being shown to the dockworkers, who struggle to feed their families as they strike. Food and money has been donated to keep them going. Donations have reached the sum of $450,900 or 3.5 million Hong Kong dollars, organizers say according to the Wall Street Journal.
Resentment is growing in Honk Kong over the city's widening wealth gap. Sound familiar? Occupy Movement… 99% versus 1%…
"While income grew 60% among the city's top 10% of earners from 2001 to 2010, it dropped by 20% among those in the bottom 10%, according to figures released by the nonprofit Better Hong Kong Foundation," reports the Wall Street Journal. [4]
Li Ka-shing is the richest man in Hong Kong.
Yes, I do find it interesting that a man, whose net worth—according to Forbes—is $31 billion, has a name that is strikingly similar to ka-ching.
Mr. Li owns Hutchison Whampoa Ltd., which holds a 70% share of port-handling volumes in Hong Kong.
The Wall Street Journal describes the following scene in Honk Kong of the people vilifying Mr. Li, despite his generous giving of more than $1.66 billion mainly to education and health-care initiatives in Hong Kong and mainland China:
Over the weekend, thousands of protesters marched through downtown Hong Kong, carrying photographs of Mr. Li defaced with devil's horns and the Chinese character for "shameless" written across his forehead. Organizers estimated that 4,000 demonstrators turned out Sunday, while police put the figure at 2,800 at its peak. [5]
This situation may not see resolution quickly. As time continues, a very real impact could be felt by shippers who import from China.
Universal Cargo Management continues to import and export from and to China with very little impact. In the meantime, we will keep an eye on the situation and keep you informed.
We think it is important to note that through the diverse cultures and vast geographic locations of the world, inequities stir up for people feelings in common; people around the globe share more likenesses than differences.
Share your feelings and thoughts on the Hong Kong strike in the comments section below.

Source: China