In response to Ms. Benson's comment on "Slow Steaming (SS) or Super Slow Steaming (SSS) for Container Shipping Part II"
Part II and Ms. Benson's Comment
It's inevitable to cut conventional reefer ships because of the convenience of reefer containers loading, unloading & transporting among different modes of transportation. Yntze Buitenwerf, the managing director of Seatrade, the biggest reefer operator, based in Antwerp, said on Financial Times  that "In 10 years' time the overall world (refrigerated) fleet might only be half of what it is today" but they will maintain a role of moving sensitive cargoes that containers cannot perfectly fit into.
If production of reefer containers cannot keep up with current demand, we may see delay retiring on conventional reefer ships.
From car revolution to ocean shipping revolution…
Just like the extreme high oil price in 2007 & 2008 speeding up the development of plug-in hybrid (Toyota Prius), electric cars (Nissan Leaf) & hydrogen cars (BMW Hydropower 7), the not-too-far $100 oil will no doubt trigger technological revolution on every single parts of logistics industry.
We already heard that:
1. Carbon dioxide based refrigerated container
Carrier Transicold introduces its newest container refrigeration unit design, NaturaLINE™, using carbon dioxide (CO2) instead of conventional synthetic hydrofluorocarbon refrigerants "which have higher global warming potential."
2. L.N.G. & dual-fuel vessels
Wartsila, a Finnish manufacturer of large diesel and gas engines, has been developing with Samsung on "dual-fuel technology" that allows ships to operate on Liquefied Natural Gas (L.N.G.) as the primary energy to power engines in the future.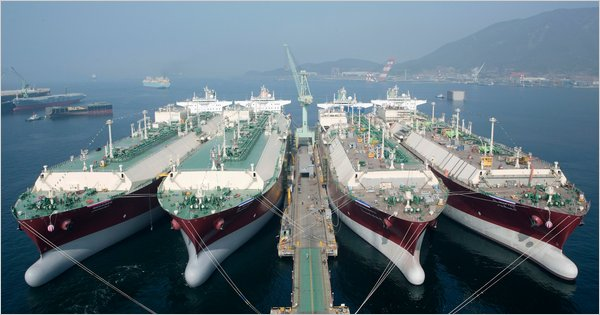 3. Green ports
The Port of Los Angeles installed solar panels to power cruise ships that are docked.  It estimated a 1-megawatt (MW) solar panel system will generate 1.2 million kilowatt-hours (kWh) of clean solar electricity that can be used in place of the diesel generators typically run on ships while berthed.
They also started using world's first hybrid electric tugboat (named Carolyn Dorothy) which proves to "reduce emissions of soot by about 73 percent, oxides of nitrogen (which help cause smog) by 51 percent, and carbon dioxide, which contributes to global warming, by 27 percent."
All of these innovations (& many more not reported here) are aimed at reducing our dependency on oil, shifting to green-energy consumptions, and lowering green house gases emission.
Brian Chan

Source: Economy