Maersk Container Ship Catches Fire After Collision by China
Maersk, the world's largest ocean carrier by capacity, had one of its ships collide with another container ship off the coast of China over the weekend.
The ship then caught fire.
While the crew is safe, the collision is expected to result in cargo delays for international shippers and most likely damaged cargo as well.
Maersk Line announced on Sunday that the Safmarine Meru collided with the German-owned container ship Northern Jasper off the coast of China on Saturday.
Maersk Line revealed that the 292-metre Safmarine Meru was heavily damaged during the collision and a fire was ignited on board.
"It is too early to comment on the circumstances surrounding the collision and fire. Our focus now is to put the fire out and get access to the vessel to assess the damage to the vessel and cargo," said Palle Brodsgaard Laursen, the head of ship management for Maersk Lines.
All 22 crew members managed to leave the ship and are now aboard the Northern Jasper. None are injured.
The collision took place 120 nautical miles east of the city of Ningbo, which the Maersk ship was making its way towards after departing from Qingdao.
A collision involving a Maersk ship is quite scary in terms of the amount of damage that can be done to shippers. Maersk owns and operates some of the largest container ships in the world and operates in a vessel-sharing agreement known as the 2M carrier alliance with MSC.
There are Maersk ships that can transport close to 20,000 TEUs of goods. Luckily, the ship involved in the collision, according to a JOC article, only had a capacity of 4,650 TEUs and only had 400 loaded containers onboard when the collision happened.
Still, that's hundreds of shipping containers that will be delayed with cargo that is quite possibly damaged.
The Northern Jasper was actually a larger container ship with a capacity of 8,400, according the JOC article. How many loaded containers were on board the German-owned ship has not been reported.
Maersk is, of course, having to make adjustments to get cargo to shippers.
The update we received at Universal Cargo is that Maersk is advancing the Maersk Danang to take the cargo from Ningbo/Ximen/Yantian/Busan and only Qingdao cargo is being impacted by the collision.
2 day delays are expected for impacted shipments departing from Qingdao.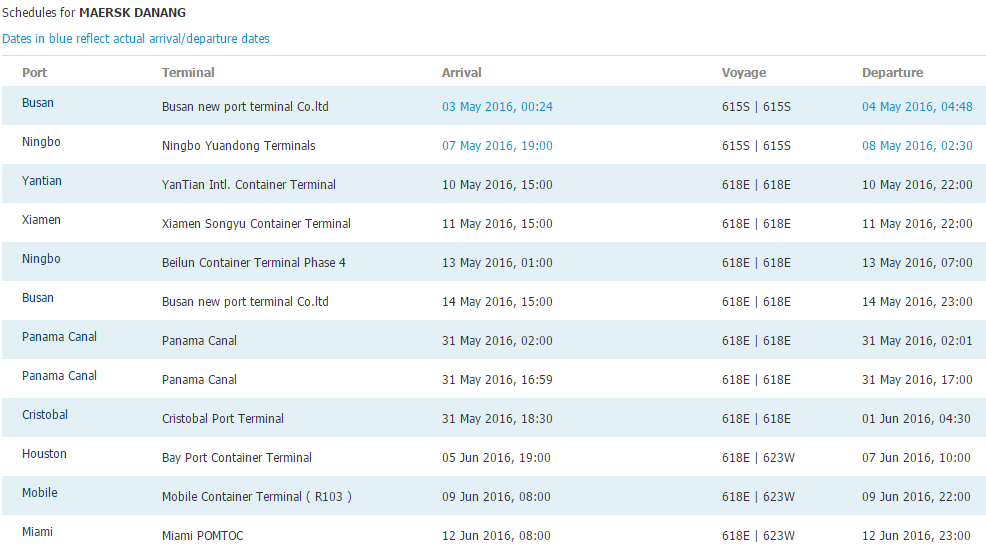 Collisions happen, and are just one of many factors that can cause loss, damage, or delay to cargo. In fact, the Copenhagen Post points out that this is the second collision of a Maersk ship in just the last couple years with the Maersk Tanjong colliding with another ship in the Suez Canal being the other.
This is yet one more reminder of how important it is to get cargo insurance when engaging in international shipping.

Source: UC Blog