'Make Shipping Sexy' Part of Decarbonization Plan for International Shipping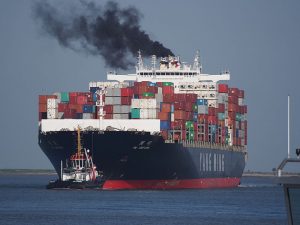 Sexy is not a word typically used to describe international shipping. Boring. Yeah, that's a more typical description.
Of course, boring isn't exactly the type of description to attract the brightest and best minds to the industry, which is exactly what the international shipping industry needs to do to help it decarbonize.
That's why "make shipping sexy" is one of the approaches a group of over 150 international shipping leaders have included in their requirements for an action plan to decarbonize the industry and "meet the high ambition climate change target of limiting global temperatures to 1.5°C, as indicated in the Paris Agreement."
Ocean freight container shipping is actually the most carbon efficient way of transporting goods. However, about 90% of the world's goods are transported through ocean shipping, which relies on fossil fuels, and this extremely high volume of ocean freight shipping means the industry accounts for about 3% of global emissions. To give perspective, international shipping's carbon emissions are comparable to those of a large country.
Solving this problem is no easy feat. The industry is facing a complex and challenging problem with significant global impact. Working on the solution or solutions, as there is not one fix-all solution for removing carbon emissions from the industry, is far from boring and could even be considered noble.
There is no reason this line of work shouldn't attract bright and ambitious people. Therefore, making international shipping's boring perception sexier is a good idea.
Of course, if that was the only requirement for the action plan to decarbonize the industry, it would be a very disappointing plan indeed.
It was ahead of the 23rd session of the Conference of the Parties (COP 23) to the UN Convention on Climate Change (UNFCCC) that the international shipping leaders, strategists, and entrepreneurs organized the Ambition 1.5°C: Global Shipping's Action Plan Summit to layout the groundwork for a comprehensive decarbonization plan to be developed.
In a press release yesterday (November 15th, 2017), the group shared the requirements the summit came up with that the comprehensive plan will have to cover:
The high ambition approaches and conclusions made by participants at the summit for the baseline requirements of a decarbonization Action Plan were:

We will build demonstrator vessels for the trialling of new technologies.
We will push for the urgent adoption of a science-based target for carbon emissions.
We will push for a much tighter, more robust Energy Efficiency Design Index (EEDI).
We will build a 'coalition of the willing' of those ready to collaborate across the industry in tackling the 1.5°C decarbonization challenge.
We will define 'transparency' in the industry and drive the adoption of that transparency in relation to emissions and operational data.
We will ensure that the decarbonization debate is broadened to involve all stakeholders, enhancing synergies and emission savings across the entire value chain.
We will develop more global forums based on focused working groups, including an Asia advocacy group.
We will 'Make Shipping Sexy' through communication strategies in order to:


A. foster a multiplier 'Ambition' effect to encourage other actors to engage in decarbonization projects and;

B. attract new talent to a modernizing industry.

Several commitments made at the summit will sit at the core of the decarbonization Action Plan:

To make a container ship available as a test/demonstrator vessel for low carbon and zero emissions technologies.

To urgently work towards the establishment of a CO2 levy to stimulate the uptake of clean technology and low carbon operations.
To convene a similar summit of the same structure and impact for retailers and local ship owners on a regional basis.
To continue the 'technology toolbox' discussion and build a robust performance verification process.

To find shipping companies who will go beyond legislation – and actively support them.
To create an innovation/engineering challenge prize to stimulate the bringing of technology and designs to market.
To develop a system that brings forward benefits of emissions saving operational changes and adoption of low carbon technology, prior to mandated emissions levies.
To change company operations to collaborate more intensively with equipment suppliers and to further embed more ambitious R&D into company structures.
To make a concerted effort to raise the profile of the shipping emissions issue with consumers.
To create a powerful platform for cross-stakeholder engagement.
To enhance collaboration between Think-Tanks and NGOs that are active in the sector and to pool resources.
To call for the greater collaboration of research & technology sharing with developing countries.
There's also an official video about the Ambition 1.5°C: Shipping's Global Action Plan:
Ambition 1.5C: Shipping's Global Action Plan - The Official Video