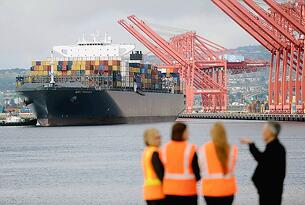 Carriers have been ordering a new breed of cargo container ships that are finally being
introduced to the world. At the risk of sounding like a B-horror flick like
Mega Shark Vs. Giant Octopus
, mega ships are hee-eere.
The problem is many ports can't handle these new giant ships.
Ports are working on making their harbors deep enough and equipment able to handle mega ships. Yet even thePanama Canal's expansion project is a ways off from being ready for the giant cargo container ships on the way.
But that's not a problem for the Port of Long Beach.                           Photo: Wally Skalij, Los Angeles Times
Mega cargo container ship, The Fabiola made its arrival to the Americas through the Port of Long Beach earlier this month, shattering previous size records held at the ports of Los Angeles and Long Beach.
The ports of Los Angeles and Long Beach are getting a competitive edge with most ports in the Americas currently unable to handle ships the size of The Fabiola.
To give you a reference point for just how big this mega ship is, a recent LA Times article on The Fabiola's arrival described its size as "just 30 feet shorter than the Empire State Building is tall, as wide as a 10-lane freeway and big enough to carry the contents of eight 1-million-square-foot warehouses."
The Fabiola can carry as many as 12,500 cargo containers. Universal Cargo Management got to share a little piece of this record breaking moment by having cargo onboard during The Fabiola's arrival.
Rick Spilman's The Old Salt Blog reminds us, however, that this is only a small moment in ship size history as The Fabiola is not nearly the largest in the new generation of mega ships hitting the water.
"As large as the MSC Fabiola may be, she is slightly smaller than the Maersk E Class container ships, which each can carry up to 14,770 TEU. Maersk also has under construction in Korea a fleet of 20 "Triple E" class container ships for devilvery by 2014 which will each have a capacity of 18,000 TEU."
Thanks for bursting our bubble, Rick.
Universal Cargo Management is still excited to have had cargo on the Fabiola and looks forward to helping you international shippers get your cargo onboard these even larger ships hitting the ocean import and export scene.