Reach Up Reach Out – Mission Recap – Part 1
Since our beloved Jared is on vacation, I have been asked to write about something interesting. I know this is a shipping blog, but I have something that recently truly affected me profoundly and it had nothing to do with the cargo business. It was something I experienced during a recent mission trip I went on to Africa. Let me say first off, if you as an American have never gone on a mission trip (which usually means to a 3rd world country) you really owe it to yourself to experience how most of the world lives. It is very humbling. Therefore, I try to go on one every 1-2 years as a sort of "tune up" to my soul.
As far as I know, most "Mission" trips are Christian based, meaning there is a Church or ministry behind it. So, this means if you are not a "fellow believer", you will either be powerfully impacted in a positive way, or you will be very uncomfortable. Because the driving theme will be faith and the expectation of the miraculous. This kind of forces you as the "outsider" to decide if this is something you want to come into agreement with or not. There is no room for fence sitting. With that said, I am sure there are "non religious" mission type trips that seek to accomplish the same, but I suspect they are not even called mission trips. They would most likely be associated with an NGO, non profit charity, or something like the Peace Corps.
Now that we have clarified this, I will say unashamedly I am a "born again", spirit filled, charismatic, Bible believing follower of Jesus the Messiah and savior of the world and son of God Who is part of the trinity, therefore being God. Whew, that's a mouthful. But I wanted to make sure there is no confusion here. I am not a "religious" person and I am not in a Cult. I say this because there is a lot of misrepresentation and confusion as to what a real Christian is. I say it also because my story about this trip must be understood from the perspective of what I truly believe.
As I mentioned, if you are going on a mission trip you should go expecting to encounter the power and love of God in the miraculous. Because if you study the life and teachings of the greatest Rabbi ever, Jesus son of Joseph (Ben Joseph) which is Jesus' real last name, not Christ, you will discover his life and the life he taught us to have is anything but boring.
Now to the story:
There were 17 of us, 3 of us men. I have a reason in pointing this out which I will discuss later. Most of us met in Dubai because some had come from other cities besides LA where most of us hailed from. The rest met us in Kampala, which is the big city of Uganda, which is one country west of Kenya in east Africa. When we touched down after a total of 22 hours of flying, I did which I have learned to be very effective against jet lag. I took of my shoes and stood on the actual ground (not cement) in my bare feet. I immediately received a soul stirring charge to my body. Africa was welcoming me. My first time in this continent.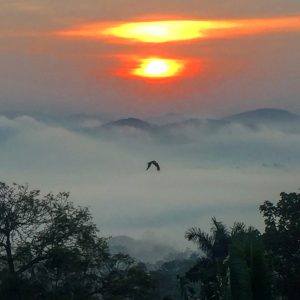 The first morning I awoke very early because my body had not yet adjusted to the 12-hour different time zone. But this morning I was swimming in the Holy Spirit. I mean it felt awesome. I could hear God's voice so clearly. He began to show me several important things about what I was to expect on the following 10 days as well as insights I was to share with several other team members. Then as I left my room in the dark, headed to a vantage point to catch the sunrise (with camera in hand of course) I found myself looking out from the mountain we were on over Lake Victoria, which is the largest lake in Africa. I began to see the sun rise over the mist covering the lake. It was epic.
One of the things I felt the Lord impress upon me was to expect his power to show up in 240 volts verses 120. As in most countries outside of the U.S., you need a transformer to adjust to the stronger electrical outlets to not blow out your electronics. So, God was then imparting a spiritual transformer to me.
After a few days it was interesting to see how 17 people, most of whom didn't know each other, assimilated. It is interesting because it takes about 3 days for Christians to be very close together all day long and then you start seeing the usual polite and amiable "Christian" Venere wear off, and people start to get real, and we all start to get glimpses of who we all really are. Once we started to get our rhythm collectively, we found ourselves immersed in the task at hand. That was the enormous endeavor to help coordinate and facilitate a Christmas party for 2,000 orphans in the remote area called Teroro in eastern Uganda, 15 minutes from Kenya. Basically, we were in the slums. Surrounded by thousands of poverty-stricken people, where like most of Uganda, the villages, towns, communities are filled with an abundance of orphans due to the combining factors of the AIDS epidemic killing many adults, the highest concentration of alcohol abuse (with men) in the world, extreme poverty (average wage is $0.55 a day) incest, rape and a complete void of fathers in this country. Oh yeah, and a dark history of corruption, abuse and genocide (Idi Amin, Joseph Kony).
In this area of Uganda, there is an organization called SMILE AFRICA, headed up by, of course, a woman, named Pastor Ruth Kahawa. She has bravely formed an organization run by all women (about 100) who take care of about 500 orphans out of these surrounding slums, and act as their teachers and parents during the day, while attending to any medical needs and of course feeding them. The organization that headed up this mission trip is called RURO (Reach Up Reach Out) formed by Alex and Shunna Moreno. They have partnered with SMILE to bring people twice a year to assist them in the caring for these orphans while putting on a major event. The Summer mission trip is all about a Worship/Music event, where children are invited to participate and learn to sing and play instruments. The winter one is all about a Christmas party that lasts about 12 hours.
So, our job was to fill up 2,000 backpacks with toys for both girls and boys in 3 different age groups. Then transport everything from Kampala to Teroro (a 10-hour drive). Once there, we spent two days not only organizing everything for the event but ministering to the 100 women that ran SMILE. We then paid for a Bull to be bought and slaughtered so that there would be a feast for 2,000 kids during the event. It was amazing by the way to see how this practice of killing and eating farm animals is so common in this culture.
Getting back to our time in the beginning where we stayed a few days in Kampala. There is an organization called Watoto (Meaning Children in Swahili) that is headquartered there. They have branch locations all around the Kampala area. But their HQ is right in downtown Kampala where ironically the building being used by Idi Amin for torturing his victims occurred, as well as a jail or prison, back in the late '70's and early '80's (a good movie to see about this story is The Last King of Scotland, with Forrest Whitaker '06). Watoto was formed by Gary and Marilyn Skinner in 1984. Their passion was to deal with the widespread problem of orphaned children throughout Uganda. Today they have 3 separate facilities in Uganda caring for over 4,000 children. They also use their HQ for their Church that has over 25,000 in attendance. The Watoto Children's choir also tours the world and is gaining notoriety.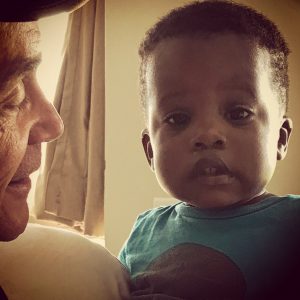 RURO also teams up with Watoto to gather some help for the enormous task of putting on these events. We first attended one of their facilities where newborns up to toddlers are kept and cared for. The experience of holding these infants and toddlers brought tears to my eyes. Because in Uganda there is so much rape and incest. It is very common after a 12-14-year-old girl is raped by a family member, if they give birth, it is then a shame to the family. So, the infant is literally thrown away into the fields. So, organizations like Watoto rescue children all the time that are left to die. Sick and starving somewhere in a pile of trash, field, back alley, or God knows where. So, these babies desperately need not only human touch and love, but they also need the presence of a man, a fatherly figure. So, this was a powerful experience for me. My most memorable time was spending about 1-2 hours with an 18-month boy named Livingston, holding him, feeding him, letting him play with the hair on my arms and just giving him quality MAN time he so desperately needed.
After 3 days, with several new team members that Watoto lent us, we were headed to Jinja. Which is at the northern point of Lake Victoria (Lake Victoria is where Uganda, Rwanda, Burundi, Kenya, Tanzania and the Congo all converge). In Jinja this is basically where the Nile is formed and travels over 4,000 miles to Egypt making it the longest river in the world and the only river to travel north. There we visited another Organization/Ministry that also takes in orphans in the poor areas of this town, called H.E.A.L. Ministries. What they do is act as a school and day care to help the poor families in the area. While we met the women that headed this up and played with several of the children, they had prepared a major feast for us. We ate very delicious and healthy farm grown food, with one of my favorite meats (which happens to be the most eaten meat in the world, can you guess?). Yes, that's right, goat.
I'll stop here and pick up the story later this week with our healing prayers and what happened at the big party!
Don't forget to click and check out all the ways UC CARES on our new webpage.