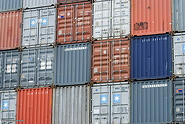 Worried about the environmental impact of your ocean shipping containers? An article in the June 2010 issue of America Shipper details a variety of companies that are taking on the challenge of finding ways to make ocean cargo shipping containers more eco-friendly without too much impact on shipping container cost. The international cargo shipping business lives of thin profit margins and cost is a major factor for containers. Methods that being explored for the 20′ and 40′ containers include changing the wood used in the container floors, changing to a water-based exterior paints and switching to high tensile steel in box construction.
Shipping containers have traditionally used all wood flooring. In many cases this wood is harvested illegally in Asia. A reduction in illegal harvesting has resulted in greater demand and limited availability. Since 2007, IICL's Flooring Working Group has been exploring different materials to use for the floor of the shipping containers that would not have as negative an impact as the wood. After a variety of tests with various materials the group found that a mixture of wood and steel was a good compromise. These new boxes are currently being tested and the IICL plans to review the results from the test in October. Initial results are looking  positive. Other groups including CMA CGM have been purchasing containers with bamboo flooring.
The solvent based paint used on most shipping containers is another factor that has a negative impact on the environment due to its adverse effects on the earth's ozone layer. The challenge here is that most water-based paints require temperature and humidity controls for drying.  Container manufacturing is done mainly in China and manufactures there rely on the quick-drying heavy solvent-based paints which can dry within 24 hours.
Triton Container International together with Valspar have been working on developing low solvent, non-zinc, water-based paint that can be used for ocean containers. Additionally, Triton has also began testing 40 HQ containers made from high tensile steel.  These containers are 11 percent lighter than comparable steel containers in the market. Having lighter boxes will help to reduce the amount of fuel needed during transport.
Whether these new boxes take off or not depends largely on the container purchasers. However demand from shippers for more eco-friendly shipping containers could have a big impact. You can check out more aboutgreener shipping containers and shipping practices on the The Green Logistician.
Source: Greener Boxes, American Shipper