Size Matters! Some Shippers Too Big for Small Freight Rates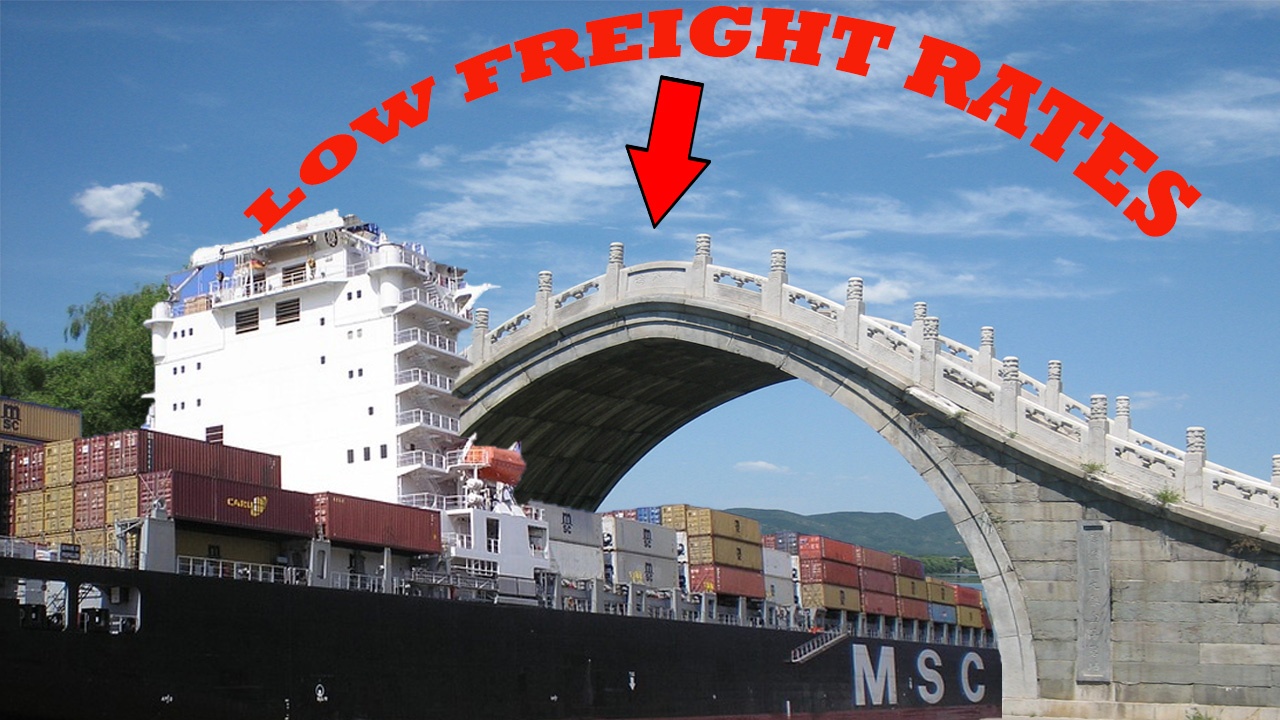 You can talk about the motion of the ocean all day, but we all know that size matters in international shipping. And bigger is better, right? Well, it turns out the big shippers' size has worked against them lately, causing them to miss out on record low freight rates.
Usually, the big shippers–you know, the Walmarts of the world–have a huge advantage over small and medium shippers. I can hear Steve Carell exploding with a "that's what she said" that he just can't keep inside.
That smaller shippers are getting an advantage in freight rates lately is what Xeneta, a global logistics data and intelligence company, said:
It should be a simple matter of Supply & Demand: the shippers with the biggest volume should be able to leverage their boxes and pay the lowest freight rates. But they're not, and in many cases these big-volume shippers are paying far above the current Asia-Europe or Asia-US rates.
That's right, at the moment, you small and medium sized shippers have the advantage over the big boys.
Doesn't that feel good?
Here's why:
The big shippers get locked into year-long contracts. This stabilizes the freight rates they pay, while the rest of the shipping world has to play the freight rate spot market.
If you've been an international shipper for longer than two seconds, you probably know how volatile shipping rates are. Many things factor in to how much it costs to ship a cargo container from, say, China to the U.S.
This last year, overcapacity and the oil glut, which has pushed fuel costs way down, have combined to create record low freight rates in the spot market. While small and medium sized shippers have been able to take advantage of this, the big shippers that are locked into year-long contracts have missed out on the savings in protecting themselves from ever so frequent freight rate spikes.
In short, what has happened is a gap between the long-term contract freight rates and the short-term or spot freight rates with the favor going in the direction of the spot rates.
Xeneta shared an example from their research platform:
The 2015 Far East Main Port – North Europe Main Port Rates are an example of how short vs long term rates differed:
1 Jan – 31 Dec 2015 | 40'container
Long-term contracts
– Annual Mean Market Low: $1,175  | Min/low (2,5% tiered) $807
– Annual Mean Market Average: $1,696 | Min/low $1,535
Short-term contracts
– Annual Mean Market Low: $857  | Min/low (2,5% tiered) $240
– Annual Mean Market Average: $1,355 | Min/low $571
Those are some seriously lower rates for the little guys!
So it turns out there are times when being big just doesn't pay off. I thought about sharing Amy Schumer's "too big" scene from the beginning of Trainwreck at this point, but it's far too raunchy for this blog. So instead, this video will have to do:
To sum up, it's okay to be a small or medium shipper. In fact, sometimes it has its advantages over being a big shipper.
Don't forget, Universal Cargo is always here to help you work that spot market. We work that spot market real hard. Too much? I think Amy Schumer would approve.

Source: UC Blog