The Real Reason for ILA's Strike Friday
Everyone seemed shocked on Friday (January 29th, 2016) when over 4,000 dockworkers belonging to the International Longshore Association (ILA) walked off the job at the Ports of New York and New Jersey and started a strike, effectively shutting down the ports.
The strike was sudden and without warning. ILA members didn't carry picket signs spelling out why they decided to strike. In fact, striking ILA members didn't even seem to know why they were on strike, according to an article published by the Journal of Commerce on Friday:
At the APM Terminals gate at Port Elizabeth, more than 100 ILA members milled around, waiting to see whether they would be called back to work.
Several said they didn't know what the work stoppage was about, but had been told to walk out at 10 a.m. "All that I know is it's cold," one heavily bundled dockworker said.
The cause of the strike still was not clear on Monday when the ports reopened. The JOC published an analysis piece on the strike that supplied a possible reason for the strike, but does not provide any satisfying answers:
Friday's well-organized walkout apparently originated within the mechanics' local headed by Dennis Daggett, the union's executive vice president and son of ILA President Harold Daggett….
Official explanations have been murky. The ILA insisted the strike was an unsanctioned rank-and-file protest of actions by the Waterfront Commission of New York Harbor, and of issues involving chassis repair jurisdiction and technology.
Chassis and technology are real issues, but in this case they were secondary beefs. The protest's main target was the Waterfront Commission, the anticrime watchdog that controls the port's longshore register, licenses dockworkers and conducts investigations.
An unsanctioned rank-and-file protest, ILA? When over organized strike was achieved by over 4,000 union members, many of whom were ordered to strike without even knowing why? Not likely. Maybe that unsanctioned story could be believed if there were picket signs or chants voicing the ILA's complaint.
ILA President Harold Daggett refuted JOC's report that the ILA's mechanics Local 1804-1, led by his son, was the originator of the strike. The JOC reported that too, in yet another article on the strike:
"I was furious that these guys walked out," Daggett told JOC.com.
…
"Everybody walked out together," the ILA president said. "It wasn't just one local that did this."
Daggett said he had no advance word of the strike, which began when ILA workers suddenly walked out of all terminals at 10 a.m. Friday, delaying thousands of pickups and deliveries and leaving some drayage drivers stranded inside terminals for hours.
Daggett didn't know the strike was going to happen, yet knows it wasn't originated by his son's local or any one local. "Everybody walked out together" and Daggett is "furious" about it. Hmm…
Reading this makes the ILA president sound like he's either lying, an ineffectual leader, or completely out of touch with what's happening in his own union.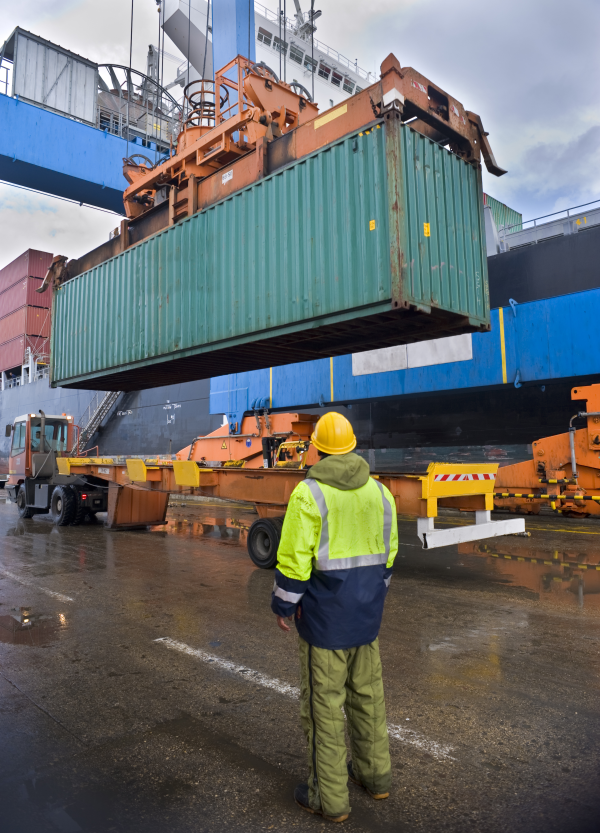 Someone ordered this strike. If it didn't come from one of the locals and it didn't come from the ILA president, where did the order come from? The Genovese crime family? Such a thing is plausible with the long history of mob corruption in the ILA, and would even make sense given the strike's apparent aim at the Waterfront Commission of New York Harbor, which has been investigating port-related crime and trying to root out vestiges of organized crime.
However, it is quite possible anger with the Waterfront Commission is just a ruse.
Universal Cargo's CEO Devin Burke said, "This could be a portend of things to come."
When do the dockworker unions organize slowdowns and strikes? Whenever the time to negotiate new contracts rolls around. They do it to create leverage in negotiations.
Back in March of 2015, it was announced that the United States Maritime Alliance (USMX) and the ILA would "open discussions" on a new, long-term contract at East and Gulf Coast ports over three years before the current labor contract expires Sept. 30th, 2018.
The move was applauded by shippers and international shipping industry professionals as West Coast ports were plagued at the time by the fallout of slowdowns from the International Longshore & Warehouse Union (ILWU) and retaliatory mini-lockouts from the Pacific Maritime Association (PMA). Maybe a new labor contract on the docks could be reached without the common practice of slowdowns and strike threats from the dockworkers' union during negotiations.
Of course, there was a great deal of skepticism that the ILA would give up their favorite bargaining chip.
In fact, according to a source, there were rumblings 6-8 months ago that the East Coast union was going to start a slowdown in 2016, as their cousins on the West Coast did during contract negotiations, so the ILA could renegotiate early before its contract expires.
If the union was trying to show it is not afraid to strike at the cost of the ports, truckers, shippers, and the economy, then the ILA couldn't have picked a better time or location for this strike. The Ports of New York and New Jersey were already trying to catch up from winter storm and holiday closures from the previous weeks.
Union members won't be hurt from the delays they've caused. They'll just work overtime to catch things up. Flexing its muscle to bolster ILA's bargaining position in the early contract talks is likely the real reason for Friday's strike. In the process, the ILA displayed again that it does not care about the effect it has on shippers,
That comes as no surprise. Think of Daggett's response a year ago when refusing to consider making the contract negotiation process less damaging to shippers, as reported by JOC at the time:
"The answer is no," Daggett told JOC.com. "We're going to continue to negotiate the way we negotiate now."
Daggett said the right to strike is a union's ultimate leverage in contract negotiations, and that the ILA wants to retain its right to use it in local negotiations.
It seemed too good to be true that Daggett's about face of being "agreeable to engaging in conversations" about reaching a new contract deal early signaled a change of heart from the union.
This strike reestablishing the union's ability and willingness to slow down and even shut down ports makes sense as the reason for the strike. It also makes sense of why there were no picket signs or chants. The strike was to establish power and leverage for future contract negotiations.
If that truly was the reason for the strike, more union slowdowns should be expected before a new deal is reached between employers and dockworkers on the East Coast.

Source: UC Blog