Tianjin Explosions Effects On Lives & International Shipping
People are asking, "What is the fallout from the tragic explosions that took place last week on the waterfront in Tianjin, China?" Today's blog gets into that from more endangered lives to the effects on international shipping.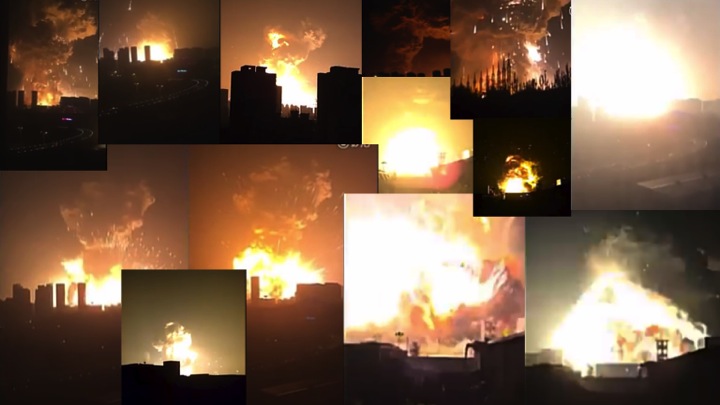 What Happened?
In case you missed it, massive explosions shook the port and city of Tianjin, China last week, leaving over 100 people dead, hundreds more injured, and dozens still missing.
The explosions lit up the night sky bright as broad daylight while taking lives, damaging property, and disrupting operations at China's 5th largest port.
Many importers and exporters who ship goods through the Port of Tianjin are feeling extreme negative effects on their businesses and it will be a while before the full impact of the explosions is known. However, we do know much about how international shipping is being affected.
Worse than negative impact on international shipping and business is the fact that lives are still in danger.
Here's a YouTube video showing a collection of phone cam footage of the explosions:
Hazardous Materials & Toxic Chemicals Putting Lives in Danger
While the initial cause of the explosions is unknown, they happened in a waterfront warehouse storing shipping containers of hazardous materials that are believed to be part of the cause.
The warehouse was a temporary storage facility that housed materials after they arrived at the port and before they were transported elsewhere, city officials have said.
Several hundred tons of sodium cyanide, a highly toxic chemical that can kills humans rapidly, have been found at two locations and are being cleaned up, they added.
Residents in Tianjin with homes near the blast site have shared their concerns about the long-term environmental and health consequences of the blasts.
Residents are right to be concerned. An even more recent CNN article, just updated today, reports:
High levels of dangerous chemicals remain at the site of last week's deadly chemical warehouse blasts in the northern Chinese city of Tianjin — hundreds of times higher than is safe at one spot — officials said Thursday, signaling that a cleanup has a significant way to go.
Water tests show high levels of sodium cyanide, an extremely toxic chemical that can kill humans rapidly, at eight locations at the blast site, Ministry of Environmental Protection official Tian Weiyong said.
The sodium cyanide level at one spot was 356 times higher than a safety limit, Tian said.
The Chinese government's history of being honest with its people is not exactly pristine. Many worry about what information is not being shared and if the already obvious dangers to the people who live near the explosion sites might be graver than reported.
The CNN article continues with U.N. criticism of China's handling of the situation, including the following quote:
"Moreover, the reported restrictions on public access to health and safety information and freedom of the press in the aftermath are deeply disturbing, particularly to the extent it risks increasing the number of victims of this disaster."
Shipping Returning to Normal at Tianjin Port?
Obviously, these explosions caused interruptions at the Port of Tianjin. However, according to an article from the Wall Street Journal, shipping is already returning to normal:
Cargo ships have resumed normal loading and unloading at Tianjin freight terminals, bringing work at the port closer to normal even as many shippers still seek information on goods that may have been damaged in last week's deadly explosions.
Many, many, shipping containers of cargo at Tianjin were destroyed in the blasts. Especially shippers who neglected cargo insurance will be hurting from major financial loss.
But there was not total loss for shipping across the board at Tianjin. Disruption of shipping operations varied, depending on how close terminals were to the actual explosions.
The day following the explosions, many freight forwarders and shippers received emails such as the one quoted below that we received from Sea Master:
As a result of this unfortunate incident, operations at the terminal have been stopped until further notice; customs has also stopped operations due to damages to the system; and temporary traffic control is being implemented on main roads leading to the port. Facilities we use for our operations located close to the centre of the explosions have also been closed.
 
The above will cause delay to shipments scheduled to arrive or depart from the port of Tianjin/Xingang.
We are trying to identify any damage to the goods of our customers that were stored at / delivered to the warehouse or facilities nearby. Whereas for other shipments not yet arrived, we will advise the truckers to return the goods to their factories.
But even that email included information that not all terminals were non-operational:
While Tianjin Port Eurasia International Container Terminal (TECT) remains non-operational, the following five terminals have resumed operations:
  Five Continent International Container Terminal (FICT)
  Tianjin Port Alliance International Container Terminal (TACT)
  Tianjin Port Pacific International Container Terminal (TPCT)
  Tianjin Orient Container Terminal (ECTS)
  Tianjin Port No.3/4 Container Terminal (GS3 / GS4)
Large carriers, like MSC, were quick to reassure their shipping customers and partners. The email from them was as follows:
In the wake of massive explosions near Tianjin port on Wednesday 12th August, MSC would like to, in response, inform all concerned clients that Tianjin Pacific International Container Terminal (TPCT), called by MSC services is located at East Port Area, 6 kilometers from the blast site. Additionally, MSC vessels have been unaffected and MSC do not foresee further major disruptions to the sailing schedules.
All onshore operations have resumed functionality on 14th August, however, customs house will officially accept export and import declarations as of next Monday, 17th August but will provide interim services upon special request.
So it only took two days for port operations to resume in Tianjin, as could be read in the above from MSC and in similar updates from other carriers. However, there was one major change.
Hazardous Material Shipping Halted in Tianjin
On August 14th, Hapag-Lloyd sent a similar update as the MSC one above, which included the following information:
As of today, terminal operations and custom procedures have resumed operations. However, all hazardous cargo handling and related activities are subject to the local authorities' approval and further instructions.
Please be advised that no new hazardous bookings from and to Tianjin (import and export) will be accepted until further notice.
Tianjin has halted hazardous materials from being imported and exported through the port. This will have a major impact for many U.S. shippers and major ports. The Journal of Commerce (JOC) reports:
Tianjin port has suspended the import and export of all hazardous cargo following two deadly explosions linked to dangerous cargo, forcing U.S. shippers to reroute their shipments through other Chinese ports.
That's hitting shippers using the ports of Los Angeles, Long Beach and New York-New Jersey the hardest, as they are the busiest U.S. gateways for containerized hazardous shipments moving through Tianjin, according to an analysis of data from PIERS…
…
"Even if the importers of dangerous chemicals have issued letters of credit, they cannot get their cargo, and have to choose another port to load the chemicals," a local source said.
…
Of the 256,405 twenty-foot-equivalent units imported to the U.S.  from Tianjin in the first seven months of the year, 4 percent, or 10,581 TEU, contained hazardous materials, according to PIERS,
Most of these hazardous containers were bound for the U.S. West Coast, with Long Beach receiving 27.6 percent, or 1,920 TEUs; Los Angeles 15.2 percent, or 1,612 TEUs. New York-New Jersey was the largest East Coast gateway, with 12.7 percent, or 1,343 TEUs. The major carriers of imported hazardous cargo  are Mediterranean Shipping Co., CMA CGM, and Hapag Lloyd, with 15.4, 14.9, and 12.3 percent of the market, respectively.
In the first half, the U.S. sent a total 130,013 TEUs to Tianjin, of which 7,020 TEUs were hazardous cargo….
Los Angeles-Long Beach and New York-New Jersey are also the dominant players in the export of hazardous cargo to Tianjin, with Long Beach sending 1,996 TEUs, Los Angeles 1,378 TEUs and New York-New Jersey 748 TEUs.
While many shippers and companies have reported loss and rerouting due to the Tianjin explosions, the shift in hazardous material shipping policy could very well be the biggest consequence on international shipping.

Source: China