Perhaps having a main character who is a New York hedge fund manager is what drew so many Wall Street investors to the book The Shipping Man.
According to an article from Bloomberg:
In recent months, references to the book have turned up in hedge funds' mailings to clients, billionaire Wilbur Ross's speeches, conference calls with traders, investment-bank research reports and syllabuses for university courses in London, Hamburg and New York.
Apparently, the international shipping industry has become "the thing" in Wall Street. Or at least an industry of high interest for investors recently.
That Bloomberg article went on to cite Marine Money's newsletter in that "private-equity firms pumped more than $7.2 billion into the [international shipping] industry in 2013."
Marine Money International's president just happens to be Matthew McCleery, the author of The Shipping Man. But McCleery is not an author turned "international shipping and finance expert" to sell his books; it's the other way around.
Just a quick pull from his biography on Amazon below The Shipping Man gives an idea of where McCleery gets his authority to capture the worlds of finance and international shipping:
Matthew McCleery joined Marine Money International in 1997 following his graduation from the University of Connecticut School of Law. He served as Managing Editor until 2001, when he was named president of Marine Money. Over the last fifteen years, Matt has had the privilege of friendship with many of the world's leading shipowners and financiers. Currently, Matt spends much of his time advising on international ship financing transactions in his role as Managing Director of Blue Sea Capital, Inc. He has served as a member of the board of directors of two NASDAQ-listed Greek shipping companies, a private equity fund, and other industry organizations…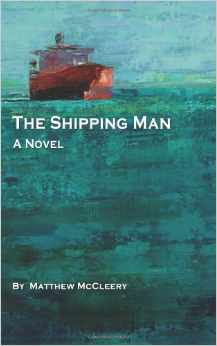 This background allowed him to create a book that is described both "financial thriller" and "ship finance text book."
And it seems like most stock picking services speculate that Wall Street investors are using it as ship finance text book. At the very least, it has awareness of the shipping industry increased in the investment sector and international shipping investments have become a popular bet.
The volatile nature of the international shipping industry can actually be attractive to Wall Street investors, looking for investments that can swing from low numbers into high returns.
With international shipping still being on the low end of things, trying to recover from "the Great Recession", now seems like the perfect time for investors to make a move in this industry, whether it is entering partnerships with shipping companies, funding ship purchases, or buying ship debt–which for my money sounds like the wisest of the three investment examples Bloomberg mentioned before going on to:
"Now is a great time to be buying these loans because there's an oversupply," Marc Lasry, co-founder and chief executive officer of Avenue Capital Group LLC, a New York-based company which oversees $13.6 billion including shipping debt, said by phone April 24. "We're at or close to the bottom."
But if you just want to get an inside look at the international shipping or finance industries while being entertained and not risking your money, reading The Shipping Man is a way to go.
If you like it, a sequel has been released called Viking Raid. And it seems likely a third book will be on its way too.
Of course, we do our best to give you an inside look at international shipping and be somewhat entertaining with our blog, though it doesn't combine the suspense and action of a thriller novel.
But if you're more into comedy, watch Super Shipping for an entertaining international shipping story. It won't take as long as reading the full Shipping Mannovel, but it won't be as educational either.
And as always, we're ready to help you with your international shipping needs.
Click Here for Free Freight Rate Pricing
Sources:
http://www.bloomberg.com/news/2014-04-30/life-imitates-novel-as-wall-street-bets-on-shipping-debt.html
http://www.amazon.com/The-Shipping-Man-Matthew-McCleery/dp/0983716307