3 Ways To Protect Your Supply Chain from Likely ILWU Port Disruption
In the last blog we talked about the very likely scenario that, with the master contract for the International Longshore & Warehouse Union (ILWU) expiring in less than a year, contract negotiations will turn ugly and result in costly disruption and congestion at West Coast ports for shippers. In fact, many are concerned that the fight over automation, paired with the ILWU wanting serious pay increases after seeing carriers make billions over the last year, will make 2022 contract negotiations as bad or worse than the contentious 2014-15 negotiations.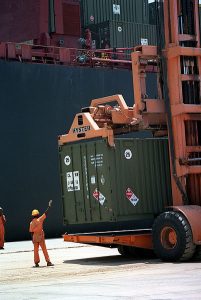 Most shippers need no reminders of the inability in 2015 to get their goods in time for the holiday shopping season, agricultural exports rotting on the docks, or the international contracts lost because cargo couldn't move through the ports. After all the port congestion, record high freight rates, and unfair demurrage and detention fees that have been experienced for months on end, the last thing shippers probably want to hear about is another disruptive event likely on the way to their supply chains. However, knowing about the risk now can help prepare for this possible disruption before it happens.
So what can shippers do to protect themselves from what could be contentious and disruptive labor negotiations on the West Coast?
Here are three options to start exploring now to save your business significant loss later.
1. Explore East and Gulf Coast Routing
The most obvious solution for disruption at West Coast ports is to move cargo through East and/or Gulf Coast ports instead. Many shippers think they'll just reroute cargo if disruption happens. I can't emphasize enough that waiting for disruption to hit before considering other routes is a mistake.
If you wait for disruption to happen to do anything, you'll experience the costly delays from the disruption and have to fight for space on alternate routes with every other shipper who is scrambling last minute.
Now is the time to start considering alternate routes. If you're thinking of exporting or importing through, say, the Port of Savannah instead of the Port of Los Angeles, you'll need to consider more than containership routes and services ocean freight carriers offer to and from Georgia Port Authority terminals. You'll have to look at rail and trucking options to get your goods to or from the alternate port's terminals.
Switching ports, especially from one coast to another, means major changes to your supply chain. It's important to examine those changes as early as possible, knowing what service changes you'll need, who offers those services, who is well experienced in those services, and what kind of rates they charge.
2. Import/Export Early
Many importers took this strategy when approaching the current peak season. U.S. ports have been suffering from congestion since before 2021 began. Retailers didn't want to risk delays on imported cargo during the peak season preventing them from having goods ready and on the shelves for the upcoming holiday shopping seasons. Thus, they shipped early. It was a smart move.
While this peak season has been wrought with congestion, delays, and fees on top of incredibly high freight rates, next year's peak season could be worse. Slowdowns, strikes, and lockouts are all possibilities next peak season, when shippers will need cargo flowing through the ports most. Getting ahead on stocking is a strong way to protect against this.
Now is not too soon to start analyzing and projecting what level of goods ordering you'll need next year. Stocking ahead in the early part of 2022 will make your business less vulnerable to the potential disruption that lies ahead.
There may be a sweet spot a few months into 2022. Many experts are projecting freight rates to remain exceptionally high well into next year. March or April may be a time when those rates come down a bit, will give the ports some time to recover from their current heavily congested peak season, and beat the heated negotiations between the ILWU and the Pacific Maritime Association (PMA)
3. Consider Sourcing Change
I know, I know, we fear change. However, businesses should always be open to change in order to keep up with the times, meet costumer needs, and maximize profits. One thing to consider changing is your manufacturing source. Different manufacturing could help you avoid disruption at West Coast ports.
One route to consider is avoiding importing altogether. Are there domestic suppliers out there capable of handling your manufacturing needs? If you go with them, disruptions at the ports are not a worry.
Perhaps, if not all, some of your manufacturing could be done domestically. Testing out an American producer may be a wise move, and it could be an additional thing you're proud of, knowing that's one more way you're supporting the U.S. economy. It could even be something you advertise, helping to increase your sales.
Many don't realize this, but Universal Cargo can also help businesses with their domestic shipping, not just international shipping.
There are also other countries you could import from that don't require using seaports at all. Our neighbors to the north and south, Canada and Mexico, respectively, may be viable options for your sourcing.
In fact, early last year, Universal Cargo published a whole article on importing from Mexico.
Of course, if you're thinking about changing your supply chain in such a fundamental way as to acquire new sourcing, the sooner you get to work on this, the better.